Draft Featured Editorials Player interviews
Geno Smith Interview Transcript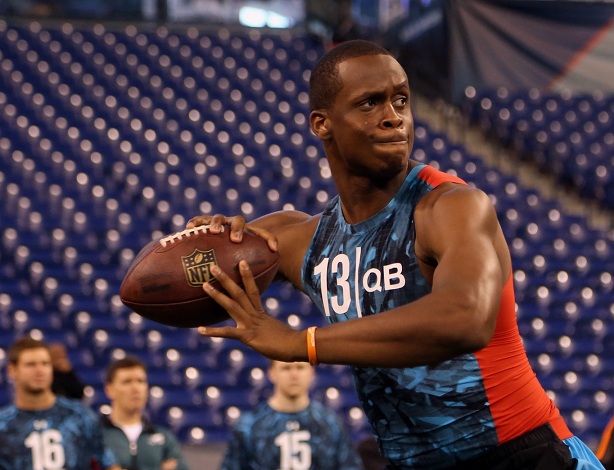 On if he knew the Jets were going to pick him today…
I had a feeling, I didn't know anything for sure but once I received the call, I was just extremely elated.
On what it was like not getting picked in the first round…
I think it was a test of patience, a test of character, and I wanted to make it my duty to come back today and still represent for my family and all of those who support me.
On if he had a good feeling through the interactions with the Jets in the pre-draft process…
I had pretty good meetings with them and when I visited, it went well but as you can see nothing is really 100 percent. But, right now I'm just proud to be a Jet and I'm ready to get to work.
On what kind of quarterback New York Jets fans are getting…
Well, I want to come in with the right mentality, I want to come in and work and I'm going to make sure I put my best foot forward. I'm going to be dedicated and try and come in and be a leader, try and help my team get better and win games.
On how he feels about playing in the New York market…
It will be extremely fun. New York is a great place, a great city and I look forward to it.
On if he expects to compete to be the starting quarterback this year…
I just want to come in and compete. I'm going to come in with the right mentality, as I stated. I'm a competitor and I'm going to accept my role on the team, whatever is handed to me, but my job is to compete day in and day out.
On being in a quarterback competition with more than one player…
That's up to Mr. (John) Idzik and Coach (Rex) Ryan and what decisions they're going to make there, but like I said, I'm coming in with the intentions to compete and we'll see where it goes from there.
On if he believes he should have been a first-round pick…
Right now, none of that matters. I wasn't and I'm just excited to be a part of the NFL. I'm excited to be a Jet. My time has come now, so I'm going to accept it.
On if the Jets have informed him of any competition for a starting job…
Not yet. The only thing they guaranteed me is that I'm going to be a Jet today and now it's time for me to go in and meet with them and see where all of that stands.
On if the Jets told him that he would be drafted today…
No, they didn't. Right about now, teams like to keep things close to the vest, but  they didn't alert me today.
On the criticism he's received…
Whether it was just or unjust really isn't in my control.  Everything that I've done up until this point is really getting thrown out the window. I'm stepping into a new league and I'm moving on with my career.
On if he thinks he's a franchise quarterback…
Yes sir, I do believe so and for a number of reasons, but the main thing is that I'm not only coming into practice, I'm going to come into work and I'm going to compete daily and I'm going to also do my best to better my teammates in order for us to win a Super Bowl.
On what qualities he possesses that make him a franchise quarterback…
I possess many qualities and I just think that it's up to me to continue to improve daily. My game is not based on one single thing, but I think it's based on a number of things. So as long as I can continue to improve and prepare I think I'll be fine.
On whether he will use it as motivation that a lot of teams passed on him in the NFL Draft…
It's in the front of my mind, as of right now I will, but it's not a thing that (I'm worried about). I'm just excited to be living out my dreams right now. I understand that there is a lot of work to be done. If it needs to be used as motivation then it will, but it's not a situation where I'm bitter.
On whether he was aware that the Jets were interested in him with the 13th overall pick…
I had received word, but a lot of that is just hearsay and until you get selected you really do not know much.
On whether he is sticking to his prediction that the Jets will make the playoffs this season…
I am. Even if I wasn't on the team, I think the Jets have a really good team. Speaking with Rex and Mr. Idzik and the direction that they are going, I think they are headed in the right direction.
Videos
Aaron Rodgers Injury Fallout & Jets/Bills Recap