Featured Editorials Home Slider
The Geno Smith Era Or Error?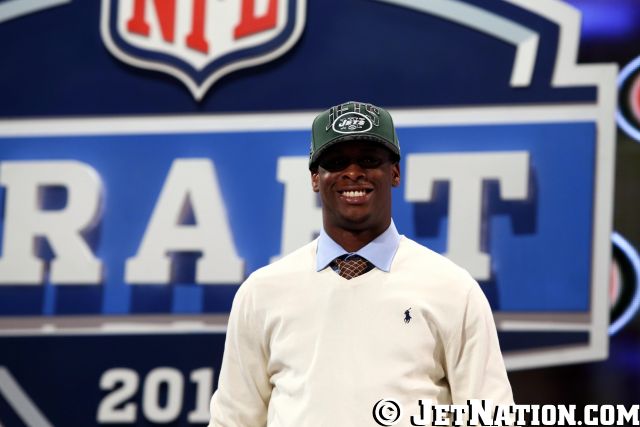 "With the 39th pick in the 2013 NFL Draft, the New York Jets select Geno Smith, Quarterback, West Virginia."  As former Jets star Wayne Chrebet read out the pick, Radio City Music Hall exploded with mixed emotions.  There was an immediate roar of excitement from Jets fans, followed by a myriad of "boos."  Some of the cheers were exhilaration that there's finally someone in camp that can outperform Mark Sanchez.  Some of the "boos" were fans who listen to Mike Mayock and Mel Kiper bashing Geno Smith throughout the process.  Like Smith said in his conference the day after he was selected "Critics don't get picks."  Smith is a 22 year old kid with loads of potential and the Jets organization sees something in this player that they couldn't pass up in the 2nd round.
Smith slipped into the second round where the Jets thought that he was a good value pick.  He won't be getting paid an overwhelming amount of money, he'll have less pressure, and most importantly he'll have a chip on his shoulder to prove that he is the top QB in this draft.  The Jets won't throw him into the starting spotlight right away.  He will share reps with the other 4 QBs and gradually get to learn the system.  If the Jets are serious about making Smith their new franchise QB, he needs to sit and learn under David Garrard's mentoring.  If Garrard can stay healthy, he should be the Jets starter Week 1.  The Jets will be best to take a page out of the Green Bay book (having Aaron Rodgers sit and learn before throwing him into the fire) and let Smith learn and be brought along slowly.
Marty Mornhinweg, in his post draft interview, seemed very excited to have Geno Smith, along with OL Brian Winters, and the newly acquired RB Chris Ivory (via trade with the New Orleans Saints).  He mentioned that Smith is intelligent, and hard working.  They got a good feel for this having taken him out to dinner prior to his pro day and then watching his pro day workout.  Mornhinweg, although he praised his pro day workout, made it clear that the game film is what they looked at and what they liked about Geno Smith and he thinks he can be a dynamic piece of his offense in the future.
Whether the future is now or next year or even the year after that is yet to be determined.  Smith has a great deal to work on.  He needs to grasp a sense of the playbook and terminology, which often times is the biggest hurdle for any rookie quarterback.  He also has to get used to his new QB Coach David Lee.  The biggest concern with Smith is his ball security.  When pressured or when the pocket collapses, he tends to keep the ball a bit too low.  In the NFL, good pass rushers will bat that away from him and it will lead to a lot of fumbles.  He'll have to learn to keep the ball high and if he feels pressure, tuck the ball away and take the sack.  After two years of 52 combined turnovers by current starter Mark Sanchez, there's no doubt Mornhinweg and Lee will preach ball security with all of the quarterbacks in camp.
Another concern with Smith is his ability to get through his progression of receivers.  For instance, when his first option is covered, will he be able to get to his second and third read quick enough to hit the open receiver.  There is concern that mentally he gets frustrated often and it affects his play.  His body language on the sidelines sometimes isn't the best, but as Geno said, it's frustration in himself because he knows how good he can be and he just wants to win.  This will definitely be something he will learn because he is a very hardworking and meticulous player, but it may take time.
There are many reasons to love this pick from the Jets, as well.  Smith threw for 42 touchdowns and only 6 interceptions last year.  In his career at West Virginia he threw for an astounding 98 touchdown passes and only 21 interceptions.  People could say that he fit the West Virginia system or was a "product of the system," but he still had to find and hit the open receivers consistently and numbers like that don't lie.  He had two stud WRs that helped him in Tavon Austin and Steadman Bailey, both dynamic players who will now play for the St. Louis Rams.  Smith's size, arm strength, his ability to throw the deep ball, and his decision making have improved throughout his college career and could only get better from there.
Another reason the Jets feel that he can learn and run the West Coast Offense Mornhinweg has installed, is because at West Virginia he ran 92 plays per game on average.  He did this for three full seasons as the quarterback, something the Jets current starter never did.  He was in charge of reading a defense pre-snap, directing his players where to line up and what play to run, and found the open guys.  He was smart enough to always take what the defense was giving him.  In a West Coast offense, the quarterback must be patient and do that because that will eventually set up the deep ball down the field.  The Jets current QB struggled with this concept throughout his career.
Smith's overall athleticism makes him an exciting pick for the Jets.  He ran the 40 yard dash in 4.59 seconds.  He's able to extend plays with his feet, something that any good NFL quarterback must be able to do at this level.  He has a quick release and can make all the NFL throws, but will need to continue to work on his arm strength and accuracy down the field, as would any incoming rookie quarterback.  Judging on his post draft news conference (Geno Smith interview), he is going to work hard and he is motivated to succeed.  As he said in the interview, he realizes he may not start right away, but he's out to prove that he is a franchise quarterback.
The worst case scenario for the Jets is if Geno Smith isn't the franchise quarterback, there's always next year's prospect.  With Mark Sanchez likely to be cut, whether it be a post-June 1 cut, or after the 2013 season, the Jets will be left with Smith as the only quarterback on the roster.  They will need to draft another quarterback next year regardless, whether it is a first rounder to challenge Smith or a 4th round back up for Smith.  The pressure to start a second round pick is a lot less than if the Jets selected him at #13 overall.
Geno Smith was just a piece of the overall picture and "plan" that John Idzik has installed and thus far, it has worked out for the organization.It will be an interesting few months leading up to training camp, but one thing's for sure…  John Idzik has set this team up not only to compete in 2013, but to have depth like the Jets have never had before. 
Videos
NY Jets OTA Recap; Robert Saleh Cancels Minicamp