Sanchez Release Scenarios, Salary Cap Cost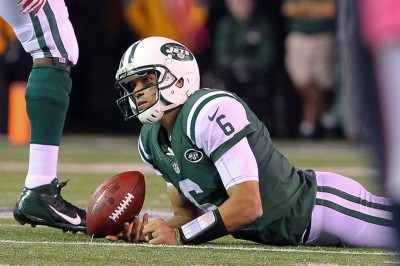 With the recent addition of quarterback Geno Smith during this past draft there has been much speculation that Mark Sanchez the Jets starting quarterback over the past four seasons could be released. 
Unfortunately there is much confusion about exactly what the salary cap ramifications are if Sanchez is let go.  Reports of an $8.25 million guaranteed salary or a $17 million cap hit in 2013 if the Jets move on from Sanchez, have left people scratching their heads. 
This article will explain what the Jets will be responsible for under their salary cap for releasing Sanchez as there are many factors which determine what monies will be owed when.
The chart below lays out Mark Sanchez's base salary or paragraph-five money, salary he'll receive paid in 17 week increments during the season, which is $8.25 million fully guaranteed so Sanchez gets this money and it counts on the 2013 salary cap whether or not he is with the team. 
A $500,000 workout bonus not guaranteed is paid after fulfilling that incentive in the contract.  So Mark Sanchez will receive $8.75 million in new money this year as long as he collects the $500,000 workout bonus, probably paid in late June, but he's guaranteed $8.25 million even if he is not with the team this season. 
If Sanchez is released before earning his workout bonus the Jets save $500,000 on the 2013 salary cap.  This is the only possible salary savings available to the Jets since once the workout bonus is earned the team can save no money under the salary cap this year by cutting Sanchez.
The chart only contains money values for prorated (spread out throughout the contract) bonuses in years 2014-16.  There is actual money, base salary, roster and workout bonuses in those years but to keep things easy we're just going to look at money that is relevant on the cap for a Sanchez release since no future payments are guaranteed to him.
| | | | | | |
| --- | --- | --- | --- | --- | --- |
| Year | 2013 | 2014 | 2015 | 2016 | Bonus Total 2014-16 |
| Base/Season Salary | $8.25 mil. | | | | |
| Workout Bonus | $500,000 | | | | |
| Prorated Bonus | $4.103 mil. | $1.6 mil. | $1.6 mil. | $1.6 mil. | $4.8 mil. |
| Total Salary Cap Hit | $12.853 mil. | | | | |
Under the NFL Collective Bargaining Agreement (CBA) teams are allowed to pay players a certain amount of money up front but spread it out over the life of the contract, up to five years. There are many ways under the CBA to do this but the signing bonus is most commonly used and known.
Here is the CBA's definition of a signing bonus proration:
(i) Proration.

The total amount of any signing bonus shall be prorated over the term of the Player Contract (on a straight-line basis, unless subject to acceleration or some other treatment as provided in this Agreement), with a maximum proration of five years.
Mark Sanchez was given an $8 million signing bonus in his new 2012 contract so $8 million divided by 5 years, the length of the contract and maximum proration allowed, meant Sanchez got paid $8 million immediately but for cap/accounting purposes the money was spread out evenly 2012-16 or $1.6 million counts in each of those years. By doing this the Jets were able to free up $6.4 million in 2012 cap space as that money got spread into future caps (2013-16).
He was also given a $10.012 million salary advance in 2010. This pulls money from future salaries and allows the player to receive payment earlier in a lump sum. Under the CBA this money is allowed to be prorated which it was over 4 years 2010-13, since that was the length of Sanchez's contract at that point. So $2.503 million in money which was already paid but prorated counts in 2013 along with the proration $1.6 million from the 2012 signing bonus leaving a cap charge of $4.103 million in 2013 for money Sanchez already received but is being accounted for over time. By adding the 2013 salary $8.75 million with the prorated money $4.103 million you get Sanchez's 2013 salary cap hit $12.853 million.
The benefit of prorating money is it allows the team to pay players more during a year while limiting the cap hit for that particular year, but there is a potential down side known as acceleration.
When a player who is still under contract is released or traded any money which has been prorated remaining in future years, paid but spread out for salary cap purposes, accelerates or is added up and placed on the salary cap as a whole during the current year or split between the current year and the acceleration happens the next year.
The timing of a release or trade determines whether the acceleration, adding together the bonus money, takes place in the current year or in the next year. Trade or release before June 1 causes the acceleration to take place during the current year after June 1 acceleration takes place in the following year.
For example Darrelle Revis had $3 million of prorated money in 2013,14,15,16 a total of $12 million. Once he was traded his salary, money the Jets owed him for the upcoming season, was eliminated but since the trade took place before June 1 the acceleration happened this year leaving a $12 million dead money cap charge, money which counts on the cap for a player no longer with the team, in 2013 on the Jets books for Revis.
There are two designations allowed under the CBA which a team can release a player before June 1 but the salary cap changes occur as if that player was released after June 1. Basically the money stays the same on the salary cap until June 2 but the player is a free agent and can look for a new team. This designation is provided for release only not trades.
So here are the Jets options with Sanchez and what the salary cap charges would be:
They release him immediately causing the $1.6 million in 2014-16 to accelerate ($4.8 million total) which gets added to the 2013 proration cap charge of $4.103 million totaling $8.903 million.  Sanchez's guaranteed salary of $8.25 million along with the $8.903 million charge in accelerated bonuses leaves a total dead money cap hit of $17.153 million in 2013.  The team does save the $500,000 workout bonus.
He's released today with a post June 1 designation, on June 2 Sanchez counts $12.353 million in dead money on the Jets 2013 cap, his $8.25 million salary and $4.103 million in proration but they save the $500,000 workout bonus payment.

 

The Jets will take a $4.8 million dead money hit in 2014 which is where the acceleration will occur, $1.6 million from 2014, 15 and 16 caps added up or accelerated onto the 2014 cap exclusively.  The same applies if he is released after June 1 but did not earn his entire workout bonus payment.  The cap charge is still $17.153 million for Sanchez just spread over two years ($12.353 million in 2013 and $4.8 million in 2014).
The Jets release Sanchez after he earns his workout bonus he'll count $12.853 million in 2013 dead money, add the $500,000 bonus now paid, and $4.8 million accelerated dead money in 2014 since the release was after June 1.  A $17.653 million total cap charge for 2013/14 ($12.853 million in 2013 and $4.8 million in 2014).

Sanchez is released after the 2013 season counts $4.8 million in accelerated dead money on the 2014 cap.
He is released at the start of the 2014 league year with a post June 1 designation counts $1.6 million dead money on the 2014 cap and $3.2 million accelerates onto the 2015 cap ($1.6 million in 2015 and $1.6 million in 2016).  Still $4.8 million in total cap charges but spread over two years.
Given the limited amount of savings it makes sense to allow Sanchez to compete and stay with the team through this season but the above scenarios lay out the financial ramifications of releasing Sanchez. 
Videos
NY Jets Phase 3 OTAs, Expectations and a Minor Calf Tweak with Greg Renoff