Featured Editorials Home Slider Player interviews
Sanchez On The QB Competition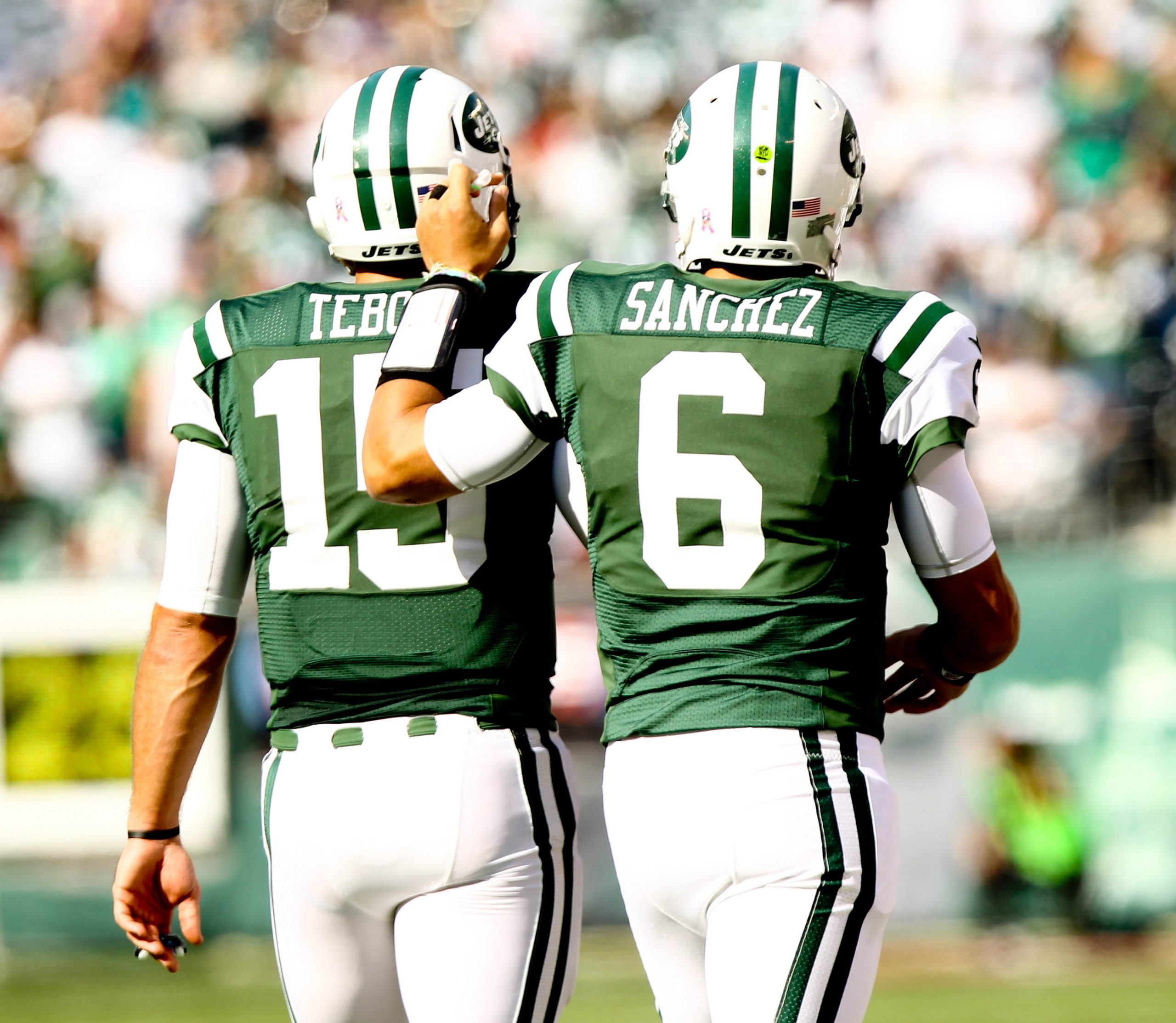 Mark Sanchez met with the media on Wednesday and part of that interview appears below.  We took the liberty of pruning out the questions that don't impact things on the field.  So to the media member that asked Mark about his long hair, sorry but you didn't make the cut here.
These questions all pertain to the upcoming QB competition.  One of the most important questions the Jets face heading into this season is who will be the starting quarterback.
On approaching the quarterback competition…
Exactly that way, just compete, compete my butt off, try to improve every day, focus on the fundamentals, focus on getting better and focus on learning this system.
On if he expects to be with the team all year…
Absolutely, that's where my head's at. I'm competing to be the starter.
On the competition at quarterback…
It falls right in line with what John Idzik talked about, bringing in competition at every position. But it also marries up with everything I've been about my whole life whether it was in high school, college or making it to the NFL level, competing with other players and earning everything you receive in this league. Nothing is just given. You have to compete to earn it, so it will be fun.
On whether he comes into the season saying 'This is my team'…
Of course, every quarterback should feel that way. I know I do and I'm not shy about voicing my opinion. You have to own it and compete your butt off to keep it in my position. That's what I'll do and I'll do it the very best I can.
On whether he has seen everything a competition can throw at him…
I think I've seen pretty much everything. So that's good. The more years you have, the more experience you gain and you just make sure you take all those experiences, bottle them up somewhere and save them. You know how to react to different situations as they come up, but we'll prepare and that's what I'm going to keep on doing, preparing and competing.
On competing with the other quarterbacks…
Sure, whether it's (Matt) Simms, (Greg) McElroy, David or Geno (Smith), all those guys want to play and that's natural for a quarterback to want to play. It's different than a guard, tackle, receiver or defensive tackle, there's only one. So we're all competing for that one spot. We're friendly about it, but at the same time it's a fierce competition. I'm excited about all those guys. I'm excited about having them in the quarterback room with me. We'll learn as much as we can from each other, compete our butts off and the best guy will play and hopefully help the team.
On whether he feels like this is his team…
It has to feel that way going into your fifth year, at least that's how I feel. I'm confident and I feel like we've seen just about everything you can see. So we'll just keep rolling and do our very best.
On the team drafting another quarterback…
Those aren't my decisions. It's my job to roll with whatever happens and play the cards (I'm) dealt. John Idzik is trying to field the best football team he can. He feels like Geno (Smith) should be a part of that team and that's fine. Now, I'm going to compete with Geno and see who's the starter.
On whether he was disappointed when they drafted Smith…
For what?
On whether he was disappointed that drafting Smith further infringed on his hold on the starting quarterback job…
He's going to come in here and compete. And if we're competing for the job, I'm going to do my very best to compete and I expect to play. That's just the way I am.
On if he expects to be the opening day starter…
Of course.
On if he still views himself as the future of the franchise…
Absolutely.
On whether he feels the front office views him as the future of the franchise…
Ask them, I don't know.
On whether he expects to win the starting job…
No doubt. Of course.
On the front office not declaring a quarterback competition last season compared to this season…
It's a new general manager.
On whether there wouldn't be a quarterback competition if he performed better, even with a new general manager…
I don't know. Ask John (Idzik). I have no idea.
On whether Coach Mornhinweg talked to him before or after the draft…
Actually both, he called and he said, "You doing alright?" (I said), 'Yeah, I'm doing fine. Why?' (He said), "Oh, they're giving you a hard time on TV." (I said), 'I wasn't even watching, should I be watching?' He's like, "Wow, that's up to you. I don't know, just make sure you're hanging in there." (I said), 'I'm fine coach, come on man, it's part of the job.' Then he called after. He just said, "Hey man, we're heating up the competition, you know that? We just took Geno." I said, 'Alright.'
On if there are enough reps for three quarterbacks to get a fair chance in an open competition…
I'll let you know in camp.
On if he anticipates a fair opportunity for each quarterback…
I assume so. That's everything I've heard. Unless, they want somebody to start and then it will be obvious, and the rest of the guys will know.
On having competition for the starting quarterback position after four years in the league…
It's new management. John Idzik wanted every position to compete for their job, so the quarterback position is no different.
Videos
Aaron Rodgers Injury Fallout & Jets/Bills Recap