Rookie Minicamp Notes: Day Two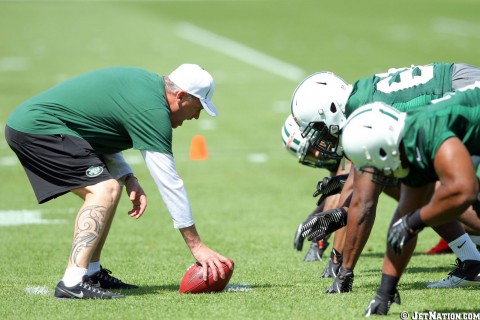 Jets rookie minicamp continued yesterday at Florham Park. The offensive line is an area the Jets knew that had to upgrade to have more success this season.  They definitely seemed intent on raising the level of competition on the line and brought in free agents and draft picks to compete.  Rex Ryan gave an update on what he has seen from the rookie lineman so far this minicamp:
The (Will) Campbell kid is the one (who) really intrigues me when you look at him because you know what you're going to get with the big Kent State kid (Brian Winters), you know what you're going to get there. This is going to be a solid guy that's going to look a lot better when we put the pads on and he's able to throw people down than right now. But, he's an impressive guy. I think Oday looks pretty good. He's going to be a swing tackle, left tackle (and) right tackle. We're working him on the left side in this camp, but with Campbell, here's a guy with that defensive background and yet we're moving him to offense, projecting him as a guard. Mike Devlin is an outstanding coach, but I'm surprised (Campbell) is not making mistakes. He seems like he's been doing it his whole life, so I think that's been impressive to me. I've been really impressed with him. I see that 65, hopefully he can have half the success that Brandon Moore had at that position. I think we'd all sign up for that.
On the defensive side of the ball, Rex confirmed that he will call the defensive plays this year.
I just think for me and the football team in our situation, we're better served if I'm on the defensive side and making sure we have the rule set the way I see it set, not that it wouldn't be, before I really go to the offense and things. But again, I'll be in there. As I look at it, that's my offense as well. But do I have a confidence level in Marty? Absolutely. How much I can contribute, I'm not sure, but certainly I'll be involved in it and I'll understand what's going on, but I'm going to spend much more of my time on defense.
Geno Smith also spoke about his minicamp experience so far and meeting with offensive coordinator Marty Morhinweg:
I had two days here and we have meeting time at about 2:30. We spend about an hour and a half going through install. It's really just about how you study on your own. Like I said, me and the offensive linemen, G Will Campbell, all those guys, we spend time at night going through the cadence, going through the actions of the huddle and just doing the things that will help us out on the field. I think it's paid off for us. I don't really see too many miscommunications out there. The offensive line may get in the huddle and they're talking, the wide receivers are talking and that's the biggest thing, that we can all communicate and help one another.
You can read more about Jets rookie minicamp in our forums.
Videos
Aaron Rodgers Injury Fallout & Jets/Bills Recap