Vlad: "It's Now Or Never"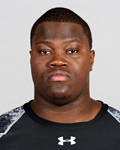 New York Jets offensive lineman Vladimir Ducasse lost his safety net when Mike Tannebaum was fired.  The guard, who is entering his 4th season, no longer has the luxury that being a 2nd round draft pick affords a player.  The GM that drafted him is gone and so is any organizational loyalty.  Simply put the Jets are rebuilding and will play the best 11, regardless of draft position.
Vlad, as he is affectionately known, seems to understand the urgency around this situation.   For any Jets fans that would bet on this, not many seem willing to bet on Vlad.
Vlad: "It's now or never. I've talked to coach Rex about it. It's pretty much the year for me to do what I was drafted to do.." #nyj

— Brian Costello (@BrianCoz) May 16, 2013
Matt Bitonti says that Vlad could step up and win the starting job this year.
It's easy to believe this … but look at the other guards they have on the roster…

Winters has never played guard.

Willie Colon ended the last 3 seasons on IR.

Peterman was just awful last year (actually about 10 slots worse than Vlad in the PFF ranks. Vlad was about 60 if you projected his snaps out to a full season. Peterman was 74 out of 77).

Oday is a tackle lacking in functional strength (only 17 reps compared to 29 for Vlad).

Caleb Schlauderaff never really showed much.

William Campbell developmental DL convert.
The question is though, does Vlad have it in him to fight off competition from all the others and last the full season as number one. The regular NFL season is still a way off; it doesn't begin until the first weekend following Labor Day, the season lasts for 17 weeks during which time every teams plays 16 games.  Once the regular season is finished there are the playoffs when the top teams from each conference compete for a chance to play in the Superbowl and claim the NFL title. The betting on the regular season, the playoffs and on the Superbowl is intense, reaching a climax at the Superbowl which is essentially a national holiday too.
Last year the winner was the Baltimore Ravens which beat the San Francisco 49ers in a very close battle that ended with a 34-31 score line. This year the favorite for the Superbowl is Denver Bronco and the bookmakers are quoting odds on them of around 7/1, though in terms of betting odds there is very little to choose between the top four or five teams. It is not until you get down to teams such as the Houston Texans that the odds begin to lengthen. The question is always is it better at this stage to go for a low priced favorite or more of an outsider? For instance, the Indianapolis Colts are priced as long as 56/1 though some bookmakers are a little shorter at around 33/1. Is betting on them worth the gamble, after all if they did win you would win some serious money. It's a bit of a lottery; a casino game if you like.
Tell us what you think about Vlad's chances in our NY Jets message board.
Videos
Aaron Rodgers Injury Fallout & Jets/Bills Recap