Featured Editorials Home Slider
2013 New York Jets Roster Preview: Defensive Backs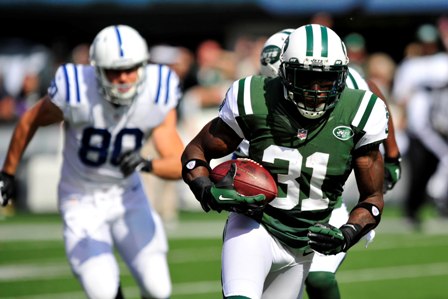 Current Safeties on the Roster:
Current Cornerbacks on the Roster:
| | | | | | | | |
| --- | --- | --- | --- | --- | --- | --- | --- |
| # | Name | Pos. | Height | Weight | Age | Exp. | College |
| 22 | Berry, Aaron | CB | 5-11 | 180 | 24 | 4 | Pittsburgh |
| 41 | Crocker, Eric | CB | 6-2 | 195 | 25 | 1 | Arkansas-Monticello |
| 31 | Cromartie, Antonio | CB | 6-2 | 210 | 29 | 8 | Florida State |
| 43 | Edwards, Mike | CB | 5-10 | 186 | 22 | R | Hawaii |
| 34 | Fletcher, Donnie | CB | 6-1 | 195 | 22 | 2 | Boston College |
| 21 | Lankster, Ellis | CB | 5-9 | 190 | 26 | 4 | West Virginia |
| 27 | Milliner, Dee | CB | 6-0 | 201 | 21 | R | Alabama |
| 35 | Trufant, Isaiah | CB | 5-8 | 170 | 30 | 3 | Eastern Washington |
| 30 | Walls, Darrin | CB | 6-0 | 190 | 24 | 3 | Notre Dame |
| 20 | Wilson, Kyle | CB | 5-10 | 190 | 25 | 4 | Boise State |
| 38 | Adams, Royce | DB | 6-0 | 190 | 25 | 2 | Purdue |

Cornerbacks
With Darrelle Revis now in Tampa Bay, the number one cornerback for the Jets is Antonio Cromartie.  As he did when Revis was hurt last year, Cromartie will have the monumental task of covering some of the best wide receivers in the game.  He intercepted 3 passes and deflected another 13.  Quarterbacks often chose not to throw against him last year and the same could be true in 2013.  Next year those receivers include the likes of Stevie Johnson, Mike Wallace, Marques Colston, Steve Smith, Vincent Jackson, Roddy White/Julio Jones, among others.  Coming off a strong season Cromartie has been confident and has now took on the role of "player-coach " for the younger defensive backs on the team.  Sky is the limit when it comes to Cromartie's Pro Bowl potential and the Jets hope he'll step up and perform as he did in 2012.
Dee Milliner, 9th overall pick, comes in as the most outstanding corner in the 2013 draft.  As a member of National Champion Alabama, Milliner had an astounding 41 pass deflections and 6 interceptions.  He helped them become the nation's top defense for the last 3 years.  Milliner should not be compared to Revis.  Putting a tag on a young player like that can be detrimental to his development.  Fans need to treat Milliner as his own brand.  Milliner has many traits as a cover, lock-down corner that emulate Revis, but he shouldn't be compared in any extent.  Milliner brings a level of speed and athleticism that the Jets missed last season and he should be an immediate plug in as the Jets number two corner.
Kyle Wilson has struggled so far in his career.  However, he has had mild success as a third corner in the slot.  If Milliner beats out Wilson to become the starting corner, Wilson will assume the nickel corner role.  He has been working with Cromartie all off season in New Jersey to try and improve his hip flexibility and his ability to read routes and react.
Other corners like Isaiah Trufant, Ellis Lankster, Darrin Walls, Aaron Berry, and Royce Adams will have a role on the team in special teams or in special pass coverage packages and will provide mildly experienced depth in case of injury.  Adams is a converted WR turned corner who saw significant reps with #1 defense last year in minicamp prior to getting hurt.  The competition among these players, as well as, Eric Crocker, Mike Edwards, and Donnie Fletcher will make this a fun area to watch come minicamp and training camp.
Safety
After losing LaRon Landry (Indianapolis Colts) and Yeremiah Bell (Arizona Cardinals), arguably the two most consistent and solid defensive players on the 2012 roster, the Jets have turned in another direction.  They signed veteran free agent Dawan Landry, older brother of LaRon, who played as a safety for Rex Ryan in Baltimore between 2006-2010.  In Rex Ryan's defensive system Dawan accounted for 9 interceptions and 270 tackles.  Landry isn't quite the big hitter as his younger brother, but he can still bring a big hit.  He is a bit more fluid in pass coverage than his younger brother.  Fans shouldn't look for him to match his brother's production in total tackles because the Jets defense will be younger and faster and hopefully won't have to rely on safeties to lead them in tackling.  He was a low risk high reward signing by new GM John Idzik who can play a major role as a leader in the secondary.
With knowledge of the system, Landry is going to have to help the young safeties be the "quarterback of the defense" by making coverage calls and checks pre snap.  Some of the young safeties that could be starting week one are 2nd year players Antonio Allen or Josh Bush.  Allen saw some time as a blitzing safety last year and will now have a bigger role as an every down safety.  Bush has been called a "ball hawk" by many of the offensive players including Jeremy Kerley.  Rex has said in the past that Bush has many qualities that Ed Reed had under Rex in Baltimore.  That is a huge compliment.  While Bush may not quite be Ed Reed, look for he and Allen to have significantly better 2nd years and play a major role in the defense.
Other guys in the mix could be Jaiquawn Jarrett, Bret Lockett, and hard hitting UDFA Rontez Miles (link is his highlight video).  Miles had a very good rookie minicamp.  He comes from California University (PA), where he had 10 interceptions and was one of the hardest hitting safeties in the country.  Miles could be an interesting guy to watch in minicamp and training camp as an "in-the-box" safety used to blitz.  His physical play is right up Rex's alley for players he loves to find playing time.  Out of the three "on-the-bubble" safeties on the roster, Miles may have the best chance to make the team, if he learns the system and continues to perform as the hard hitter and playmaker he has been throughout college.
Videos
Aaron Rodgers Injury Fallout & Jets/Bills Recap