Featured Editorials Home Slider
Attacking The Passing Game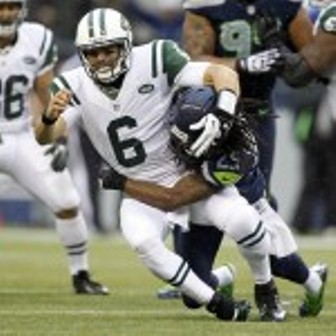 In a lot of ways, I think this years Jets team resembles the Colts last season; A rookie quarterback (or one whose game resembles a rookie quarterback), questionable offensive talent, and a defense most agree could be in transition.
I am by no means saying this years Jets will have the success the Colts did last season, I just think the comparison is there. Last season, the Colts were tenth in total offense and seventh in passing yards per game. Obviously, if the Jets want to compete, they have to improve their passing game in every way possible. But do they have the weapons? How do they attack this problem? Let's take a look.
I'd expect the Jets receiving core to shape up with a group that looks like Santonio Holmes, Jeremy Kerley, Stephen Hill, "veteran receiver X", and Zach Rogers/Jordan White dueling it out for the last spot. This is a very capable group. We often speak more about what Holmes isn't rather than what he is, but, and this is a big but, if his mind is right and he is focused, Holmes can be extremely tough to stop. The only person that generally slows down Santonio Holmes is himself.
Jeremy Kerley is dynamite. Kerley has a reputation for being more of a slot receiver which isn't really true. After Holmes went down last season, Kerley saw time almost exclusively outside and was still awesome. Kerley is a really good route runner and is one of the only guys on the team who has a chance to score every time he touches the ball, as evidenced by his outstanding yards per catch numbers last season. Size should not and does not matter in Marty Mornhinweg's system, as evidenced by the size of DeSean Jackson (5'10") and Jeremy Maclin (6'0").
Things get dicey after that. Stephen Hill has the size and speed that very few guys in the league have. However, he lacks some basic fundamentals that leave me very uneasy about his future. His route running is kind of Clyde Gates-ish and he still fails to change something as basic as the positioning of his hands when catching a ball, a big factor that led to a ton of drops for him this season. Jets fans should hold their breath that his LCL injury does not hinder his offseason, because the transition offseason from years one-to-two is crucial for raw wide outs.
Hill's injury concerns and lack of experience is exactly why "veteran receiver X" will be brought in at some point. I'll wait more until training camp cuts to begin speculating on who it will be, but every jets fan is going to ask about Braylon Edwards so I'll just address it now. I would like Braylon back for no other reason then he actually likes playing in New York, Mark Sanchez seems to have something close to a rapport with him (how many other guys can you say that about?), and the fans like him. Half the battle this year should be putting a team on the field the fans can actually like, right? I mean, the past two seasons have been miserable in every way possible. I loved the 2010 team not only because they were winners but because they seemed to enjoy each other and that's good enough for me. Brandon Lloyd is another name to keep an eye on.
I'm not going to pretend to know a lot about Jordan White or Zach Rogers. I know Rogers was given a draftable grade by nearly every "draft guru" I talked to this year. I also know that I liked White a lot more in college than I did at any point watching him play last season. He just looks slow.
Speaking of slow, time to talk about Jeff Cumberland! If the Jets are serious about passing the ball, and I hope they are, then Jeff Cumberland cannot be your starting tight end. He's really not good at anything, except maybe being a bad route runner or blocker. It sounds like the Aussie Hayden Smith is having a productive offseason. Smith played Rugby before signing with the Jets last year and floating between the practice squad and active roster. He's also 6'7", so he has that going for him. I expect to Idzik to take a chance on a low risk, high reward type guy like Kevin Boss.
Sir Marty loves his versatile running backs and he's got a few (for now) to play with. Mike Goodson's future is up in the air after his arrest for drug and weapons charges. If he remains a Jet, Goodson has a lot of big play potential and is an excellent pass catcher. Joe McKnight is a lot like Goodson, except fumbles more. I will not be surprised if McKnight isn't a Jet week one, which is sad because he was never given a really good opportunity to consistently showcase his skills. I do not think Chris Ivory is much of a pass catcher but his violent running style will appeal quickly to Jet fans. I've always though Bilal Powell was a decent pass catcher but I also think that way because I was comparing him to Shonn Greene, who is the worst at everything. Best of luck in Tennessee , Shonn!
The offensive line wasn't really as bad as people made it out to be last year. We've been so used to having the best offensive line in the league the past few seasons that having just an average o-line was… weird. Part of it was also on the quarterback, who failed to understand how to make quick decisions/protect the football. Anyway, expect to have another season of average o-line play. Willie Colon will be hurt by week four which means more Vlad Duccasse, which is never good. I think the Jets have something in rookie Brian Winters and I also like Stephen Peterman but I'm worried how Austin Howard does without an all-pro vet like Brandon Moore next to him.
Anyway, I can tell you all of these things but it comes down to coaching and quarterback play. The coaches have to put the best players on the field (something that they continually failed to do last year) and the quarterback has to make the easy throws, which, you know, hasn't been done in a while.
The NFL is a pass-happy league and Sir Marty is one of the leaders in that. When he had Joey Harrington and Nick Foles start as rookies, they averaged 37 pass attempts per game. That cannot happen in New York. Mornhinweg has to understand the strengths of his team (letting Chris Ivory run people over, using Geno/Sanchez in rollouts) and attack them. Everyone in the world knows Sanchez is better throwing in a rollout with two quick reads than dropping straight back but plays like that never happened. Why?
Don't let the talking heads fool you. There is some talent on the offensive side of the ball; it just has to be utilized properly. Let's just hope the Jets understand this too.
Videos
NY Jets Phase 3 OTAs, Expectations and a Minor Calf Tweak with Greg Renoff