NY Jets 5/30 OTA Practice Recap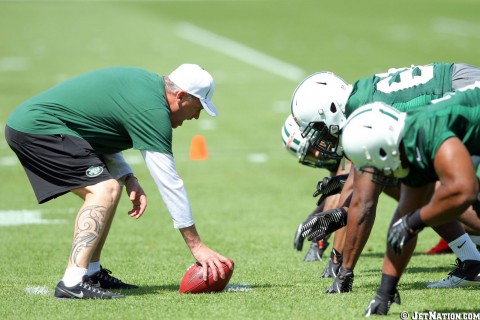 The Jets had another Organized Team Activity (practice) today which was open to the media.  Of course the quarterback competition took center stage as Mark Sanchez attempts to prove he should remain the starter while rookie Geno Smith tries to show offensive coordinator Marty Mornhinweg he's the man to start.
By all accounts both quarterbacks had a productive day:
Sanchez was 8/11 with a sack. Geno was 8/9 with a sack. #nyj

— Conor Orr (@ConorTOrr) May 30, 2013
Geno throws a nice 30 yard pass to Collins. #NYJ

— Brian Costello (@BrianCoz) May 30, 2013
Sanchez says this has probably been one of his best offseasons, feeling comfortable in system, etc

— Dennis Waszak Jr. (@DWAZ73) May 30, 2013
With the Jets new offense a "work in progress" the skill position players (wide receivers, tight ends and running backs) need to step-up.
Receiver Stephen Hill, who had been sidelined by a lingering knee issue, appeared to be running at full speed yet still limited during practice and had a dropped pass which was an issue last season. Tight end Hayden Smith made a few impressive receptions while TE Jeff Cumberland was excused due to the birth of his new child (A JetNation Congratulations Jeff).  WR Jeremy Kerley looks like he'll be a vital component in Mornhinweg's short passing offense:
Nice sliding catch by Stephen Hill in the end zone, looks fine from my pov. Running at full speed. #nyj

— Conor Orr (@ConorTOrr) May 30, 2013
Hayden Smith with two nice grabs today. Both leaping and full extension.

— Kristian Dyer (@KristianRDyer) May 30, 2013
#Jets practicing short passing game and Jeremy Kerley could be really, really busy in Marty Mornhinweg's offense.

— Dennis Waszak Jr. (@DWAZ73) May 30, 2013
Hill not getting a ton of reps. The Jets WR corps looks pretty thin at the moment. TE Hayden Smith might be having best day. #Jets

— Jane McManus (@janesports) May 30, 2013
Hill just got an earful from Mornhinweg after dropping a pass. #nyj

— Seth Walder (@SethWalderNYDN) May 30, 2013
Jeff Cumberland posted a pic of him w/ his new baby earlier. Too precious! #nyj #jets pic.twitter.com/QIE7Qahxmy

— Kimberley A. Martin (@KMart_LI) May 30, 2013
Running back Mike Goodson returned to practice for the first time since being arrested and he, along with his lawyer, preferred to do his talking on the field:
Jets OTA open to the media today. Mike Goodson won't talk to the media, even about football, on the advice of his attorney. #NYJ

— Brian Costello (@BrianCoz) May 30, 2013
Goodson working in with Geno Smith and Mark Sanchez also. #Jets

— Jane McManus (@janesports) May 30, 2013
Mike Goodson runs a toss play, blazes around left corner. That's why they signed him — speed. #Jets

— Rich Cimini (@RichCimini) May 30, 2013
While Sanchez and Smith fight for the starting job another QB battle is brewing between Greg McElroy and Matt Simms for the number three position:
Simms is working with 3rd team, again. This could be bad news for McElroy. #nyj

— Seth Walder (@SethWalderNYDN) May 30, 2013
McElroy, again, not getting third team reps. #nyj

— Conor Orr (@ConorTOrr) May 30, 2013

Looks like the veteran guards are frontrunners right now as Willie Colon and Stephen Peterman take reps with the first string while Vladimir Ducasse runs with the twos:
Guards with first team – colon and peterman

— Brian Costello (@BrianCoz) May 30, 2013
Second team o line consists of 4 rookies and Ducasse #NYJ

— Brian Costello (@BrianCoz) May 30, 2013
Next Jets Organized Team Activity: May 31st
Videos
New York Jets OTA Presser Takeaways, Aaron Rodgers' Impact and Summer Delusion