Home Slider Jet News Player interviews
Rex Ryan Minicamp Update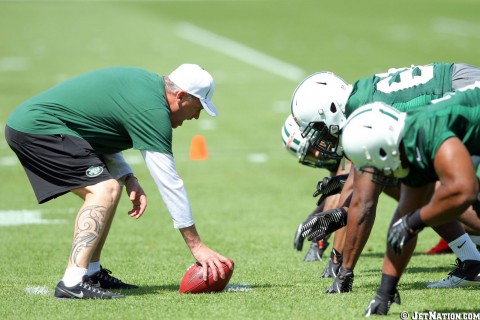 Rex Ryan wasn't happy with the number of dropped passes during the Jets first minicamp practice on Tuesday.  He told the media that several players were to blame.  Rex was happy with some of the offensive formations, specifically the no huddle offense that they worked on.  He spoke to the media on Wednesday about Geno Smith and several other topics.
On Geno Smith's ability to be a mobile quarterback and bring that dimension to the offense…
I think he's got the athleticism to do that. You're exactly right that (West Virginia) really didn't run a whole lot of zone reads and different things, but he has the skill set where there's no reason he shouldn't be able to do that. Now with that being said, I think you have to be smart in what you ask your quarterbacks to do or are you going to need to have a whole bunch of them. I think that's the way that people are going to start attacking these quarterbacks. But again, running for first downs and touchdowns, I think that's how the league is probably going to progress to these things.
On whether the Jets will use Smith to run specialized plays as a backup…
I know what everybody's thinking, if we did that, ugh, didn't we try that last year? I think certainly that's a possibility. To make assumptions now probably isn't the thing to do. We'll let this thing work out and pan out and we'll see. I know exactly what you're saying. In San Francisco, we never knew a whole lot about (Colin) Kaepernick and then when he came in there they started springing that stuff on you and that's like, 'Oh, ok.' He made some huge runs in that game against us. So, we'll see. I know we're looking at it, you have to be ready for it. It's something that's here and I'm not sure it's going away.
On the status of the quarterback competition…
Well again, today Geno will take a majority of the first team reps. I know its timing cause you guys haven't been here for all the practices and all that stuff, but we have been, you know, alternating those guys. So you'll see today that he'll be with the first team, the majority of the first team reps.
On Kellen Winslow's performance yesterday…
The one thing that jumps out at you is his skill and athleticism. That's something that jumps out at you, he still has that. And from the very first play that he's in there, you can still see that. Certainly he still has that.
On Mike Sims-Walker's performance yesterday…
You know what? He never jumped out at me the way Kellen did. We'll see how he does today.
On when he expects to see a jump in the offense…
I think when we get into training camp and we start putting the pads on and we're able to run the football a little bit, cause some of these guys are teeing off on the passer but you also have to be able to play the run. So I think sometimes it can be a little misleading, but I think a guy like (Chris) Ivory is going to jump out when the pads come on because he's just a physical, dominant-type runner. I think it will be interesting. The green and white (scrimmage) will be a fun thing to watch, I think.
On the impact Winslow can have…
I think having that kind of weapon (will have an impact), as far as, he is such an athlete.  Now look Kellen has never been a hired killer as a blocker but he tries. (laughter) But as an athlete and a receiver, of the two or three grey hairs I have on my head, of the two billion of them or whatever, he's contributed to some of those I can tell you.
On how he deals with the dropped passes…
I think the biggest thing if you are a receiver, the number one thing you do is catch the football. So, I think we better learn. We got to get that figured out. You catch the football. Whether it's focus, whether it's just having your hands in the right spot. The old thing we used to learn around the clock and all that stuff. Catch the football, you're an NFL player, catch the football, you're paid to catch the football. We expect it caught. When the ball is there, catch the ball. You know for us, you should be surprised if anybody ever drops a ball, when yesterday I was surprised when we caught it. It was like, 'Wow, how many of these things are we going to drop today.' Hopefully we'll come out today and we'll catch everything. That's the way it should be.
On whether the new offensive scheme will allow players to get open…
I think when you look (at it), the numbers will suggest that. So when you can look throughout Marty's (Mornhinweg) career as a play caller and things, I think you can see it seems like, here's the number tight ends have. You can almost go right down the line. Whether we'll have the same kind of success? I certainly hope s
On what he has seen from David Lee…
It was told to me, by a lot smarter coach than me, Bill Parcells for one, that this was the best fundamental quarterback coach that he's ever seen. In fact, when I got interviewed by Parcells in Miami, for the head coaching job, which I never really had a shot at, when I went down there he actually had hired David Lee before he had hired any other coach, before he hired a head coach or anything else. That will tell you what Coach Parcells thought of him. Certainly I haven't seen anything different of him out here. He has a great reputation. Anthony Lynn had coached with David before. If you're looking for an endorsement, I guess the fact that the Mannings, two decent quarterbacks, I'm not talking about the other brothers, but Peyton and Eli would go work out with David Lee. That's something. We'll take half their accomplishments and that would be good with us.
On if he thinks we will see Ivory and Goodson on the field together…
I do. I think so. If yesterday was an indication, we might have four of those guys out there at one time. But that was kind of an interesting thing you know, 'How are you going to play it? What are you going to run the wishbone back there?' I'm not sure. When you have a guy like Goodson, when you have a guy like Joe McKnight, that kind of athlete and explosive type guys, I can see them being out there with as well with your big, strong back, and we have two of them. I think Powell (Bilal) is a good back as well. I can definitely see us doing that.
On Coach Mornhinweg's experience with mobile quarterbacks and how it can translate to Smith…
I think even the West Coast offense, you know the West Coast whatever they call it, you have mobile quarterbacks. I remember going back to Bill Walsh, he thought that was probably the number one trait. There's two traits, accuracy and mobility, were his biggest traits he looked for in a quarterback. I think we're fortunate. I think Mark (Sanchez) is a better athlete than people give him credit for. And obviously with Geno I think, I don't know what he timed on the forty, but the guy can run and clearly has good mobility.
Videos
Aaron Rodgers Injury Fallout & Jets/Bills Recap