Featured Editorials Home Slider
2013 Roster Preview: Defensive Line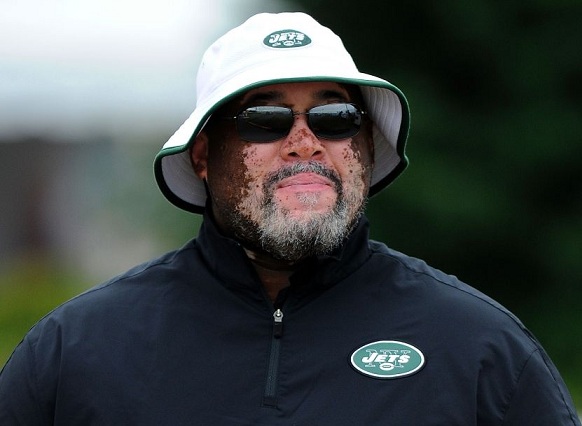 List of current NY Jets Defensive Lineman on the roster:
Last year, the area of the game where the Jets showed the most potential going forward was at the defensive line position.  Second year DT/DE  Muhammad Wilkerson (70 tackles, 5 sacks) and rookie Quinton Coples (30 tackles, 5.5 sacks) had promising years.  Veteran Sione Po'uha struggled to stay healthy for the full season, and has since been released by the team.
For 2013, the Jets strength of the defense is arguably their defensive line.  With 13th overall pick Sheldon Richardson, veteran free agent Antonio Garay, third year DT Kenrick Ellis and Damon "Snacks" Harrison, the Jets have a considerable amount of depth and experience that could make them the defensive front that Jets fans have hoped for under Rex Ryan.
Through OTA's and minicamp, the Jets have moved these versatile players around from standing outside pass rushers to 3-technique (outside shade of the offensive guard) to 5 technique (head up on the offensive tackle).  Sheldon Richardson could be seen as a defensive tackle on first down and then bumped out to defensive end on 3rd down.  Richardson's off the ball explosiveness and his ability to play two gaps will allow the Jets some flexibility in where he can play.  There will be growing pains, as there would be with any rookie, but his motor and his immense strength off the ball could make Richardson the guy Rex Ryan cannot take off the field.
Wilkerson has emerged as a budding star in the league in terms of defensive linemen.  One could argue that he played at a Pro-Bowl level last season and the Jets are looking for him to take the next step and get there this season.  He has all the physical attributes to create havoc for opposing offenses with his ability to play the run and rush the passer.  Wilkerson will be used in many different positions on the line to get him to the quarterback.  He has not only become a young, future star, but he has become a leader by example on the team.  His hardwork and willingness to assist the younger players shows he's captain material (even if Ryan doesn't make captains again like he did in 2012).
Damon Harrison could fill the role of Sione Po'uha, a "do-your-job" run-stuffing defensive tackle.  Unlike Po'uha, Harrison has shown the ability to rush the passer and bat down passes, as well.  Harrison had a solid Spring and the coaches have been quoted talking about how hard he works and his non-stop motor.  Harrison played briefly last season in five games not recording a tackle, but there should definitely be a spot on the roster for a guy who has worked as hard as Harrison has this offseason.  You can't teach hard work and in Harrison's case, his work and motivation is paying off.  He still will need to prove his worth once the pads come on, but there should be a spot on the roster for "Snacks."
The Jets will look to use a front with Richardson-Ellis-Wilkerson rushing up the middle with linebackers like Coples and Antwan Barnes to blitz off the edge.  With the depth of talent the Jets have at this position, they will be able to be creative in their schemes to help them become the dominant defense they were when Rex Ryan first became head coach.
Other players vying for a roster spot include:  Tevita Finau, Lanier Coleman, Junior Aumavae and a guy who has impressed coaches in Spring, Jake McDonough.  These four guys along with Leger Douzable, who was brought in on a tryout basis in minicamp (the Jets haven't decided upon giving Douzable a contract as of yet) will battle for a spot.
Unlike the other guys, Douzable has NFl game experience having recorded 56 tackles in his career, 38 with Jacksonville in 2011.  A spot in which may not be easy to attain, these five guys will have to prove their worth to the coaches in the minimal amount of reps they get in practice.
Videos
NY Jets Phase 3 OTAs, Expectations and a Minor Calf Tweak with Greg Renoff