Can Geno Smith Save the Jets?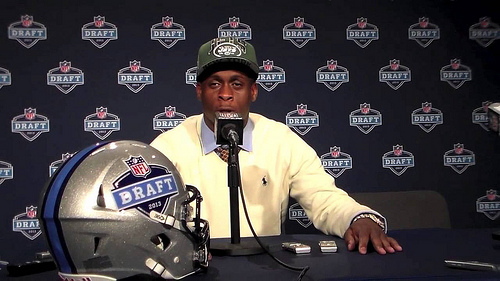 For the Jets last year, coming up with good quarterback play seemed harder than getting front-row tickets to "The Book of Mormon." After leading the Jets to two AFC championships and scoring a $58 million contract, quarterback Mark Sanchez struggled during both the 2011 and 2012 seasons. In 2012, he completed less than 67 percent of his passes and committed the infamous "butt fumble." No sports betting site has odds on Sanchez starting for the Jets this season.
What about Tebow? The divine favor that seemed to be with Tim Tebow in Denver didn't accompany him to New York, where he threw eight passes, ran 32 times and was then released by the Jets in April. Veteran David Garrard sat out the season, hadn't played since 2010 because of injury, and is now officially retired. Greg McElroy got some play in 2012, although he missed the last game of the season because he was suffering from concussion symptoms.
What's a franchise to do? Enter Geno Smith. Smith was a second-round draft pick for the Jets, coming in at 39th overall. Smith threw 4,200 passing yards and 42 touchdowns for West Virginia last year. At first, Smith took some flak from the media (coincidentally, right after he fired his agents). He was busted for texting during draft meetings, and some people mocked him for getting new representation from Jay-Z's Roc Nation agency. However, Geno has managed to squelch his naysayers by putting in a solid performance during training camp. In fact, many Jets fans and armchair quarterbacks are rooting for Smith to replace Sanchez as the starter.
A Rocky Start
Geno Smith's experience at the NFL draft was not so great. He wasn't picked at all in the first round and even considered leaving New York's Radio City Music Hall to go home. He decided to stay for the second round, but rumors circulated about his diva-like behavior. For example, when he was visiting teams for pre-draft meetings, according to Yahoo Sports, Smith sat alone sending out text messages, scrolling through Twitter and playing with his phone during the meetings.
Pro Football Weekly gave Geno a scathing review. The review described him as having a marginal work ethic and called him out for being neither "committed" nor "focused." Also, the review said he had a nonchalant field presence that neither inspired nor commanded respect. A league executive said that Geno had the ability to throw and obviously wanted to be good, but that he "doesn't know what he doesn't know."
Once preseason practice began, Geno demonstrated his abilities. During his first-team reps, he threw eight out of nine passes even though he was sacked twice. Most commentators agree that it's a two-man race between Geno and Mark Sanchez. And many feel that it's a race that Mark Sanchez is likely to lose.
Getting Geno to the Front of the Line
Smith has a few obstacles to overcome before he gets the nod from Rex Ryan. First of all, he has to learn a completely new offense. Second, he has to overcome the perception that he's more about celebrity than performance. However, his passes have good velocity and he throws a nice spiral.  He is also getting more comfortable with leadership as he learns offense, although he acknowledges that his footwork needs improvement. More than likely, Ryan will give him the starting job against Tampa Bay on Sept. 8.
So how do you solve a problem like Mark Sanchez? If another team's quarterback suffers injury during the pre-season, then the Jets will probably trade Sanchez away. The owners know that the fans will not be pleased if Sanchez goes up against Tampa Bay at MetLife Stadium.
Sanchez won't go away quietly. He's agreed to help Smith when he can, but he's also made it clear that he plans to compete for the starting job. Sanchez's enthusiasm is too little, too late. He won't be wearing a Jets uniform in September.
Image by Zennie Abraham From Flickr's Creative Commons
About the Author: Gary O'Brien is a writer and betting enthusiast. He uses www.sportsbettingsites.com when it comes to his football-related bets.
Videos
Aaron Rodgers Injury Fallout & Jets/Bills Recap