Hernandez Contract Clause Could Cause Bonus Forfeiture And The Financial Ramifications Of His Release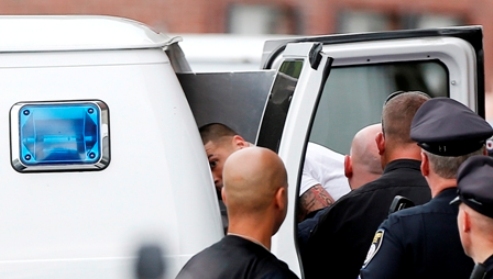 The release of Aaron Hernandez by the Patriots soon after his arrest on first degree murder charges was somewhat shocking as the team did not have to make such a quick decision.  The Patriots may have wanted to send a message and eliminate a potential distraction right away but from a financial standpoint they gave up the ability to recoup already paid bonuses permitted under the Collective Bargaining Agreement (CBA).
Section 9 of the CBA "Forfeiture of Salary" explains the rules regarding a Forfeitable Breach: 
Any player who "(i) fails to report, practice or play, (ii) is unavailable due to his incarceration (sometimes called the Plaxico Burress clause), (iii) unavailable due to a non-football injury or (iv) voluntarily retires," has committed a breach of contract which allows salary allocations to become forfeitable (Forfeitable Salary Allocations).
So by waiving Hernandez he is no longer under contract therefore no breach, forfeitable or otherwise, could occur.  It is understandable given the severity of the accusations that the Patriots felt removal of Hernandez was more important than recouping salary but the Atlanta Falcons and New York Giants keep players, who eventually were convicted and served a jail sentence, under contract in an attempt to utilize the CBA to retain or recoup salary.
The Atlanta Falcons attempted to have $16 million in bonuses paid to Michael Vick forfeited under the CBA but lost in court.  While Vick was serving an almost two-year prison sentence beginning in December of 2007 he remained under contact so the team could pursue his previously paid bonus.  The Falcons finally released Vick in June 2009.    
The New York Giants unsuccessfully tried to stop a $1 million signing bonus payment for wide receiver Plaxico Burress after he shot himself in the leg at a night club.  An arbitrator ruled in favor of Burress and he received payment.  This decision paving the way for a new forfeiture provision in the 2011 CBA, now a player who is "incarcerated" can have bonuses forfeited.  Burress was released by the Giants two days before the ruling.
Former sports agent, National Football Post columnist and CBSsports.com contributor Joel Corry offered up his insight into the Hernandez situation, "By releasing Hernandez this early there isn't a breach so that would undermine the Patriots claim to regaining signing bonus."
An additional twist in the Hernandez case could have a significant impact upon a potential forfeiture:
Corry explains that there was a provision of Hernandez's contract extension when signed which says, "He (Hernandez) warrants and represents that there isn't any reason why he wouldn't be available for the duration of the contract and there aren't any circumstances that exist which would prevent him from having continued availability to the club during the contract."
Hernandez signed the extension in late August 2012 but is now part of an investigation regarding a double homicide which took place in July 2012.  If Hernandez is convicted in any way of having involvement in this crime, which took place before the signing of his extension, he could be in violation of the above clause. This could allow the Patriots rights to recoup the entire $12.5 million signing bonus since Hernandez knew of this July 2012 crime and it could prevent him from being "available" for the entire contract.  Therefore a forfeitable breach would have occurred upon signing.  As of now the Patriots have paid $9.25 million of the signing bonus, with the remaining $3.25 million payment due in March 2014. 
Signing bonuses are prorated or spread out evenly over the life of a contract up to a maximum of five years.  So Hernandez's total signing bonus, $12.5 million, counted $2.5 million on the 2012,13,14,15 and 16 salary caps.  Under CBA forfeiture rules past season salary or prorated money cannot be forfeited, so even if still under contract the Patriots could not get back the 2012 base or prorated monies without a violation of the above mentioned clause.
With Hernandez being held by authorities without bail he is obviously not reporting to training camp keeping him under contract would have left open possibilities for the team to save money on the salary cap: 
"The Patriots really should have allowed Hernandez to miss some training camp practices or preseason games, at least, before they waived him," Corry said.  "They would be in a much stronger position to regain bonus money than they are now."
By allowing a "Forfeitable Breach" to occur the Patriots would have an opportunity to recoup $10 million in prorated bonuses on their salary cap.  According to Corry the problem is a team will only receive a cap credit for bonus money returned and Hernandez will not be in any rush to give back money.  So the Patriots would have to chase Hernandez for the money which could lead to a long drawn out legal process with the team still never getting back a dime from him.  This might explain part of their reasoning for just releasing the player but another fact also plays a role.
Under the CBA teams have to negotiate the "Voiding of Guarantees" with players and add terms which causes a void within the contract.  Hernandez had a fully guaranteed salary of $1.323 million in 2013 and $1.137 million in 2014 but according to NFL.com's Ian Rapport the Patriots omitted the standard language "failure to perform" or "failure to practice" which would have voided Hernandez's guaranteed salaries. 
If the Patriots had the usual provisions and kept Hernandez under contract once he violated these provisions the guaranteed salary would void resulting in a salary cap savings of $2.46 million.  Without this specific language no voiding of guaranteed salary occurs.
There are now two issues which face the Patriots in a financial sense.  The salary cap ramifications or the dead money hit, money which counts on the cap for a player no longer there, for the release of Hernandez and the guaranteed salary and roster bonus payment owed within the contract.
The 2013 and 14 guaranteed base salaries ($2.46 million total) accelerates onto the 2013 cap, $2.55 million in prorated signing bonus and an $82,000 (2013) workout bonus, payable August first according to Corry, gets added up. The Patriots take a dead money salary cap hit for Hernandez of $5.092 million this year and $7.5 million in 2014 (prorated signing bonus $2.5 million 2014,15 and 16 accelerates, gets added, on to the 2014 cap).
If the Pats are forced to take on all charges, Hernandez's 2013 cap number will be $5.092m

— Ben Volin (@BenVolin) June 26, 2013
That's $2.5m and $50k in signing bonus, $1.323m guaranteed salary in 2013, $1.137 guaranteed salary in 2014 and $82k workout bonus this year

— Ben Volin (@BenVolin) June 26, 2013
Technically Hernandez is entitled to unpaid guaranteed salary even after his release:
"The Patriots still owe Hernandez $5.792 million from his contract.  $3.25 million roster bonus payment was supposed to be made in March 2014, $2.46 million guaranteed salary and a yet unpaid $82,000 workout bonus," Corry said.  "I would be shocked if the Patriots went ahead and paid those.  They would say you're going to have to file an action to try and get us to pay the money.  Even if Hernandez is in the right public opinion is going to be heavily in favor of the Patriots withholding that money, so the bad public relations might prevent Hernandez from chasing it."
The Patriots as an organization made a decision not utilize protections under the CBA to try and recoup salary and cap space.  They will face the full salary cap charges described above for releasing Hernandez but it seems unlikely they will voluntarily fulfill the payment obligations under the contract saving the actual money.  Instead the team will put Hernandez in a position to decide whether or not to take action to obtain payment as long as circumstances remain as they are now.
UPDATE: According to Ben Volin of the Boston Globe and NFL.com the Patriots were able to void Hernandez's guaranteed base salaries dropping the 2013 cap hit:
Confirmed via Patriots source: Hernandez's cap numbers will be $2.55m in 2013 and $7.5m in 2014. They voided his guaranteed monies

— Ben Volin (@BenVolin) June 28, 2013
The New England Patriots have voided all of Aaron Hernandez's contract guarantees, according to a source informed of the Patriots decision-making and a NFL Players Association source, meaning the former tight end will have to fight to receive even the portion of his signing bonus that he's already earned.

Hernandez was to receive $2.5 million in guaranteed base salaries over the next two seasons, and his contract does not have language to void that money if he fails to practice. However, the Patriots believe the Collective Bargaining Agreement covers them because he has engaged in conduct unbecoming after being arrested and charged with first-degree murder in the death of Odin Lloyd.
It would be interesting if this voiding of Hernandez's guaranteed money would hold up to a legal challenge given the lack of voiding language in the contract and the CBA provisions regarding voiding of guarantees.  The Players Association would likely fight this voiding under different circumstances but the severity of the charges against Hernandez would seem to force the NFLPA to avoid a challenge.  Looks like for now the Patriots will only be responsible to pay the remaining $3.25 million for his signing bonus, which might be recouped under the CBA as this is uncharted territory for the forfeiture rules laid out in the new agreement, and has begun setting some precedents as to how these rules will be interpreted.
You can read more about this and comment in our New York Jets message board.
Videos
Was Boomer Right to Blast Becton? Former Jets QB Sounds off Against Jets Tackle.