Featured Editorials Home Slider
Should The Patriots Be Allowed To Void Hernandez's Guarantees Under NFL Rules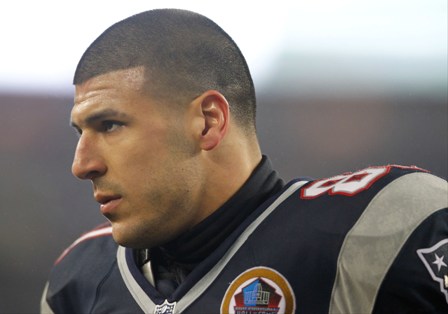 Following up on a recent JetNation article regarding Aaron Hernandez's contract multiple sources are reporting the New England Patriots were able to void his guaranteed base (season) salaries for 2013 and 14.  
Ian Rappoport of NFL.com had written the contract language voiding any future guaranteed salary for Hernandez was omitted:
In almost all situations, when an NFL player is suspended, he forfeits all of the future guarantees in his contract. Even if a signing bonus or base salary is guaranteed for skill, injury and salary cap, a "failure to perform" or "failure to practice" clause makes those guarantees null and void.

In a surprising twist, this appears not to be the case with the five-year, $40-million extension signed by New England Patriots tight end Aaron Hernandez in August of 2012. Upon close reading of his contract language — and after confirming the development with an expert — the "failure to perform" or "failure to practice" clause that appears in similar Patriots extensions is not present. This means Hernandez might be able to keep nearly $2.5 million of the deal, even if legal troubles prevented him from taking the field.
Hernandez was set to make fully guaranteed salaries of $1.323 million this year and $1.137 million in 2014 but without any voiding mechanism in his contract it looked as if the Patriots, while likely not paying the money, would be stuck with it counting ($2.46 million) in its entirety on their 2013 salary cap.
Section 9-(g) of the Collective Bargaining Agreement (CBA) gives teams the right to void future guaranteed salary but terms which trigger the voiding need to be expressed within the player's contract:
(g) Voiding of Guarantees. Notwithstanding any other provision of this Section 9, a Club and player may negotiate the circumstances under which the guarantee of any unearned Salary (including, without limitation, Paragraph 5 Salary and/or future year roster bonuses, option bonuses or reporting bonuses) may be voided.
Now Rappoport is saying the Patriots believe they have been able to void Hernandez's future guarantees based upon personal conduct policies:
The New England Patriots have voided all of Aaron Hernandez's contract guarantees, according to a source informed of the Patriots' decision-making and an NFL Players Association source, meaning the former tight end will have to fight to receive even the portion of his signing bonus that he's already earned.

Hernandez was to receive $2.5 million in guaranteed base salaries over the next two seasons, and his contract does not have language to void that money if he fails to practice. However, the Patriots believe the Collective Bargaining Agreement covers them because he has engaged in conduct unbecoming after being arrested and charged with first-degree murder in the death of Odin Lloyd.
Source: Ian Rappoport / NFL.com
Ben Volin of the Boston Globe cites sources within the Patriots organization which believe NFL Rules and the CBA allow for the voiding because of Hernandez's "detrimental" conduct:
But the Patriots believe the NFL's bylaws and collective bargaining agreement have specific language about "conduct detrimental to the best interests of professional football" that works in favor of them voiding all future payments to Hernandez, including an installment of his signing bonus.

"It was guaranteed for skill and injury, but it wasn't guaranteed for personal conduct that cast the club in a negative light, and that's why we cut him," the source said. "We know the CBA. We are well within our rights."
The issue with the above argument is that Hernandez was released by the Patriots under a "Guaranteed Contract for Skill, Injury and Cap" designation:
Per the NFL transaction wire, Aaron Hernandez was released with the designation, "Guaranteed Contract for Skill, Injury, and Cap"

— Ben Volin (@BenVolin) June 26, 2013
Section 11 of a standard NFL player contract does contain a "conduct" clause:
11. SKILL, PERFORMANCE AND CONDUCT: … if (a) Player has engaged in personal conduct reasonably judged by Club to ad-versely affect or reflect on Club, then Club may terminate this contract.
So if the Patriots and NFL Commissioner Roger Goodell believe the CBA along with NFL bylaws allow for voiding of future guarantees via personal conduct then why not release Hernandez under that provision, which they could have done?  Doesn't it make the case stronger that Hernandez's action was "detrimental" to the team and league if he was released from the contract for that reason?
The NFL bylaws do give the commissioner power to "Cancel any contract or agreement of such person with the league," who is guilty of conduct detrimental to the league.
It seems the NFL and NFL Players Association (NFLPA) is setting a bad precedent allowing the vague "conduct detrimental to the league" policy to supersede the collectively bargained, between the NFL Players Association and NFL, agreement which is supposed to govern these matters.  As a practical point the CBA expresses the procedure for voiding future guarantees but the NFLPA hands are tied to fight this voiding given the severity of the issue.  The Patriots seem to be getting a "mulligan" for omitting the proper language in the contract and following correct salary forfeiture protocol under the CBA allowing for immediate, as well as potential future, salary cap relief.
In the NFL's quest to send a message they are losing sight of the bigger picture.  This is not about Aaron Hernandez specifically but how forfeiture of salary and the scope of the disciplinary powers are defined. 
The Patriots chose to release Hernandez after his arrest but before he was formally charged and incarcerated, so what if he was given a lesser charge than released?  Would the team/commissioner then still have the right to void his guarantees, would the NFLPA not fight this and could any of these decisions, even under current circumstances, stand up to an action brought before a court?
Some may feel that Hernandez does not deserve protection from the NFLPA or anyone given his circumstances but the rest of the people the NFL Players Association represent do.  Allowing such a wide scope of unchecked power puts all player contract guarantees at risk.  There are apparatuses in place, grievances or legal actions, but now the onus has been shifted from team to player and of course Hernandez has bigger problems right now then to engage in a contract dispute. 
The Aaron Hernandez situation is not the issue here but standard rules, protocol and procedures NFL teams and players must adhere to for the fulfillment, forfeiture or voiding of terms of a contract agreement that are specifically laid out.  The voiding of Hernandez's guarantees seems correct on a personal level but it is not given an objective viewing of regulations governing NFL contracts and discipline policies as these decisions are subjectively (opinion) based rather than on agreed upon standards. 
Videos
Aaron Rodgers Injury Fallout & Jets/Bills Recap