Featured Editorials Home Slider NY Jets Training Camp Player interviews
Clyde Gates Camp Update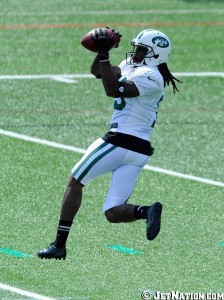 Clyde Gates started camp off by making the most of his early opportunities.  Rex Ryan said that Clyde Gates was the MVP of camp.  Strong words for a young receiver fighting to make the roster under a new offensive coordinator.  Gates had a history in Miami with Tony Sparano.  But his safety net (Sparano) is gone now, so Gates needs to impress if he wants to see the field this year.
Gates spoke to the media after practice today.  Here is what he had to say:
On Coach Ryan saying he was the MVP of training camp…
I mean, I think it's great. It definitely helps me out a lot to know that I'm out here making a statement and making an impression on him. So to me personally, it helps me out a lot to come out every day and continue doing what I'm doing.
On becoming a good route runner…
You've got to take pride in what you're doing. You've got to build (on your) craft. I'm a receiver so receivers catch the ball and run good routes so it's just something I always practice on and try to master.
On Coach Mornhinweg saying he has seen flashes but needs to see consistency…
The biggest thing is consistency. I mean, you can't come out one day, have a good day, then the next day just be mediocre. I mean, it's just not going to cut it on this level. So the biggest thing to me personally is consistency day-in and day-out every day.
On what he has seen from Mark Sanchez and Geno Smith…
I mean, both of them are great quarterbacks. If you give them time, which the O-line has been doing, then you can expect big things from both of those guys.
On Coach Mornhinweg's offense…
Oh yeah, it's a lot of freedom but overall you've just got to win. You get the freedom to do whatever but if you don't win then eventually you can get it taken from you. But they give you as much freedom as you want as long as you win.
Videos
New York Jets OTA Presser Takeaways, Aaron Rodgers' Impact and Summer Delusion