Home Slider NY Jets Training Camp
Jets Camp Notes – 07/28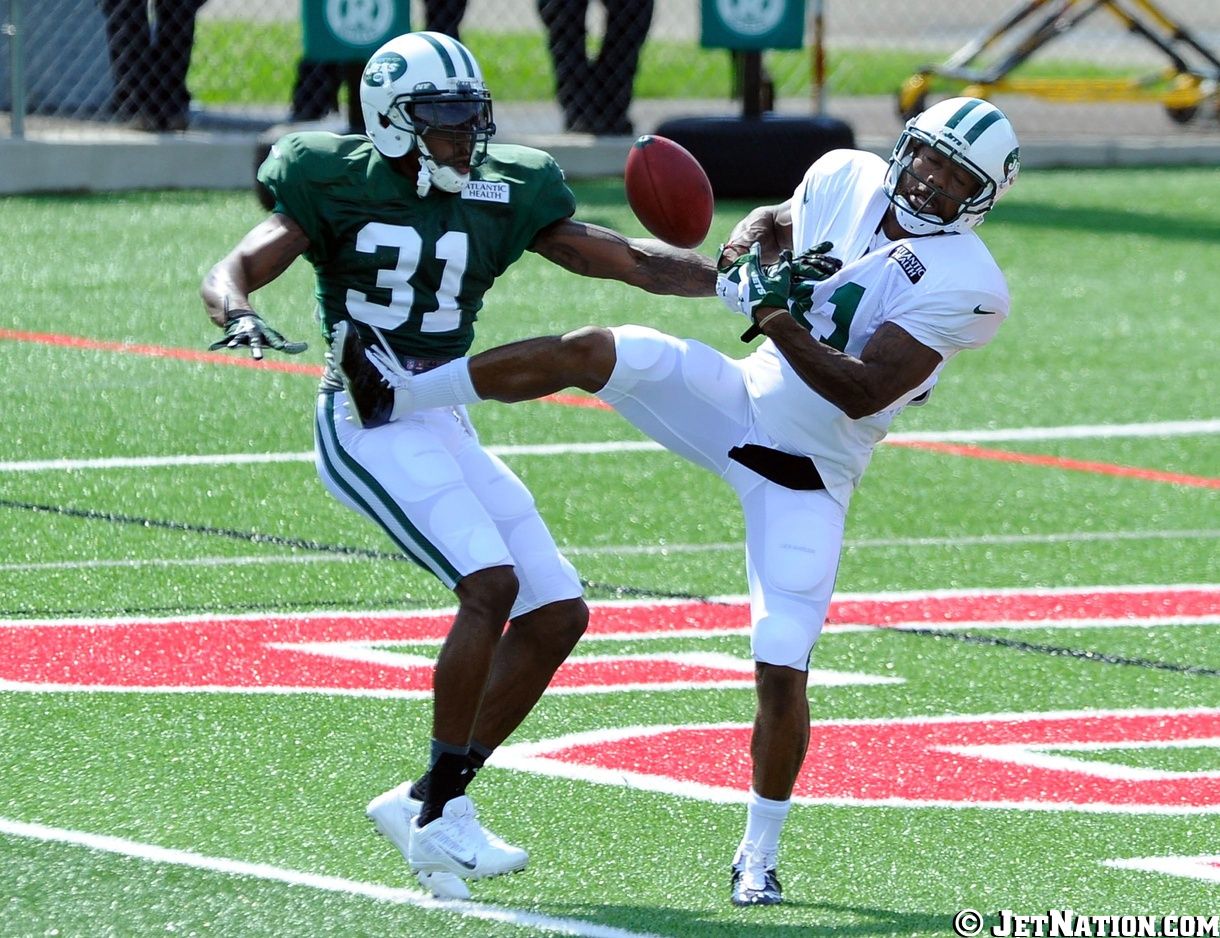 The Jets took the field today in full pads for the first time and it was later than originally scheduled.  The 10am session was postponed and later rescheduled due to lightning nearby.  So they resumed practice at 3:30pm and here is a brief recap of the action.
Quarterback
It is so hard to get a feel for what is truly going on with the QB battle since it is so early in camp.  Many seem to be rooting for Geno Smith, while others are rooting for Mark Sanchez.  By all accounts the offense does look better early in camp, so that is encouraging.  It is best to reserve judgement until we can see them in actual games.
Final QB stats today. Geno: 4-for-6, a sack, a nice long pass to Hill. Sanchez: 5-for-7, a sack. #nyj

— Brian Costello (@BrianCoz) July 28, 2013
Geno Smith highlight today: 50-yard completion to Stephen Hill down right side. Mark Sanchez highlight: Sharp deep out to Ryan Spadola. #nyj

— Manish Mehta (@MMehtaNYDN) July 28, 2013
The main stream media has been asked to not tweet about the formations the Jets are running in practice.  This request was apparently made by the stellar PR department of the NY Jets.  So a few media members have made it clear that the Jets have run the wildcat and that Geno Smith was running the read option today.  Geno did start with the 1st team today as part of the QB rotation.
Running Back
Chris Ivory is still limited and the Jets are being cautious with him.  Mike Goodson is not yet in camp and Joe McKnight has had a strange start.  Today he was suffering from migraines and this comes after he failed the conditioning test on Thursday due to cramping up.  Here is some more information on Joe McKnight.
That leaves plenty of opportunity for the younger backs in camp, Chadd Spann and John Griffin.  There are many first-hand accounts saying that they have looked good so far, but again it is too early to judge.
Wide Receivers and Tight Ends
Rex Ryan mentioned that some veterans would be placed on a pitch count, to limit their work load.  This was the case today with Braylon Edwards and Kellen Winslow.
Winslow, Edwards not practicing. Probably part of the so-called pitch-count plan. #Jets

— Rich Cimini (@RichCimini) July 28, 2013
Here is another note on the wide outs.
Stephen Hill with a bounce back practice. Just grabbed a square-in for about 20 yards. Geno may have been "sacked" but stepped up nicely.

— Chris Lopresti (@CLoprestiWFAN) July 28, 2013
Kickers
Nothing new to report here, both kickers made every attempt during practice.
Other Notes
There were very few reports on the defense today.  The media is very focused on creating a controversy over John Idzik's comments that he has a say in who the starting QB will be.  Still no Dee Milliner, as we reported yesterday John Idzik is going to stand his ground in those negotiations.
Be sure to check out our New York Jets photo gallery which has pictures from each practice.
Videos
Aaron Rodgers Injury Fallout & Jets/Bills Recap