Featured Editorials Home Slider Jet News
Pro-Geno? Pro-Mark? How About Pro-Jets?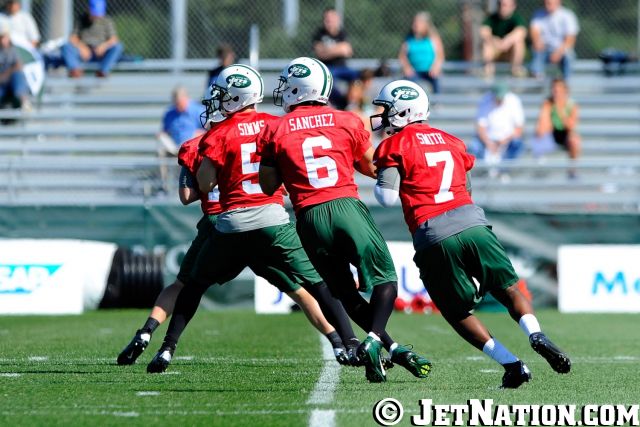 The social media realm that involves JetNation has been split 50-50 over who should start at the quarterback position between Mark Sanchez and Geno Smith.  In fact, there have been arguments and insults thrown out by fans, to fans who support one way or another.  My question is this…Why not just wait until coaches have made the necessary decisions that will give the TEAM the best chance to WIN?  I'm not talking about winning one game, I'm talking about building a sustained winning club for years to come, starting with this upcoming season.
Mark Sanchez has been ineffective to say the least the past two years.  He has more turnovers than any other quarterback in that span.  He HELPED the Jets get to the AFC Championship his first two years in the league, as a PART of a solid all around team effort.  Mark has shown signs of brilliance, and signs of a guy who just doesn't seem to take the next step in his career.  Either way, he is competing for a starting position on the New York Jets football team.  Whether you like Mark Sanchez or not, he is going to give it his all to try and win the position, because he sees the writing on the wall.  If he fails to beat out rookie QB Geno Smith, he may never start in the NFL again.  He may be a career backup, something he will not be happy to settle for.
The rookie Smith was a projected top 10 pick, and even discussed as the #1 overall pick.  He fell into the second round where the Jets were able to draft him at #39.  He has the prototypical quarterback size 6'3″ 220 lbs.  He has an underrated arm as he's shown in camp so far.  He can put touch on a deep ball, but also fire one in on shorter routes when he has to.  He is getting used to playing under center and getting used to dropping back from that position.  He has to learn to read defenses very quickly and make accurate decisions to ensure that the offense stays on the field.  He has a lot to learn, but is the potential alone enough to give him a leg up on the competition?
It's not up to us as fans to say whether or not one guy should be the QB or the other.  Would a lot of Jets fans like to see Mark Sanchez holding a clipboard after two dismal seasons? Of course, who wouldn't?  Would some fans go with the veteran in the beginning of the season and bring the rookie along slowly to learn the ropes of how to prepare as an NFL quarterback? You bet there are many fans who feel this way also.
It's fine to support one way or the other, but you've got to respect others opinions about how they feel.  Marty Mornhinweg has been an Offensive Coordinator in this league for many years.  He's seen it all.  He has a system in place that can be successful and he will undoubtedly pick the best players to help his offense prosper.  Let him be the judge of who should start.  If he chooses a way in which you were hoping he would, then that's great news.  If he chooses the opposite, you have to take a step back before reacting and say "The coaches believe that this guy gives our team the best chance to win at this time."  That doesn't mean that the player he, along with front office and Head Coach Rex Ryan, chooses will play out the entire season as the starter.
I have been clear and opinionated about who I hope starts for this team.  I personally feel that the Jets need to turn the page and move on from the last four years.  This is a new year, new front office, and they need to start over.  However, having said that, if the coaches and organization feel that another guy in that place gives the team the best chance to win I will support the JETS as a team.  Remember, we all fell in love with the "NEW YORK JETS" at some point in our life.  There have been many players who have come and gone in this organization, but we've always stayed loyal to the team.  Why change now?
Every Jets fan is entitled to their opinion, but remember why we are all fans…we want to see the JETS TEAM WIN and be SUCCESSFUL for a long time.  We are all dying to see that 2nd Super Bowl trophy hoisted.  We are one family, and probably one of, if not THE MOST PASSIONATE FANS in all of the NFL.  We've gone through a lot of ups and downs as fans and I'm sure there will be many more in the future, but remember we are JETS and we'll support them no matter what.  We'll celebrate when we win, and criticize when we lose, but we are one fanbase and we support the NEW YORK JETS!
Videos
Aaron Rodgers Injury Fallout & Jets/Bills Recap