Dee Milliner On Camp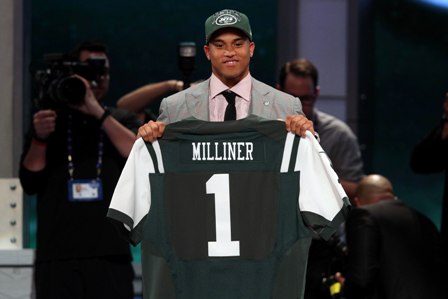 Dee Milliner was asked some questions after practice on Friday.
On if Antonio Cromartie has been helpful…
Oh yeah, very much. He's one of the veterans on the team, a great DB. He always helps you out. He talks to me a lot, talks to the other DBs also. (He) just (tells us) things that he's learned over the years and things that can help you out.
On playing more snaps…
Oh yeah. I did a lot today. I actually ran through a lot more team things. Yesterday I just did like seven-on-seven and one-on-one's, stuff like that. But I did mostly everything today, except the goal-line, short-yardage part. It felt great to be back out there and moving around with the team.
On the most important part of training camp and the preseason…
Just to get out there, play with the team, get your role on the team, (and) also learn the playbook. Just get acquainted with everything, (and) try to get everything that you know knowledge-wise (and) take it into the regular season.
On going against the first-team offense at Alabama…
That was (a) great time. We get out there the same way as here. You go against the ones, you're going to battle it out. There's going to be a lot of competition on the field, a lot of aggressive play. You're just getting better all around as a team, so it's always great to go one-on-one with each other.
On if it is different playing in the NFL…
It's not different at all, really. Coach Rex (Ryan), he's always involved with everything. He was just like Coach (Nick) Saban. He wanted to be around the defense, around the players, just try to be around everybody, get them acquainted with everything and get knowledge from all the players. So it's mostly like the same thing. He's around everyone, all the coaches are very, very involved, so it's really the same.
Videos
Aaron Rodgers Injury Fallout & Jets/Bills Recap