Home Slider NY Jets Training Camp
Green And White Scrimmage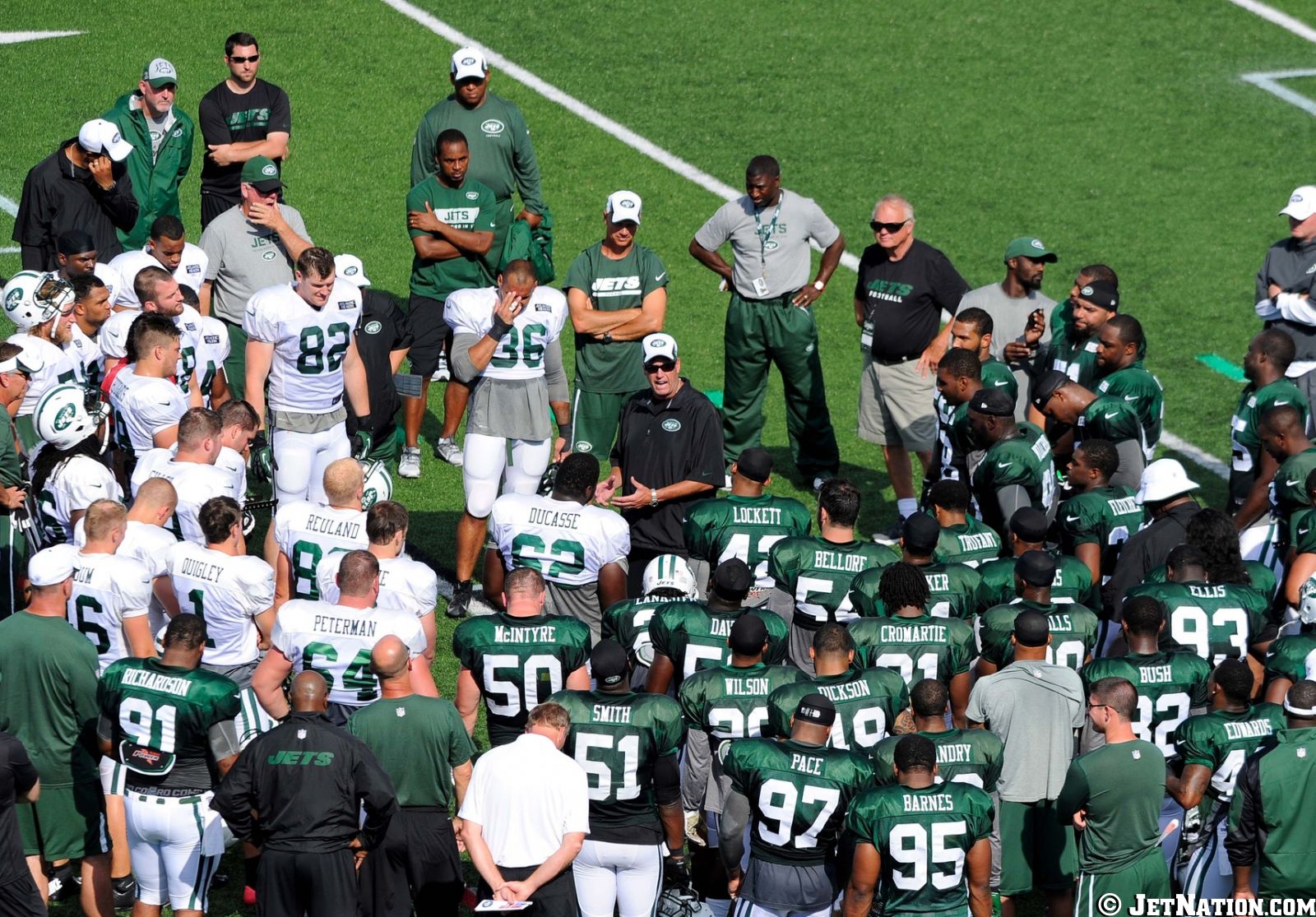 The Jets will hold their annual green and white scrimmage on Saturday at 6pm.  The scrimmage is played under game situations, with actual NFL referees and a play clock.  The scrimmage will be the first real test for many Jets.  Here is a video preview from the NY Jets.
Rex Ryan was asked if the quarterbacks could separate themselves during the scrimmage and he said:
I don't think you're going to necessarily separate yourself to say, 'Oh, here's the starter.' I think you have to get it in the games. We'll see. Certainly it's going to be another opportunity to get out there. I think it is when the fans are there, the spirit of the fans and everything else are right there, it does pick up. You can say what you want, the tempo does naturally pick up. So that'll be fun to watch. It will be the first time we have scrimmage situations other than goal-line and short-yardage that are live. We had a little live with the third group. I'm looking forward to that.
Mark Sanchez gave his thoughts on this being a change to separate himself from the competition…
I don't know, I mean it obviously is a lot bigger on the outside because there's more fans, more people at the game, everybody is a little excited, it's the first game like atmosphere.  But at the same time whether we're playing the green and white game or we're playing a playoff game, the field is the same size, the ball is the same size, you still play the same game you know, and have a good time doing it, and that's my plan.
Don't feel bad, I have no idea what Mark's quote means either.
Rounding out the QB competition is Geno Smith and he gave his thought on how the Green and White scrimmage is different from practice:
Obviously everything's been competition, but I think the level of competition will be raised. Every single guy wants to go out there and perform well in the scrimmage. You want to be that guy when you go back and watch tape and the coaches are praising you and saying, "Hey, this is the type of guy we need here and this is the type of guy who has given a maximum amount of effort, always doing the right things," and every single guy's going to have that in the back of their minds.
Here is the Official Green and White scrimmage thread from the JetNation forums.  Please check it out for additional information.
Videos
Aaron Rodgers Injury Fallout & Jets/Bills Recap