Home Slider NY Jets Training Camp
Green And White Recap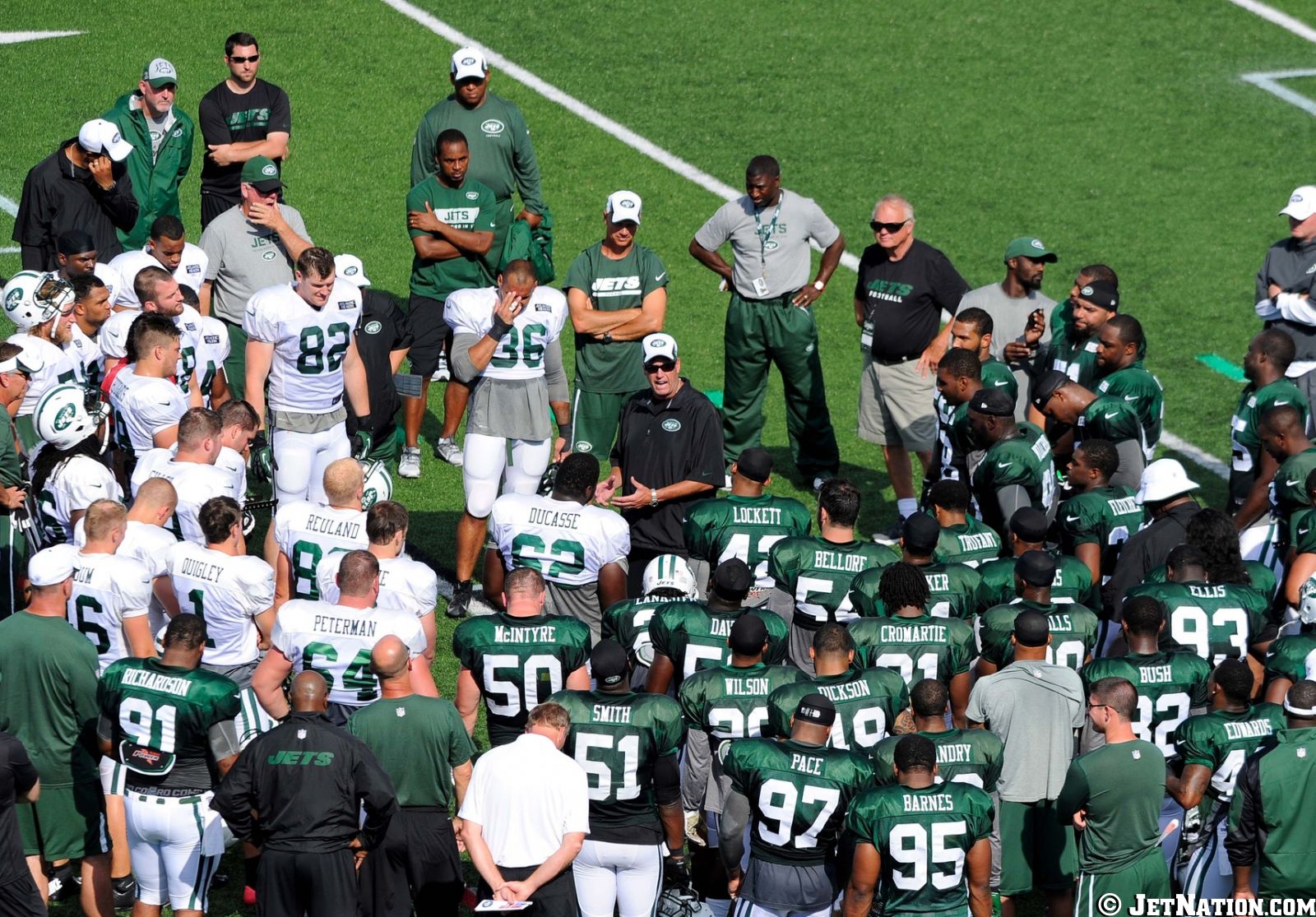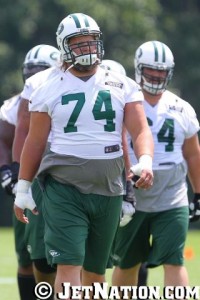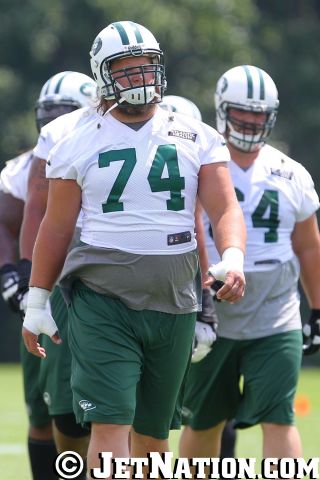 Tom Shane was at the Green and White scrimmage and did an excellent job of recapping the action live.  Definitely check out that thread for a near play-by-play recap of the scrimmage.  Tom also wrote up a brief recap of his observations which appear below:
The Jets played their Green and White Scrimmage tonight. Here are some…BULLET POINTS:
–If the job of quarterback solely entailed throwing the ball to receivers, Geno Smith would win it easily. But throwing the ball to a receiver only happens if the quarterback can call protections and identify the blitz, which Geno simply cannot do at this point. Rex's blitz packages confused Geno much moreso than they did Mark Sanchez, and Geno would have gotten crushed a minimum of five times easily. Until he gets a handle on keeping blitzers off of him, Rex needs to keep Geno on the bench.
–There really was nothing redeeming about Sanchez's play tonight. He was inaccurate both short and deep, and everything he does lacks confidence at this point. The pick he threw to Antonio Cromartie down the left sideline was putrid rookie-type garbage (safety help over Vidal Hazelton, with Cro appearing to be the intended receiver). In short, he looks like he's given up. He closed the scrimmage with a bomb to Stephen Hill, who beat Ellis Lankster one-on-one. Even Sanchez looked surprised it was completed.
—Bilal Powell was quietly the offensive star of the game, showing good vision, power, and wiggle to pick up yards. He reminded me a lot of Joe Morris in the way that he would get under tacklers and drive through them to eke out an extra couple of yards.
–The flip side of Powell looking good was that the interior defense looked soft. David Harris looks lighter on his feet, but he wasn't as stout against blockers as he usually is, Demario Davis was pushed back at times, and–most glaringly–Kenrick Ellis was easily handled on running plays. Ellis' game is all finesse, it seems, which is the opposite of Sione Pouha, whom the Jets will sorely miss.
–The Marty Mornhinweg offense will feature a lot of rollouts and screens to go along with intermediate slants and posts–all conducive to helping a young QB. You can definitely see why QBs who weren't exactly gifted have prospered in it before–it doesn't require great arm strength or complicated reads.
You can read more of Tom's thoughts and fan reaction in the Jets Green and White Recap thread.
Videos
JetNation
4.6K
Subscribe
Broken Brains; Critics of Jets Quarterback Aaron Rodgers Begin Stirring up Conspiracy Theories