Jets RB McKnight Arrested, Holmes Says He'll Miss Four Weeks & More Jets News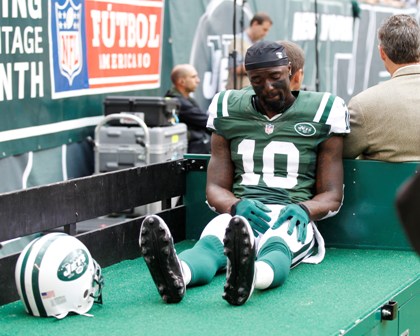 Here is some news out of Jets training camp:
Wide Receivers:
The Jets wide receivers struggled as a group during offseason and mini-camp practices, especially with dropped passes.  It seems now the group is collectively performing much better during training camp. 
The emergence of Stephen Hill, Clyde Gates and undrafted rookie Ryan Spadola has been a pleasant surprise.  Also include Jeremy Kerley, the Jets leading receiver from last year, veteran Braylon Edwards and young Vidal Hazelton, attempting to make the roster, a position once of great concern is easing some.
The return date of receiver Santonio Holmes is the biggest question facing the Jets right now.  Currently on the physically unable to perform list (PUP) while recovering from a Lisfranc (foot) injury suffered last season Holmes' playing status is very much up in the air.  Brian Costello of the New York Post has reported Holmes expressed to friends he'd miss four weeks of the season:
Santonio Holmes remains sidelined and he has told friends he expects to miss at least the first four games of the season.
Source: NY Post/Brian Costello
The Jets will have to decide by the final roster cut-down date (August 31) whether to place Holmes on the 53-man active roster, even if he has to miss some games, using up a roster spot or keep him on PUP, opening a roster spot while he recovers, potentially activating him by week seven at the earliest.
Running Backs:
What was once seen as a potential strength of the team the running back position has taken a downward turn.  After RB Chris Ivory was acquired via trade many felt he brought a dynamic physical element to the offense.  Unfortunately Ivory also has a history of injury and been sidelined with a hamstring issue throughout most of camp. 
RB Mike Goodson was a free agent signing by new general manager John Idzik and like Ivory was suppose to bring playmaking ability to both the running and passing game.  Unfortunately Goodson got into some legal issues during the offseason and has yet to report to camp, leaving us to wonder if he ever will?
Then there has been the odd beginning for RB Joe McKnight as he struggled to get through practice early with various illnesses and migraine headaches.  He later suffered a head injury which has kept him off the field and now it has been reported he was arrested on July 30th for unpaid fines. 
The one bright spot has been the play of third year RB Bilal Powell who had a good showing in the Jets "Green and White" scrimmage along with making impressive plays during camp.
The Jets have brought in a few players, Chad Spann and Mossis Madu, to add some depth to the running back position.
Videos
Aaron Rodgers Injury Fallout & Jets/Bills Recap