Joe McKnight Update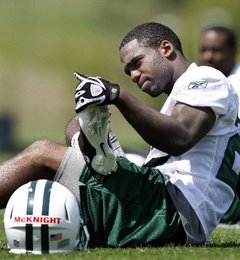 Updating an earlier post about Joe McKnight being arrested, Rex Ryan spoke to the media about this situation today.
On Joe McKnight's arrest for traffic violations…
Number one, we're aware of it. I don't know what else to add to it, but we are aware of it.
On whether McKnight has a concussion…
I know he had some head injury that we're making sure we're observant (of) and things like that. I don't know for a fact that he has a concussion or not, but I know he had some kind of head injury. You're not going to put somebody out there if there are any questions whatsoever about it. But do I know specifically he had a concussion? No, I do not know that.
On whether Joe McKnight must have had a concussion test…
Well, I think he's still getting tests on it or something.
On whether he feels McKnight has an issue in camp every year…
I think with Joe (McKnight), it's not that he's not in shape, because Joe McKnight's in shape, he's in phenomenal shape. But I'm saying he's in shape, but there are some guys who have anxiety (in my opinion) in some situations. And I think that prevents more than anything because the very next day he runs it. He's always done it, and just some guys are like that. But it's not an indication he's not in shape because Joe is in shape. But as soon as you say it, it's just like when you get guys taking the ACT or SAT, some guys freeze up. At least that was my excuse (joking).
On whether McKnight has an anxiety issue…
He has a little bit of that, a little angst in him when it comes to (a) conditioning (test). He's in great shape, but it seems for some reason, something like this happens. (McKnight does not have any clinically diagnosed anxiety issue)
On when McKnight will be ready to play…
I wish you could ask (Head Athletic Trainer John) Mellody that because I don't know the exact deal. I just know when they tell me that Joe can play and he's healthy to play, that I'll play him. But I'll just lean on the trainers.
On if he knows whether or not McKnight had a concussion test…
We'll check. I just lean on Mellody and I get the list each time and I saw Joe out there. I talked to him yesterday, he was in the walk-through, he was in different things.
Videos
New York Jets OTA Presser Takeaways, Aaron Rodgers' Impact and Summer Delusion