QB Update From Rex And Marty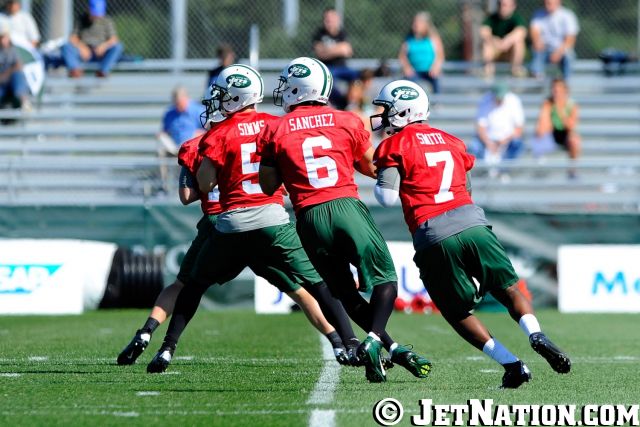 As we mentioned earlier, Mark Sanchez will be the Jets starting QB when they take the field on Friday night against the Detroit Lions.  Offensive coordinator Marty Morhinweg and head coach Rex Ryan spoke about the quarterback situation today.
Marty Morhinweg gave his assessment of the quarterbacks:
Well, all four of our quarterbacks have done an outstanding job with their preparation as well as on the field. Now, I suppose you're asking specifically about Mark (Sanchez) and Geno (Smith). Mark's had an outstanding camp. There's been about a day and a half where he took a little dip. Early in the Green and White it was a little rough for him but I was proud of him because things didn't go just the way that we wanted them to and then he hung in there and hung in there and then made a heck of a play right at the end there. Geno's been similar. He's had a terrific start to camp. He did some very good things in the Green and White as well. And then he's dipped just a little bit so he's got to recover. I think he threw his first interception, two of them. Was it yesterday? I'm getting the days mixed up a little bit. We'll see how he rebounds. Today was a little bit better than yesterday.
Morhinweg also discussed how the reps would be split in the first preseason game:
We have discussed it.  We have a plan that is not stamped, and we will continue to discuss that right up until we travel and we know who's available.  So the plan is still just a little bit rough there.  We're going to do some extensive work on that tonight, we have a pretty good sketch up, but exactly the play time for each individual player as well.  So when you talk about ones, well some of the ones might play a little bit longer because we need some reps and those type of things.  Mark will, this is his game, he'll start and go with the ones.  Then we would certainly like to get Geno in, just a little bit with the ones, then he will take the twos and we will progress from there.
Rex Ryan was asked why Sanchez was starting over Smith:
Well again it's been an even competition, we've been rotating days and things like that and certainly he's the incumbent. But again, the competition starts off, we'll see how it goes from here, but it seemed like the natural thing to do.
How long will the starters play?  Will Geno Smith play against Detroit's starters.  Rex chimed in on that by saying:

I can't make that decision. I'll call up (Lions Head Coach Jim Schwartz), 'Hey Schwartz, how about leaving the ones out there?'(Joking) I don't think he's going for that. "You want us to hold bags too?" (laughter) I don't think he's going to agree to that (joking).
Videos
Aaron Rodgers Injury Fallout & Jets/Bills Recap