The Offensive Line Speaks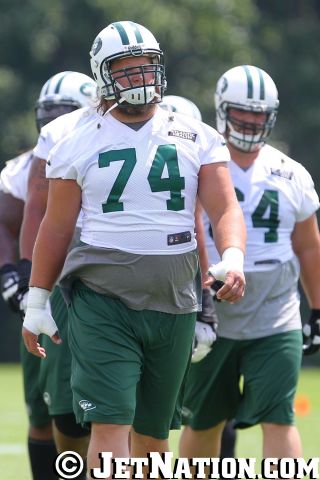 With so much being made about the QB battle between Mark Sanchez and Geno Smith, we thought it was a good time to hear what the offensive line has to say.  Long time Jet Brandon Moore had an opportunity to sign with the Dallas Cowboys but he opted for retirement instead.  Nick Mangold describes what it was like playing with Brandon Moore, "Shoot, Brandon's one of the great players that I've been fortunate to play with. We played together seven years which I think in today's NFL is pretty impressive. He was always a professional. He came in, did his job to the best of his ability, made sure he helped younger guys like guys had helped him. It's been tough not having him here."
Nick also described where the offensive line is as a unit right now, "We're coming along. I think it's nice having the veterans there in Willie (Colon) and (Stephen) Peterman because even though we don't have experience together, we have NFL experience and so instead of having to fully explain after something happens, you're like 'Hey, you saw that?' 'Yeah, I saw that, here's how we can get better at it.' I think that's been a big help and I think personality-wise we've got a great set of young guys who are trying to learn, trying to get better and we have a bunch of old guys who are trying to help. I think that goes a long way when you're talking about an offensive line gelling together."
D'Brickashaw Ferguson talked to the media today as well.
On the mentality going against a strong defensive line in Detroit…
Well again, we have a strong defensive line here and we have to go against those guys on a regular basis. I think its great preparation for what we're going to go through this season.
On what the team is looking to get out of Friday's game…
Again, whenever we play another opponent, our goal is to make sure we're executing and being effective. We've been playing against each other for a while now and our goal is to make sure that we can go out there and when we see another opponent, still have another high level of performance.
On if the team is where they want to be at this point of camp…
I think we're just taking it day by day, step by step. We're just looking to improve on a regular basis.
Videos
Aaron Rodgers Injury Fallout & Jets/Bills Recap