Home Slider NY Jets Training Camp
Jets Camp Notes 08/11/13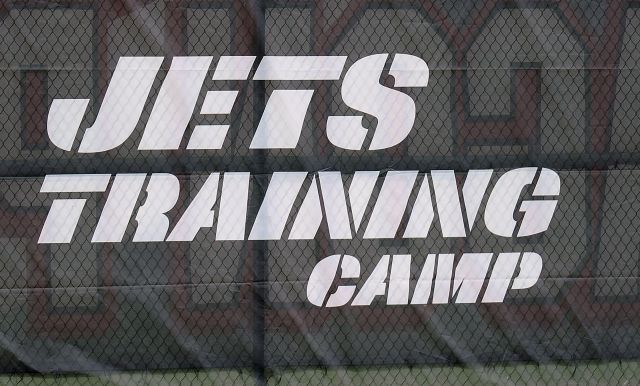 The Jets were back on the practice field today and there is some news on the running backs.  After the loss against the Lions, and the lack of a running game, the Jets need good news at this position.  Chris Ivory was on the field and although it wasn't a full practice he said it is a gradual process.  "I'll just see where I am.  I'll continue to make these steps and then go have a full practice."
The team announced that they have waived RB John Griffin and signed Kahlil Bell.
Another huge position of concern is quarterback and Geno Smith did practice, with a heavily taped up ankle.  Rex Ryan said no decision has been made on who will start next Saturday against the Jaguars.  That is coach-speak for, we are planning on starting Geno Smith but we have to see how his ankle holds up.  A few accounts today said that Geno looked good in practice minus this…
Geno Smith taints an otherwise good day with a red-zone INT. Picked by Cromartie in end zone. #Jets

— Rich Cimini (@RichCimini) August 11, 2013
Geno Smith was asked how his ankle felt and he gave this update, "It felt good. Obviously the ankle isn't full strength right now, but I felt pretty good out there. I was limping a little bit. It's just something that you've got to work past, you've got to get through. I felt pretty good."
Rich Cimini also says that it was a tough day for Braylon Edwards:
WR Braylon Edwards dropped a pass and, earlier, incurred the wrath of Mornhinweg for not finishing two plays in a one-on-one drill. On the second one, Edwards responded, telling Mornhinweg he stopped because a flag was thrown. Mornhinweg didn't care. Essentially, he told Edwards this wasn't a Pro Bowl practice and that he needed to hustle for the duration of the play. Edwards declined an interview request after practice.
Defense
As Rex Ryan indicated the other day, Safety Jaiquawn Jarrett will start against the Jaguars, and he practiced with the first-team today. You can read some additional thoughts on Jarrett in our Jets forum.  He talked about his approach to practice, "Just getting out there and getting better each day in practice, continuing to prepare as if I'm a starter or wherever I'm at on the depth chart, continue to prepare. (I have to) learn the defense in and out anyway, so no matter where I'm at on the depth chart, I want to make sure I continue to prepare."
Garrett McIntyre injured his knee against the Lions but he practiced today which is good news.
Videos
New York Jets OTA Presser Takeaways, Aaron Rodgers' Impact and Summer Delusion