Joe McKnight's Head Injury May be Worse than You Think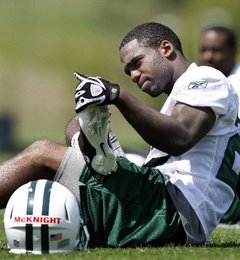 Joe McKnight has had his issues of staying healthy over the course of his brief three-year career.  His first training camp, McKnight failed to come into camp in shape and thus, failed his physical.  After he passed, he quickly became one of the better kick return specialists in the NFL, returning 2 for touchdowns (100 yards and 107 yards) and has averaged 29 yards per return.
However, this season McKnight failed his physical again.  After finally being allowed to participate in practice, he suffered a "head injury" as coaches and front office executives would describe it.  He has been limited in practice ever since.  Is this really just post concussion protocol as written in the NFL's policy on concussions or is this something more severe? The answer to that question may be troubling to most fans.  As a certified trainer, I will give you my feelings on McKnight's injury and his potential future with the New York Jets.
A concussion occurs when a force causes by an impact on the head that happens below the skull whent he brain hits the inner bones of the skull and richochets to the other side.  In severe cases, the brain may actually twist when it is rebounding off the inner wall of the skull.  In these types of severe concussions, the brain swells causing pressure to be placed on the spinal cord and brain stem.  The brain stem is largely responsible for breathing, walking and other life functions.
The word commonly used for severe head injurys is "Traumatic Brain Injury."  This occurs because the force of a sudden impact creates that ricochet of the brain and can cause bleeding, bruising, and oftentimes nerve damage.  According to Medical News Today, 2 million adults and children suffer from a traumatic brain injury per year.
There are many different levels of Traumatic Brain Injury that can be diagnosed.  A mild T.B.I. would have symptoms such as, confusion, blurred vision, headaches, dizziness and problems focusing.  A moderate to severe T.B.I. can include symptoms like, agitation/confrontational, continuous headache, persistent vomiting, weakness in arms and legs, and coordination problems.
Recently, it has been reported that McKnight was "rude" or "standoff-ish" to the media, which could be out of frustration or agitation.  He was confrontational to the point where media members were tearing into him for not speaking enough about his injury.  As recently as this morning's practice McKnight was walking to the practice field when he fell to a knee several times.  A trainer brought him fluids and a garbage can in case of vomiting.  Coordination issues, weakness in legs, fatigue and vomiting sounds more like a moderate to severe T.B.I. to me.
I am not a doctor so I won't diagnose Joe McKnight, however, I can formulate an opinion that his head injury is indeed traumatic and is in the moderate to severe level.  The Jets are not speaking on this matter, labeling it simply as a "head injury."  The media should not be making jokes about this or trying to make light of this situation.  I'm sure the team doctors are going to continue to keep an eye on McKnight in the upcoming days and weeks and monitor his progress or regress.  The NFL has become very strict in their concussion policy for players, and with an injury as severe as I feel McKnight has, the Jets must do everything in their power to protect the player.
Videos
Aaron Rodgers Injury Fallout & Jets/Bills Recap