Cromartie On The Defense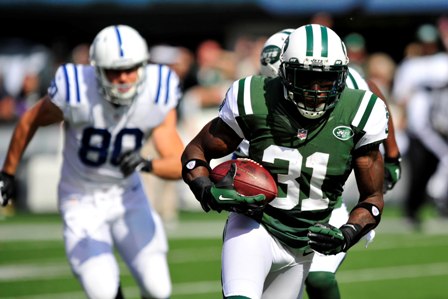 Antonio Cromartie talked about the New York Jets defense this week.  Bart Scott is out and a slimmed down David Harris is back.  It was widely discussed that the Jets needed more speed on defense.  Cromartie was asked if there is more speed this year
It's very noticeable. For one, you have guys running to the ball, soaring to the ball and that's all that we're trying to do. When you're keeping things simple and making sure guys can go out there and play full speed, it makes things a lot easier for guys (to) go out there and go play full speed.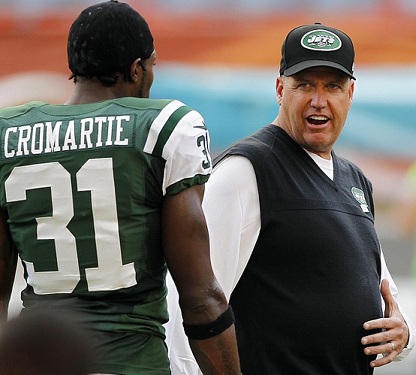 Cromartie also gave his thoughts on some of the new players in the Jets secondary.
Dee Milliner…
He's been very impressive. Our whole thing is to make sure that he's running the defense. We know what he can do on the field. We just want to make sure that when he goes on the field, he doesn't have to think about anything, he just can go out there and play football.

Dawan Landry…
Definitely, Dawan is doing a heck of a job for us. This is his sixth year in this defense, coming into this defense, so he's only been two years removed from it. He knows the defense as a whole, he knows everything, (and) he knows all the answers, all of it. When you have a field general that knows the ins and outs, it makes things a little easier for the defensive backs and also for the linebackers.

What about the possibility of the pass rush helping the secondary?
I'm definitely looking for that, but I think the guys that we have and what we're trying to do, it's going to turn out to be great for us. We added a guy in (Antwan) Barnes, and having a guy that can get off the edge as fast as he (is) and young guys coming on, like Ricky Sapp and those guys. Like I said, you have two interior guys with Mo (Muhammad Wilkerson) and Quinton Coples and we're going to get to the ball. We're going to get to the quarterback, force some errand throws and we just have to make sure as a defense and on the backend, we have to make sure that we capitalize on those mistakes.
Videos
Aaron Rodgers Injury Fallout & Jets/Bills Recap