Home Slider NY Jets Training Camp
Sanchez And Smith: Last Round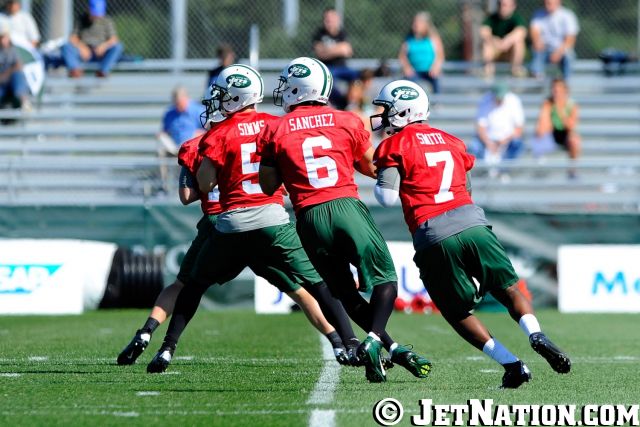 The quarterback competition is winding down; for better or for worse.  Geno Smith missed the last game with an ankle injury and Mark Sanchez missed his chance to end the competition when he threw a red zone interception against the Jaguars.  Sanchez had a golden opportunity to win the quarterback job with Smith and McElroy out, Mark played 3 quarters.  Although he didn't lose the job, he didn't put an end to the competition either.
Mark talked about that interception and said, "To put it either a little more in front of Kellen (Winslow) or wait for the next guy. So, we'll eliminate that mistake and move forward. I was proud that we moved the ball down the field really well. I thought we ran the ball really well all night and gave ourselves chances in the red zone."
He also gave his thoughts on his performance so far this year, "I think I put together a good camp and I'm only improving. So (I will) just keep putting my best foot forward. Keep playing my best football and leave it up to the coaches."
Geno Smith was asked if he is behind in the QB competition, "I can't tell you that. I'm just focusing on myself. Like I said, I try and improve daily and the coaches do the evaluation."  Does need a home run on Saturday to win the starting job?
I don't know. That's for the coaches to evaluate and they've done that throughout training camp, OTA's, minicamp and it's still an ongoing process. Like I said, I don't think one game completely defines who I am but it is important to go out there and get a good showing.
Geno says that he is healthy, so it will come down to practice this week and the 3rd preseason game this weekend against the Giants. The starters don't typically play in the final preseason game, so the Jets don't will have to choose a starter soon.
Several accounts said it was a rough practice for Geno today and he threw multiple interceptions.
Geno Smith has no noticeable limp on his drop backs. He's going to play vs Giants on Saturday. #nyj

— Manish Mehta (@MMehtaNYDN) August 19, 2013
Geno looks healthier, but struggles at Jets practice #nyj: http://t.co/yeBUxsvMpI via @nypost

— Brian Costello (@BrianCoz) August 19, 2013
The best guess is if Geno Smith is healthy, he gets the start against the Giants. Rex still won't commit to that, but it makes the most sense as Sanchez has started the first two games. We will keep you posted…
Videos
New York Jets OTA Presser Takeaways, Aaron Rodgers' Impact and Summer Delusion