Home Slider Injury Report Jet News
Santonio's Return Still Uncertain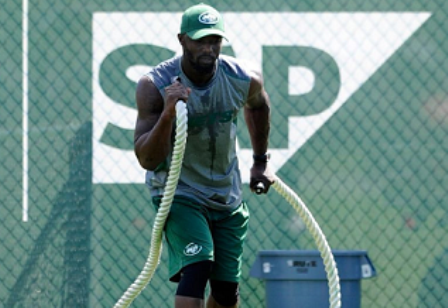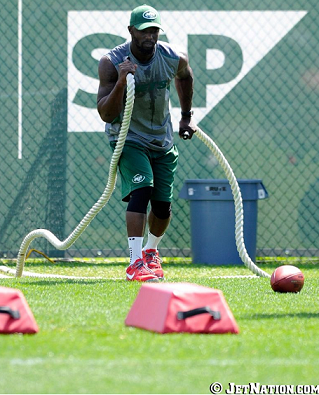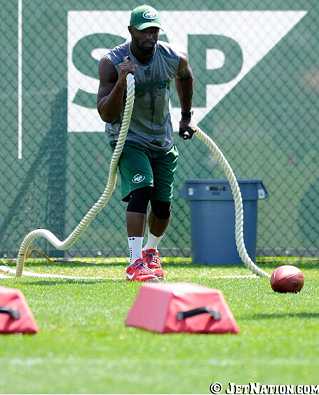 Santonio Holmes spoke to the media after practice on Wednesday in Florham Park and set the record straight.  There was talk about how Holmes looked good and was running.  Rex Ryan said that Holmes appeared to be in good physical condition.  Santonio set the record straight.
Looks can be deceiving. I say that with a smile because if I actually look or felt as good as I looked I would definitely be 100 percent ready. With that being said, looks can be deceiving.
Santonio made it clear that he still wakes up in pain every day and that he hasn't done any cutting yet.  "The past couple weeks is just sprinting straight ahead."
The Jets keep refusing to give a timetable on his return.  They lead us to believe that they won't know when Holmes will return, so we just have to wake up each day and find out of the pain went away.  Holmes continued along those lines by refusing to admit that it is unrealistic for him to play in week one.
It seems like an extreme long shot that Holmes who is only running straight right now, could play in a real game any time soon.  Holmes was asked about playing against Tampa Bay.  "I don't know. I think the conditioning that I've been doing so far has definitely prepared me. (Head Athletic Trainer) John Mellody has definitely stayed on top of me with my conditioning, as far as riding the bike and running on the AlterG. I really don't know how things are going to go come Week One, so we'll just continue to plan ahead just like we're doing right now."
What is the next step?
The next step is to try to get on the football field, so whatever it takes to get on the field is what I have to be ready for.
How he weighs his health with coming back quickly enough…
At this point, I don't know.  My main focus is to be as healthy as I can, to perform at a good enough level that is successful for the team.  For myself its treatment every day and not allowing myself to feel comfortable any point with the success that I've made and the strives that I've made forward.  Its continuing to stay in the rehab and treatments and hopefully this thing goes away at one point, but if it doesn't I have to continue doing this until it's done.
On if there is a chance he will miss the entire season…
I don't know how to answer that question as far as missing the whole season. I mean we have 16 weeks of football. At any point I could be ready to play. If not, I would be willing to accept it.
Videos
NY Jets OTA Recap; Robert Saleh Cancels Minicamp