Home Slider NY Jets Training Camp
What Marty Wants From Geno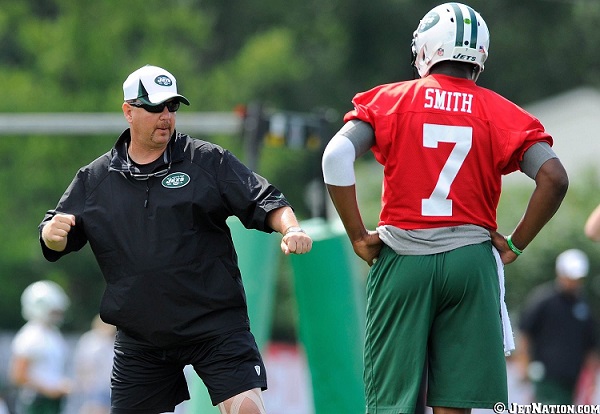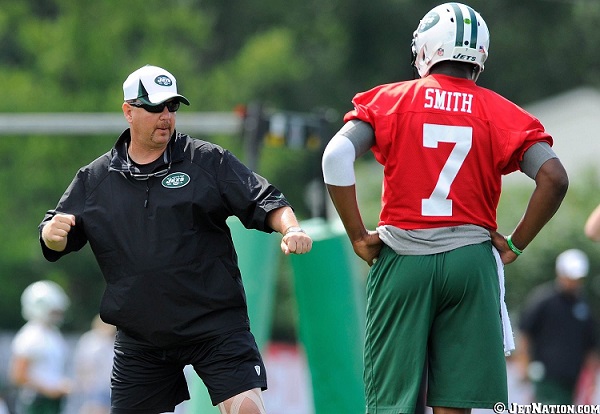 When the Jets take on the Giants at MetLife Stadium on Saturday, all eyes will be on Jets QB Geno Smith.  Geno missed the Jets second preseason game against the Jaguars due to his ankle injury.  He was named the starter this week and this is his chance to win the starting QB job.
Offensive Coordinator Marty Morhinweg said he wants to see him play since he hasn't played much.  "We've got an awful lot of evaluation on all of our quarterbacks, all four of them, in practice situations and then preseason is different, certainly. And then regular season is different and playoffs are different from regular season. There is a difference at every level."
Quarterback coach David Lee seems to think that it would be tough to name Geno Smith the week one starter based on such a limited body of work.  "Look, this is going to be a decision that's going to be made like any other position, when one of the players elevates himself. So, it's already taken just a little longer but you can only anticipate these things happening. (Smith had) a little ankle (injury). Everybody's working through those types of injuries but we consciously pulled him back at the end of the week last week knowing that it would take a little bit more time."
Most teams don't play their starters in the 4th preseason game.  The injury risks outweigh the rewards of putting the starters on the field so close to the regular season.  Depending on what happens on Saturday night, the Jets could be starting at that unthinkable possibility (not naming a starter).  Coach Morhinweg spoke about this possibility.
I suppose it's possible, but I'm not concerned really. I would have much rather had it done quite a little bit earlier than now, but that's just not the way it is and things happen and you can anticipate some of those things. But, the competition continues and the fellas are wired in and it only makes everybody better and I'm talking not only the quarterback position.
Enjoy the game on Saturday night. One quarterback should walk away a winner, if not many Jets fans may walk away feeling quite the opposite.
Videos
NY Jets Phase 3 OTAs, Expectations and a Minor Calf Tweak with Greg Renoff