Home Slider NY Jets Training Camp
Smith: "This Is Just Another Learning Experience For Me"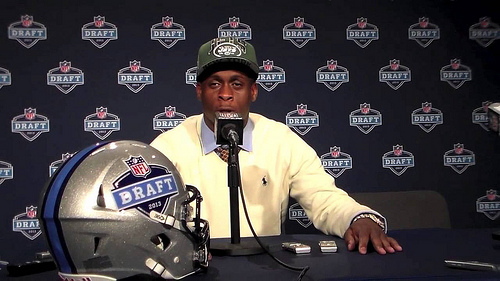 Geno Smith had the stage to himself for 3 quarters on Saturday night vs the Giants and the starting QB job was on the line.  Geno's line reads 16/30 for 199 yards with 1 TD.  He also threw 3 interceptions and stepped out of bounds in the end zone which resulted in a safety. This all adds up to a 45.7 passer rating.  If it wasn't for the injury to Mark Sanchez, this performance by Geno would certainly have cost him the opportunity to start week one.  For now we will have to wait and see how bad the injury to Mark's shoulder is and if he will miss time because of it Geno could get the call.
Rex Ryan spoke about Geno's performance on Saturday night.
Obviously, there were some good moments and there were some low moments. The interceptions, the ball was a little behind the intended receiver (on the first one), and then he overshot the one with the young man playing centerfield (Stevie Brown) and he does a great job of that. He broke on it (and) made a nice play. Then (Justin) Tuck, you have to tip your hat to him. Great play, (he) disguised it well. The defensive end drops back into coverage in a trap coverage and he just made a great play on it. So, obviously he had moments where he threw the ball extremely well, but there are some things he has to take and learn from this.
Rex Ryan did show that he was annoyed with some of the questions in the post-game press conference.  When it was mentioned that he did not answer whether Smith can still be the starting quarterback Rex responded:
I can say anything I want. That's the beauty of this country. I can answer it 100 (times). I can stand backwards and answer the question. I'm going sideways. We'll make the announcement when I think it's the appropriate time.
Either way, when you factor in the injury to Mark Sanchez this is going to have a big impact on the Jets chances.  Football predictions at SportBet.com (view here for more predictions) have the Jets at -3.5 against the Eagles.  It is only the preseason but with so few QB options the Jets football predictions could change.
Geno Smith said he felt comfortable and took full responsibility for the interceptions that he threw.  He was asked if the 3 interception performance will cost him the starting job.
I don't know. One thing that I do know is that I'm going to get better from it and it's going to be another learning experience. I was just happy with the way that the offensive line protected tonight, receivers were getting open all night
Videos
Aaron Rodgers Injury Fallout & Jets/Bills Recap