Home Slider Injury Report NY Jets Training Camp
Mark Sanchez On His Return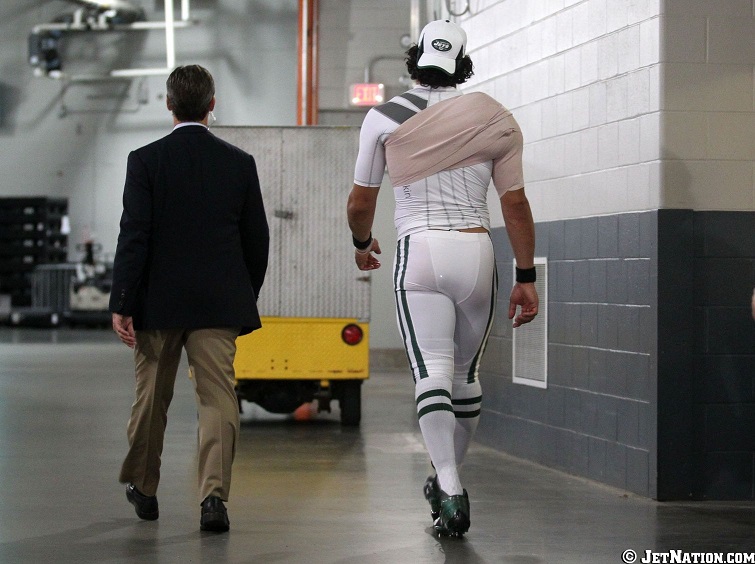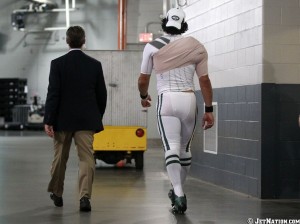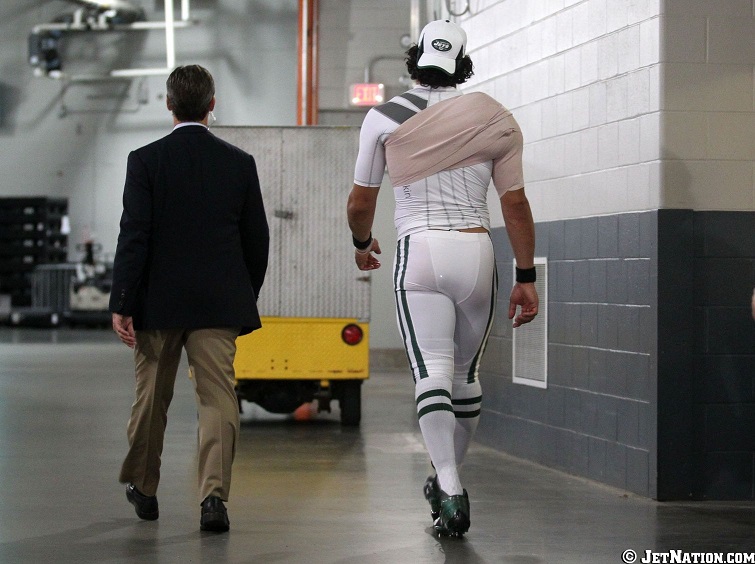 Mark Sanchez didn't practice today but he did speak to the media.  The Jets have just said that Sanchez is out for Thursday against the Eagles and they have listed him as day to day.  The new organizational policy seems to be giving out as little information as possible and that is what Sanchez did in this interview.  He wouldn't get into any specifics about the MRI or his rehab.
Mark did say that he is, "A little sore, I have an injured shoulder here, so we'll just take it day-to-day, keep rehabbing and try and get back as soon as possible."
Sanchez was asked if he plans on being back for Tampa Bay and he said, "That's in all of our plans. I'm trying to get back as soon as possible and be able to practice as soon as possible."
Here are some other highlights from the interview:
On getting hurt so late in camp…
I'm obviously not happy that I'm hurt. I felt like I was putting together a good camp, so it's an unfortunate thing. But there's no time to gripe about it. (I) just have to rehab as hard as I can. I know we have the best trainers and they're going to be me in the best position possible (to) try and get back for (the) first week.
On being ready for Week One…
That's the goal, so (we will) just keep our fingers crossed and take it day-to-day.
On whether he was surprised to go into the game…
Look, I'm a competitor and as a player it's not your job to worry about when you're going in, who's in, whatever, what string, this or that, if they call your number, you have to play and that's what I do, that's what I've always done. So, that's not my call. That's the coach's decision.
On how his shoulder feels now compared to Sunday…
Things are progressing. Every day it's getting a little better.
On when he has to throw to know if he will be ready for Tampa Bay…
I don't know that. We're just going to take it day-to-day.
On when he expects to practice again…
As soon as I can, if I can practice tomorrow, I'll practice tomorrow. But we just have to take it day-to-day.
On how many more tests he has to get on his shoulder…
I'm not going to go through any of the rehab process or any of the details.
On how he felt when he sustained the injury…
Emotionally, you're just upset, and that's really where your head's at. You're just upset to be hurt. You never want to be hurt. You work too hard to get hurt and it's just a bummer. So, you just rebound, rehab your butt off and get back as soon as possible.
On his injury and whether the quarterback evaluation is over…
I'm not going to get into any details of the injury, or the evaluation, or the rehab, sorry.
On whether the quarterback competition is still going on…
That's up to the coaches. I don't know that.
On how the quarterback decision has not happened yet…
It's not my call.
On whether he is frustrated about not being able to practice…
I want to practice. I want to play. So that's the frustrating part, not being able to go out and practice with these guys.
Videos
NY Jets OTA Recap; Robert Saleh Cancels Minicamp