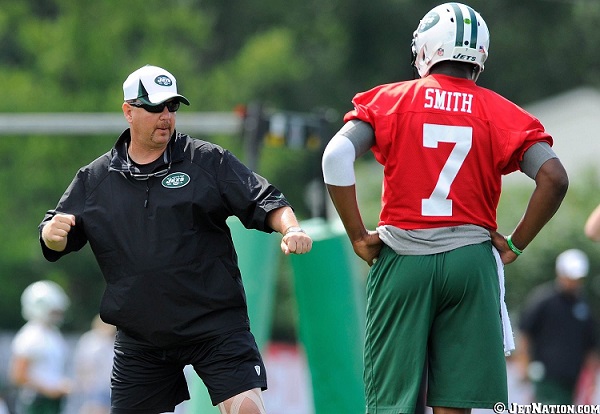 The soap opera may continue for the New York Jets but the regular season is less than a week away.  Head coach Rex Ryan indicated that the team will provide injury updates on Wednesday.  Along with that should come the name of the starting QB against Tampa Bay.  Mark Sanchez didn't practice on Monday.  As the Jets implement the game plan for the opener against the Bucs, they will need the starting QB to be on the field.  So it is expected that Geno Smith will get the starting nod.
Geno told the media that he is ready to start.
I've been preparing extremely hard and I think I've gotten a lot better. Like I said, this is only the beginning. I've got a lot to learn and I'm preparing for everything that comes my way. If my chance is Sunday, I'm going to go out there with the intent to lead my team to victory and that's just the way it is. I'm always going to play like that, be aggressive. I'm never going to hesitate, never going to shy away from anything and just go out there and play ball.
He also said that his ankle is close to 100%. "It's getting better. (I've) been treating it daily. Every single day it's felt better. I'm able to do a lot more now than I was able to do then."
Geno indicated that he hasn't been told he will be the starter but he is preparing as if he will start.
Well, with Mark's status I'm not 100 percent sure on, but I'll always prepare as a starter and that's kind of the way I'm going to go about things here. We'll find out in a couple days. I think Mark's status is very uncertain right now but we'll see.
The season is about to start and Geno Smith says, "At this point I'm ready for it."  Ready or not week one is here.