No Suspension For Brick, Mangold Or Colon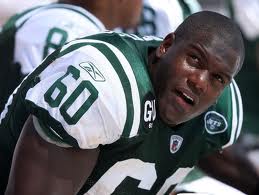 As per Adam Schefter the league will not suspend the Jets players that were involved in the fight at the end of the game last week vs the New England Patriots.
League will fine, but not suspend, Jets players involved in Thursday night's fracas with the Patriots.

— Adam Schefter (@AdamSchefter) September 16, 2013
Center Nick Mangold tackled Patriots cornerback Aqib Talib low and out of bounds.  A penalty flag was thrown for a personal foul against Mangold.  Then the festivities began, it seemed like every player was involved.  Willie Colon was ejected for bumping an official and D'Brickashaw Ferguson was ejected for throwing punches.
Ferguson seemed the most likely to receive a suspension, so the Jets will be happy with this news.  Rex Ryan said, "I know that when Nick went to make the tackle, his intent was to get the guy on the ground. He had no malicious intent. That's for sure. But as it played out, I can understand because the hit ends up being, as the guy goes out of bounds, his back turns to him, so he hits him out of bounds. So, I understand the penalty, but it wasn't intentional by any stretch."
Rex was also asked about Bill Belichick yelling at Mangold on the sideline.  Rex's answer was pretty honest, "I've gotten after several of his players and everybody else's players because you don't want to see your guy ever take a shot. Again, I'm sure he realizes that it wasn't an intentional hit, but at the same time, you don't want to see your players get hit. It was a hard-fought game and things happened in that game. There's no question. Against rivals, sometimes the intensity picks up."
You can read more and discuss this in our New York Jets message board.
Videos
NY Jets Phase 3 OTAs, Expectations and a Minor Calf Tweak with Greg Renoff