Featured Editorials Home Slider Jets Report Card
New York Jets Report Card: Week 3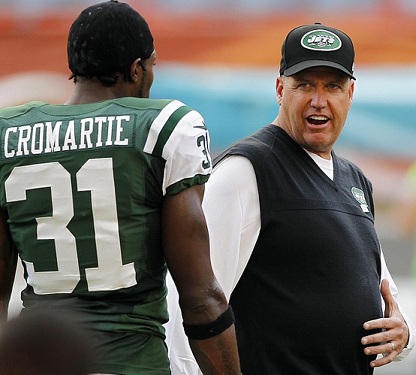 Week 3: Buffalo Bills vs. New York Jets
Quarterback: C
Smith: 16/29 for 331 yards, 2 TD, 1 INT, 4 rushes for 14 yards and a 1 TD
Geno's accuracy still needs to improve and his two turnovers could have been more costly, if not for stout play by the defense. However, he is becoming more decisive and taking less sacks as a result. Smith connected on two long touchdowns down the sideline, one to Hill and another to Holmes. It was the first game in which he aired the ball out on a consistent basis, seeking to take advantage of injuries in the Buffalo secondary. Any questions about his arm strength have been answered for now. Smith looked for his shots first before attempting to take off with the ball, and that's a good sign.
Backs: A
Powell: 27 rushes for 149 yards, 2 receptions for 9 yards
Ivory: 4 rushes for 5 yards
Green: 5 rushes for 14 yards
Bohannon: 1 rush for 0 yards, 1 reception for 9 yards
Bohannon failed to pick up a yard in a crucial short yardage situation. Ivory sat down early, but Powell took over and put up a career day—amassing nearly 150 yards on the ground.
Wide Receivers/Tight Ends: A
Hill: 3 receptions for 108 yards, 1 TD
Cumberland: 3 receptions for 26 yards
Holmes: 5 receptions for 154 yards, 1 TD
Kerley: 2 receptions for 25 yards
Kerley had limited impact, coming off of a concussion 2 weeks prior. What a huge bounceback game for 2nd year receiver Stephen Hill, who hooked up with Geno Smith on a 51 yard touchdown strike. Santonio Holmes also had one of his best days as a Jet, he was on the receiving end of the 69 yard touchdown pass that put the Jets in front for good.
Offensive Line: A
It wasn't always pretty: Nick Mangold and Geno Smith fell victim to some miscommunication, causing a huge loss on a mistimed snap—and both of the guards committed penalties. But the offensive line didn't allow a single sack against a defense that includes the likes of Mario Williams (4.5 sacks last week), while simultaneously helping the Jets amass more than 160 yards on the ground.
Defensive Line: A-
The Jets had 8 sacks on the day, including 2 by Wilkerson and 1 by Richardson. Apart from 1 59 yard run, the Bills hardly moved the ball at all on the ground. The grade drops a bit due to a few late penalties that could have cost the Jets dearly.
Linebackers:  B+
David Harris has regained some of his old form, and DeMario Davis has emerged as a key contributor on this defense.
Secondary: D+
Bills QB EJ Manuel completed less than 50% of his passes, and threw for just 1 TD. In a sense, it was a good day for the secondary. But Kyle Wilson was an absolute disaster in the 4th quarter, showing a mind-boggling lack of composure and discipline. Dee Milliner may have just won the battle for the 2nd starting corner position by default.
Special Teams: B+
Nick Folk remains perfect on the season. Even with Jeremy Kerley back in action, the return game was mediocre.
Coaching: D-
I've got a hard time handing out an "F" for coaching any time your team beats a similarly talented team, but the Jets coaching staff were sure pushing their luck on this one. On the plus side, Marty Mornhinweg drew up a good plan of attack for the offense. However, Rex wasted two timeouts in the 2nd half on highly questionable challenges, and the Jets were penalized a whopping 20 times for 168 yards. To repeat, 20 times… for 168 yards! Ouch.
Videos
Aaron Rodgers Injury Fallout & Jets/Bills Recap