Featured Editorials Home Slider
Have Some Patience With Geno Smith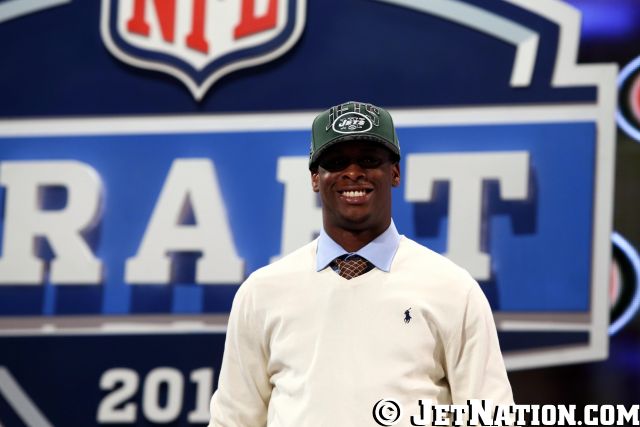 Patience, Jets fans.
As the Titans game wore on and it became painfully obvious the city of Nashville was again going to be a setting of agony, Dan Dierdorf, speaking to no one in particular, uttered two very unfortunate words: Matt Simms.
I don't know Matt Simms but he seems like a good guy that comes from a football family. He played pretty well in the fourth preseason games against a bunch of guys who aren't in the league anymore. Simply put, he played well against back-ups.
But this is Geno Smith's team. Matt Simms will never see the field barring injury
There are certainly some things Geno can do better, starting with turnovers. Both of Geno's fumbles were bad (to be clear, all turnovers are bad), but the first one on a third and four scramble was especially concerning. He carried the ball like he was returning from the market with a loaf of bread. On third down especially, get the necessary yardage, tuck the ball away, and get down. This isn't the Big 12 anymore.
I think Geno using his legs more in general is very good. He's averaging a healthy 5.7 yards per carry and is learning to use his feet better to extend plays. Now, he needs to start making throws on the run. A perfect example of this is his overthrow to Jeremy Kerley on third down in Titans territory. Kerley got two hands on the ball, but it was still an overthrow and Kerley was wide open.
Also, the interceptions. That speaks for itself, but there hasn't really been an interception where you could pin it mostly on the wide outs. Sure, there have been instances where I'd like to see Stephen Hill or Clyde Gates attack the ball, but overall there have been a lot of poor balls thrown. The interceptions seem to come in bunches too. This is obviously a problem too.
I think there is some play calling that could help too. I see lots of chatter about wanting to run the ball more but there are a few things to keep in mind:
a)  The Jets are 19th in the NFL in pass attempts per game. It's not like the offense is throwing the ball every play.
b) The Jets did run the ball 41 times against Buffalo. Marty will run the ball when necessary.
c) The Jets fell behind by a substantial amount against Tennessee. While I agree they should have kept running the ball, I understand trying to come back through the air.
There are still plenty of positives to take away. Watching Geno step up in the pocket with pressure in his face and deliver strikes is refreshing to watch (a la the Stephen Hill touchdown against Buffalo). His arm strength is as good as anyone's in the NFL and some of the throws he makes will make you drop your draw; his touchdown to pass to Jeff Cumberland in the fourth quarter was an absolute dime.
I also think the Jets could expand a little more on the read option. Geno did a good job keeping the ball on a read option that went for a good gain but it was brought back by a Vlad Ducasse holding (surprise!!!!).
The thing I really like about Marty Mornhinweg's offense is how the ball can move vertically. This will result in rookie turnovers, but it suits a big arm quarterback like Geno. Once he is able to pick up defenses better, I think he could be really dangerous moving the football vertically in big chunks.
In my eyes, the positives far outweigh the negatives with Geno. His arm and athleticism makes him the easy choice over any quarterback they have or could add. It's important to remember that while Geno was hyped up as a top pick in this years past draft, he was taken in the second round. Temper the expectations, accept the growing pains, and enjoy some competitive football.
Videos
Aaron Rodgers Injury Fallout & Jets/Bills Recap