Featured Editorials Home Slider
Interview: NY Jets OL Austin Howard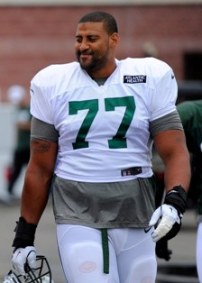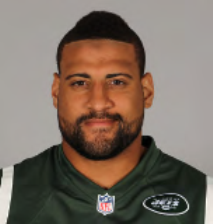 Had an opportunity to ask New York Jets right tackle Austin Howard some questions about his rise to starting for the team along with where the offense is at heading into their next game against the Atlanta Falcons:
Q: You were on the Baltimore Ravens practice squad before being signed by the Jets in 2011.  Now you are a second year starter.  How have you been able to elevate your game to achieve this success?
AH: Honestly I have been absolutely blessed to have these opportunities that have come across my way.  My first year I got to learn under a great offensive line coach with Juan Castillo and great players like Jason Peters.  In my second year, the same, with coach (John) Harbaugh and the Baltimore Ravens.  It gave me a chance to set my body up and stay fresh for the time that I could actually get on the field, so far it's worked out, so I've been very blessed. 
Q: Does going against the Jets young talented defensive line in every practice help improve the quality of your play?
AH: I feel we have one of the best defensive lines in the NFL, Mo Wilkerson and (Sheldon) Richardson they come out and give us a great look, day-in and day-out they really help us ensure that we are going to be prepared for our next upcoming match. It is tough and very physical that is how Rex likes to run his defense. I believe that we get each other better throughout the year, you'll see us stay elevated keep getting better every day because of the looks we get in practice.
Q: Could you tell us about some of the Jets veteran lineman who have aided in you development?
AH: Our entire offensive line from D'Brickashaw Ferguson, to last year Matt Slauson and Brandon Moore, to Nick Mangold, four guys who I couldn't have asked to be on a better line, in a better situation.  They really taught me how to prepare throughout the week.  The time it takes and the effort it takes to the pre-practice stuff, the 110% it takes to go through practice, the post-practice work and than staying longer after meetings.  They really knew how to prepare and I could learn those things from them.  Also Willie Colon, who is another veteran guy who's seen it all, he has been in the league for a long time now and he's another one of those guys, he fits the mold of a Brandon Moore, a Nick Mangold and a D'Brickashaw Ferguson.  Another guy who knows how to work and the same time I feel like he is one of those leaders we all lean on and we are getting better every week.  
Q: Do you have to change your approach during a game with Geno Smith a rookie starting at quarterback?
AH: When it comes to young players you have to realize who you have back there, who is leading the huddle and who is in there at quarterback but for us as a unit, as an offensive line, our focus and our goal typically they do not change too much.  We are focused on making those holes for the running backs and keeping the quarterback clean at all cost that means playing through the whistle, finishing down field and knowing your responsibilities and being really set on your preparation throughout the week.
Q: The offense had a big day against the Buffalo Bills but was disappointing a week later against the Tennessee Titans.  What are the things the coaches and players are working on to allow the offense to have more consistent week-to-week performances?
AH: A big focus for us right now is turnovers making sure that the ball stays in the offenses hands, making sure we take care of the ball.  On top of that making sure we take care of the penalty issues.  We have really had a ton of penalties that have hurt us and turnovers that have ended up with the opponent scoring points, so those have been our two major focuses.  We know we have a lot of talent on offense and if we can just zero in on our responsibilities figure out what we have to do and prepare like that throughout the week, I believe we can turn that around come game-day.
Q: You have a big game coming up Monday night against the Atlanta Falcons, so what do you see as the keys for the offense to be successful against the Falcons defense?
AH: We are playing in a dome it is going to be very loud, so one of the biggest things we're going to have to focus on is communication.  Communication in the huddle, communication on the line of scrimmage, talking through certain situations on the sidelines. Communication for away games typically is always huge, that is going to be a huge factor for us if we are going to be successful or not on any given play.  Also just the matter of handling the noise and going out there and being consistent with our techniques and sound with our defensive recognitions and our techniques as offensive lineman. We really zero in on our techniques and work on those things throughout the week and hopefully our preparation will show.
Videos
Aaron Rodgers Injury Fallout & Jets/Bills Recap