Featured Editorials Home Slider Jets Report Card
New York Jets Report Card: Week 5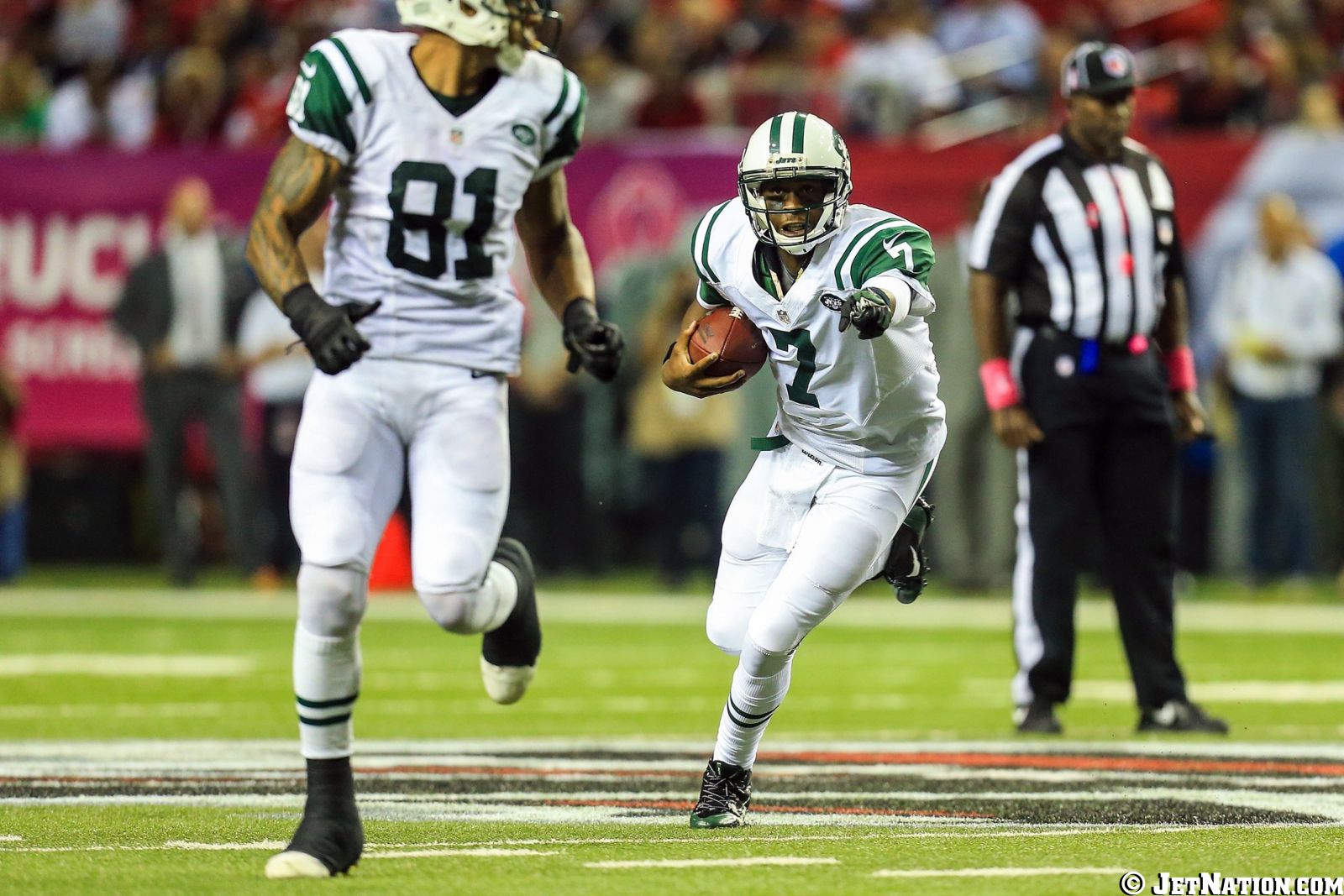 New York Jets Report Card
Week 5: New York Jets @ Atlanta Falcons
Quarterback: A
Smith: 16/20, 199 yards, 3 TD, 0 INT, 3 rushes for 21 yards
After a poor outing in Tennessee, Geno Smith responded with the best outing of his young career. He completed 80% of his passes, threw for 3 touchdowns and took some yards on the ground when they were available. Most importantly, he never turned the ball over. Geno still holds on to the ball a bit too long at times and that led to a few coverage sacks but his awareness will improve in time. The Jets scored on their first 3 possessions.
Backs: B
Powell: 12 rushes for 38 yards, 1 reception for 9 yards
Ivory: 4 rushes for 27 yards
Goodson: 3 rushes for 32 yards, 1 reception for 9 yards
There weren't many great individual performances, but what you have to love is the way the Jets mixed it up with this versatile group of backs. In his first game as a Jet, Mike Goodson reminded us that he's a true playmaker.
Wide Receivers/Tight Ends: A-
Cumberland: 3 receptions for 79 yards, 1 TD
Kerley: 5 receptions for 68 yards, 1 TD
Hill: 2 receptions for 21 yards
Winslow: 1 reception for 1 yard, 1 TD
Gates: 1 reception for 3 yards
Nelson: 2 receptions for 9 yards
Santonio Holmes was sidelined with a hamstring injury, but the Jets receivers and tight ends hardly missed a beat. Geno used almost everyone available to him… even Clyde Gates. Jeremy Kerley made an impressive leap over the pylons to score a touchdown. Other than the fact that he bobbled a ball that nearly led to an interception, Jeff Cumberland had one of his best games as a Jet.
Offensive Line: A-
The Falcons put up 4 sacks, but that was mostly due to coverage downfield and/or indecision by Geno Smith. For the most part, the line did a great job—both in keeping Geno clean and in setting up the running game.
Defensive Line: A
Same ol', same ol'. The defensive line has really become the bread and butter of the New York Jets. The tandem of Wilkerson and Richardson each had a sack. They will be aggravating opposing offensive lines for the remainder of the decade. The Jets have gotten great production out of several guys that have flown under the radar, including Damon 'Snacks' Harrison, Kenrick Ellis and Leger Douzable.
Linebackers:  B+
If David Harris looks rejuvenated, perhaps that's due to the presence of DeMario Davis. Both of the Jets starting middle linebackers were flying around the field, making plays where it counted.
Secondary: C-
Antonio Cromartie held his ground in one on one match-ups with Julio Jones, but the rest of the secondary missed tackles, dropped interceptions and failed to get off the field on 3rd downs.
Special Teams: A+
Every aspect of special teams had it going against Atlanta. Nick Folk remains perfect on the season on field goals, nailing his 2nd game winner of the year. Jeremy Kerley had a huge momentum-swinging punt return. Antonio Allen blocked a punt.
Coaching: A
Marty Mornhinweg drew up an interesting game plan involving numerous looks and personnel groupings, and it had Atlanta on their toes most of the night. The Jets have struggled with two things this season: turnovers and penalties. Rex promised to fix them both. Against Atlanta, they cut the turnovers down to 0 and the penalties down to 6. Job well done, Rex.
Videos
Aaron Rodgers Injury Fallout & Jets/Bills Recap