Featured Editorials Home Slider
The Day After…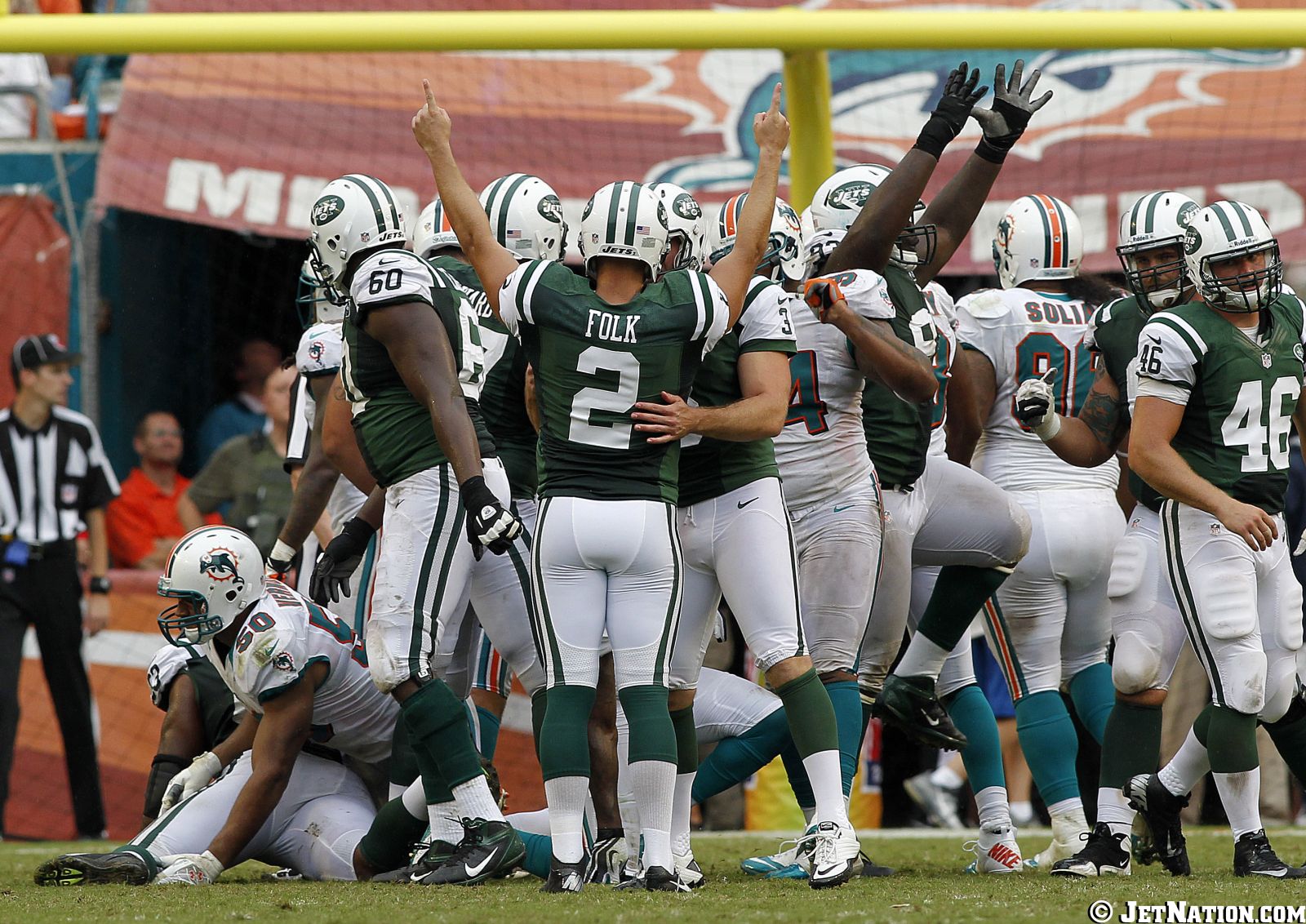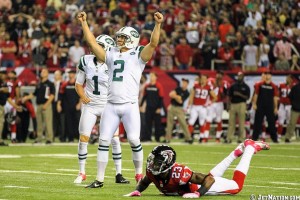 The Jets played an all-around solid game in a tough environment in the Georgia Dome last night.  The late 4th quarter comeback led by rookie QB Geno Smith resulted in the game-winning field goal by Nick Folk.  It was an emotional victory and another step in the right direction for a young team.
OFFENSE
Game Ball: Geno Smith: 16/20 199 yards 3 TD, 0 INTs, 4/4 37 yards on game-winning drive
Geno Smith played extremely well last night.  With an injury-depleted wide receiving core, Smith relied heavily on TE Jeff Cumberland (3 receptions, 79 yards, 1 TD).  The Jets only ran 46 plays, 26 of them were running plays.  The Jets running back 3-headed monster of Bilal Powell, Chris Ivory, and Mike Goodson (season debut) played well and helped the young quarterback by establishing the run game early and never let up.
There wasn't too much to knock about the Jets offense yesterday.  Rookie Brian Winters played pretty well overall at left guard.  No penalties from the left guard position are progress.  The only issue was the continued use of "The Wildcat" formation.  This formation needs to be deleted from Mornhinweg's playbook because teams know how to stop it.  It's no longer "something else for a team to practice" because it's common knowledge how to stop it now.  Avoid the Wildcat and allow the rookie QB to play his game.  With three running backs in the mix now, and Smith's quick decision making last night, the Jets need to keep him under center or in the shotgun and don't waste plays on Wildcat.
DEFENSE
Game Ball: Muhammad Wilkerson, 7 tackles, 1 sack, 2 tackles for loss, 1 forced fumble
Once again the Jets defensive line played stellar.  The constant substitutions of fresh legs have made that front line one of the best in the league.  David Harris and Demario Davis played solid again, making big hits in both the run game and pass game.
The one critique of the defense was the prevent coverage when they were up 27-14.  They allowed Matt Ryan and Tony Gonzalez to march right down the field and score a touchdown.  The next series they did the same thing, but tightened up in the red zone.  It took 5 plays and two questionable defensive holding calls for the Falcons to score and take the lead for a brief time with 1:58 seconds left.  Antonio Cromartie played well despite one big pass interference call and a couple of close no-calls.  Darrin Walls, in his second start for rookie Dee Milliner played well, but missed a couple of key tackles that allowed the Falcons to continue drives.  His highlight of the night was when he exploded to a running back running a screen pass and made a huge hit.  If he didn't make that hit, there was a lot of room for the back to run.  He also dropped one interception that would've easily been a pick 6 and nearly had another one later that hit his fingertips.
People are concerned with the lack of turnovers created by such a solid defense.  Fans have to keep in mind that this defense is starting 7 new players from last year.  They are still learning the system.  The Jets had a lot of batted passes last night.  That is the first step to a new defense's progress.  The next step is creating turnovers and that will happen in the upcoming weeks.
SPECIAL TEAMS
Game Ball: Nick Folk: 3-3 FGs, game-winning 43 yard field goal
Clyde Gates continues to struggle as a kick returner.  He had one decent return yesterday, but his constant inability to get back to the 20-yard line needs to be addressed.  Look for Mike Goodson to take over that job in the upcoming weeks, making Clyde Gates expendable.  Jeremy Kerley returned two punts for 29 yards, including a 24 yarder plus a 15 yard horse collar penalty.  That set up the Smith-to-Winslow touchdown to make the score 27-14 at the time.  That was a pleasant change and another step in the right direction for this team.
Nick Folk was perfect again, including the game-winning field goal.  He also had 4 touchbacks kicking off.  Ryan Quigley wasn't asked to do much because of field position and the play of the Jets offense but he had 3 punts averaging over 46 yards per punt.
The Jets have a quick turnaround when the Pittsburgh Steelers come to Metlife Stadium this Sunday October 13th, coming off a much needed bye week.  The Jets will have their hands full again against a good defense and Ben Roethlisberger's offense.
Videos
New York Jets OTA Presser Takeaways, Aaron Rodgers' Impact and Summer Delusion