Featured Editorials Home Slider Jets Report Card
New York Jets Report Card: Week 6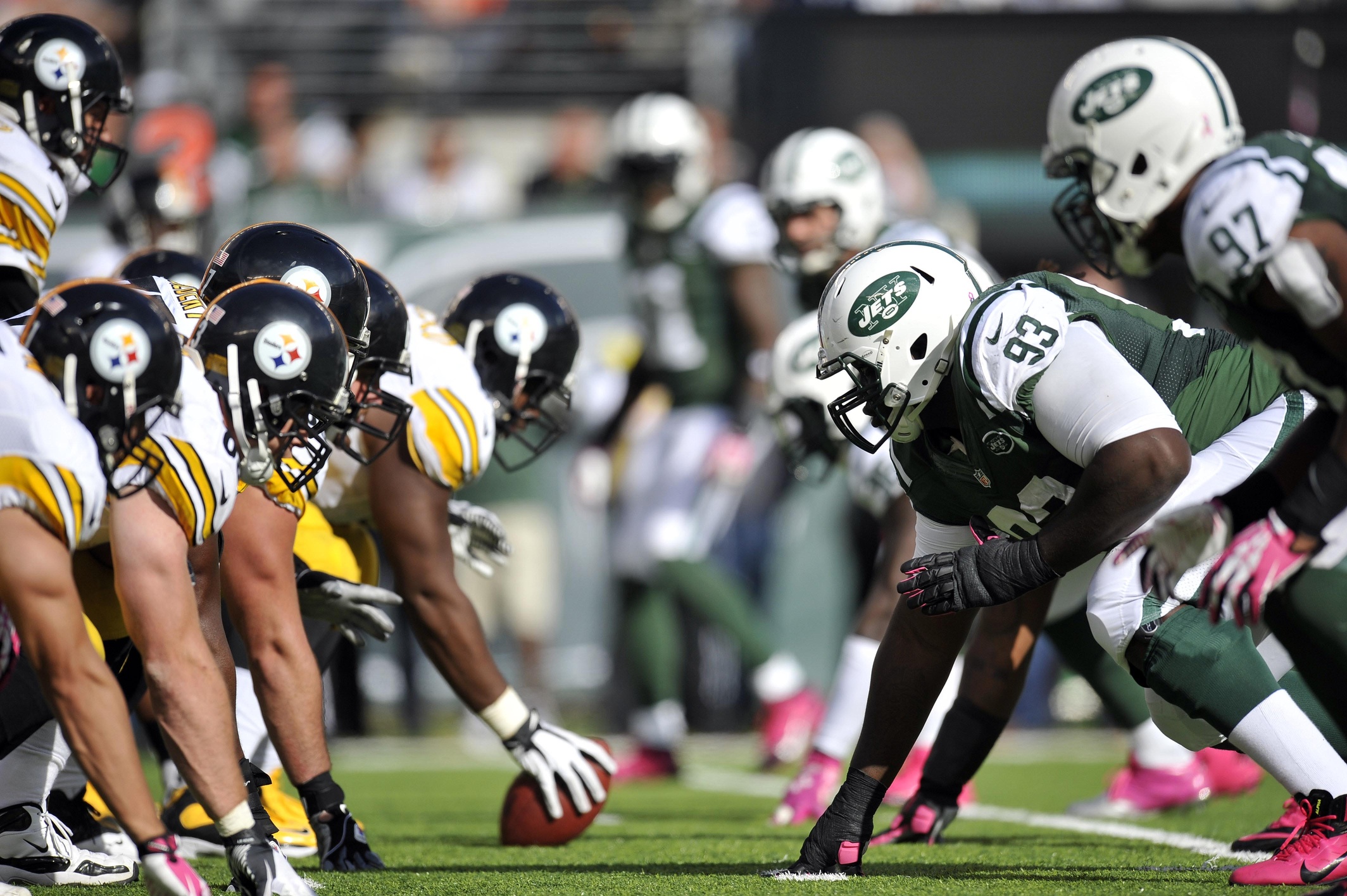 New York Jets Report Card
Week 6: Pittsburgh Steelers @ New York Jets
 Quarterback: D
Smith: 19/34, 201 yards, 0 TD, 2 INT, 3 rushes for 8 yards.
Geno struggled today against a stout Pittsburgh secondary and he looked every bit the rookie. He led a nice drive that ended with a field goal with the clock ticking down in the 1st half, but he also killed two successful drives with interceptions.
 Offensive Line: B
The offensive line held Geno upright until late in the game, when fatigue and the scoreboard became a factor.
 Running Backs: B
Powell: 9 rushes for 30 yards, 3 receptions for 20 yards
Ivory: 4 rushes for 16 yards
Goodson: 4 rushes for 29 yards, 1 reception for 10 yards
The Jets have a nice trio of running backs now, each with their own unique skills. Together, they make for an impressive ground game—and they contribute to the Jets air game as well.
 Wide Receivers/Tight Ends: C-
Cumberland: 4 receptions for 59 yards
Hill: 3 receptions for 46 yards
Gates: 5 receptions for 36 yards
Kerley: 2 receptions for 19 yards
Nelson: 1 reception for 11 yards
The absence of Santonio Holmes is noticeable. Kerley didn't do much all day. Stephen Hill made a couple of sweet catches and Jeff Cumberland is emerging as the Jets TE #1, but this is not a very talented group and it showed today.
 Defensive Line: C+
What happens when you put a great defensive line on a short week up against a poor offensive line after a bye week? This. While the Jets moved the Steelers offensive line well at times, they looked just a tad slower and weaker than they usually do.
 Linebackers: B
Jets linebackers combined for 2.5 sacks and the Steelers rushed for less than 75 yards on the day.
 Secondary: D
Cromartie is the walking wounded and, in hindsight, should have sat this game out. With Cromartie playing as he has and Dee Milliner on the sidelines, the Jets secondary lacks the depth it once possessed. The Jets got beat on too many plays—both short and deep.
Special Teams: B
Nick Folk hit two more field goals and remains perfect on the year. Quigley's punts and Kerley's punt returns were both solid but not spectacular.
Coaching: C-
For a change, the Jets didn't get hit with too many penalties and their clock management was good, especially towards the end of the 1st half. However, the Steelers scored on the Jets defense on four consecutive possessions and the defensive adjustments coming out of the half were nowhere to be found. Morniwheg never got much going on the offensive side of the ball.
Videos
Was Boomer Right to Blast Becton? Former Jets QB Sounds off Against Jets Tackle.