Featured Editorials Home Slider Jets Report Card
New York Jets Report Card: Week 7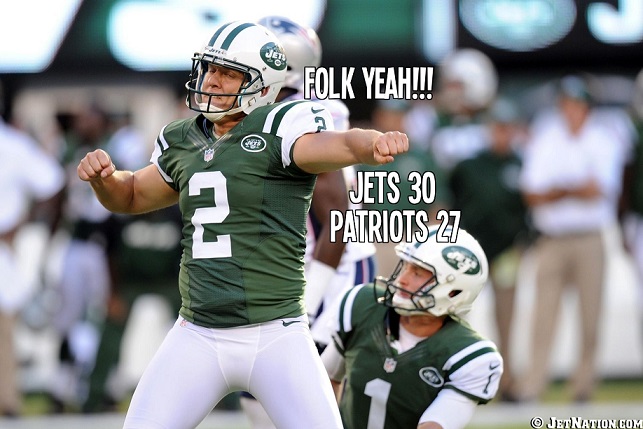 New York Jets Report Card
Week 7: New England Patriots @ New York Jets
Quarterback: C+
Smith: 17/33 for 233 yards, 1 TD, 1 INT, 6 rushes for 32 yards, 1 TD
Maybe I'm just a Jets "homer," or maybe watching Sanchez play for 4 years has just rotted my mind, but Smith's pick 6 (which was a 2 score swing, by the way) doesn't bother me all that much. Was I throwing and breaking every object that I came in contact with at the time? Of course. Is Geno's 8:11 TD/INT ratio good? Of course not. But there's a lot to like about what he brings to the table: his speed and athleticism, his even demeanor and his ability to throw the long ball. That's a huge departure from the Mark Sanchez days.
Backs: C+
Ivory: 34 rushes for 104 yards, 1 reception for -2 yards
Bohannon: 6 rushes for 21 yards
Powell: 3 rushes for 6 yards
It was a very workman-like performance for Ivory, who ran for 104 yards but needed 34 chances to get there. The yards per carry average isn't thrilling, but Ivory ran with ferocity and determination.
Wide Receivers/Tight Ends: B
Cumberland: 3 receptions for 41 yards
Kerley: 8 receptions for 97 yards, 1 TD
Hill: 1 reception for 17 yards
Nelson: 4 receptions for 80 yards
Easily the best game of the season for Kerley and Nelson, both made several fantastic grabs. Cumberland left a couple catches on the field. Hill was silenced for most of the game.
Offensive Line: A-
The Patriots had 4 sacks and the left side of the Jets offensive line was beaten too often, but they're going to get a good grade here because they controlled the time of possession and paved the way to an overtime field goal on the ground.
Defensive Line: B
Pressure against the quarterback was inconsistent, but the Jets were dropping men into coverage. Harrison and Wilkerson each posted a sack.
Linebackers:  C-
Both Pace and Coples had a sack, and both forced a fumble, although neither of them were recovered by the Jets.  The Patriots put up just 90 yards rushing on the day, but they did so at a pace of 4.5 yards per carry.
Secondary: A-
Antonio Allen returned an interception for a touchdown. It was the first time Brady had thrown a pick 6 in nearly two full seasons of football. Brady threw for less than 230 yards, and completed less than half of his passes.
Special Teams: C+
Julian Edelman torched the Jets in coverage, but the Jets returned the favor with Joshua Cribbs. Nick Folk was 3/3 on field goals, and remains perfect on the season due to a penalty that called back his 56 yard miss in overtime.
Coaching: B+
The Patriots scored 21 points in the 1st half (7 off of an interception) but were held to just 6 points in the 2nd half. The coaching staff deserves credit for those halftime adjustments. Marty Mornhinweg drew up a conservative run-heavy game plan to attack the Patriots defensive deficiencies. Penalties remain a concern for the Jets.
Videos
Aaron Rodgers Injury Fallout & Jets/Bills Recap