Featured Editorials Home Slider
Rex On The Rookies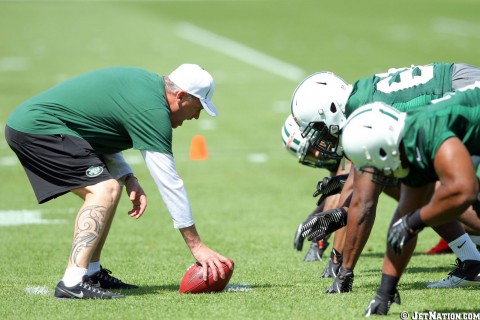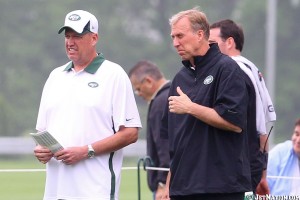 The Jets are 5 and 4 as the head into the bye week.  Rex Ryan took some time to reflect on several key rookies.
Geno Smith
I think Geno is a tough guy. He's focused. He just wants to win. That's what makes him like everybody else, I think it's just not about stats, it's not about anything else, it's about let's find a way to win. We only threw it I don't know how many times, 19 times?  Or we have to throw it 30 times or whatever. (It) doesn't matter. We just try to find a way to win. But I do love his mentality. He can bounce back. If he makes a poor play, he's going to bounce back and try to do better, and that's what he does.  He's a calm guy. I'll never forget. We get in and had a big win against New England, and he's like, "Oh, okay." You'd never know he played a game. You think he's getting ready to go play a game. So I think he never gets too high, too low.  He just is a confident young man, so I think that's always good.
On if Smith has shown he can be the quarterback of this team for years to come…
I'm just looking at this as a week-to-week thing. We play bye week this week, and he'll be our guy (joking).
Dee Milliner
Well, you see it on the practice field. Those clearly were his best practices, and then he took it to the game. I thought he had an outstanding game. The one ball, I think he was surprised that (Drew) Brees shot it out there. He had great coverage, kind of lulled to sleep, looked back like, "Uh, oh," and then the guy (Nick Toon) gained separation from him and almost made an unbelievable catch.  So I think that kind of surprised him.  But other than that, what a game he had. It was good to see. It wasn't just him. I think it was even collectively with the corners, with Kyle (Wilson), and with Cro (Antonio Cromartie), outside of Cro falling down on that play, I thought all of them played well.
On if Milliner being drafted so high in the draft is more difficult than Sheldon Richardson's situation because of the expectations that come along with being a team's first selection…
Well, I think the big difference was Sheldon had the opportunity to go through mini-camps and training camps and everything else, where Dee really never got to play a whole lot.  I mean, he missed all the mini camps, played sparingly through training camp and was kind of just here he is and popped out there.  So it's kind of on-the-job training, but that's really where it is.  So I don't think he had the benefit of like where Sheldon was here the whole time. So regardless of the position, I think it's missing those reps in mini camp and training camp probably puts you behind a little.
Sheldon Richardson
On if Richardson's play makes it seem like he is not a rookie…
Yeah, (he has a) high motor. (It is) rare to have a guy with that kind of athleticism. I mean, he's never off his feet unless he's making a tackle. I remember seeing a guy like Lee Roy Selmon. That was it.  The only time he's ever on the ground is when he's making a tackle. I'm not saying he's Lee Roy Selmon, but that would be nice.
Videos
NY Jets Phase 3 OTAs, Expectations and a Minor Calf Tweak with Greg Renoff