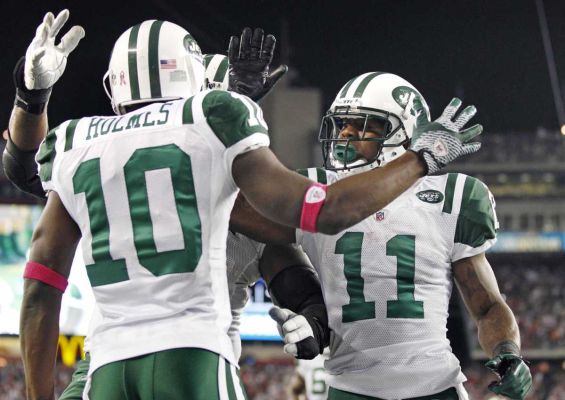 Rex Ryan seems optimistic that Santonio Holmes will play this weekend.  Rex gave his thoughts on Holmes, "I think he'll play. He looks good. He looks good to me.  Like I said, I certainly hope so."  The Jets passing attack has struggled the past few weeks without Holmes and Rex said he doesn't care about stats.
We don't really care about the stats because we're going to do what we think gives us the best chance to win. That's how we play and that's the complimentary football that we play. But certainly he's a legit receiver. There's no question about it. (He has) strong hands, you can play him anywhere, X, Z, S, wherever else, any other letter you've got (joking). He's a legit guy. I know he had a big game the last time we played Buffalo. Hopefully, that'll be the same this time.
The passing game will benefit from the return of Kellen Winsow, who was activated on Monday.  The prognosis for Jeremy Kerley isn't as good for this week, although it seems that the injury isn't as serious as was originally feared.
The full injury report will be released on Wednesday but for now here are Rex's comments on Kerley.
I mean it doesn't look good. He's still in like a sling or something. I don't know if it was a cast or whatever, that's off. But, certainly it doesn't look good, but again I'm not going to rule him out right now. But, I would say it doesn't look good.