Featured Editorials Home Slider
NY Jets Fate Decided By Turnovers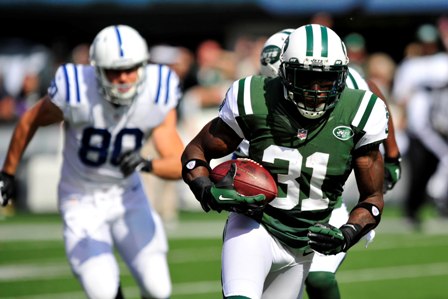 No statistic in football defines the outcome of a game more than turnovers.  The New York Jets are currently at minus ten in turnovers meaning they have given up the ball ten times more than they have gotten it.
During the first four games of the season the Jets were also minus ten in turnover margin committing 12 turnovers while only creating two. Geno Smith accounting for 11 turnovers himself (8 interceptions, 3 fumbles) during that stretch but the team was able to "weather the storm" with a 2-2 record.  Smith has done a much better job of taking care of the football lately having no fumbles lost in his last five games.   
Over the team's last five games they have an even turnover margin creating five turnovers while turning the ball over five times, all Smith interceptions.  The Jets had zero turnovers in the Atlanta Falcons and the New Orleans Saints games and created three turnovers (one fumble recovery Falcons, two interceptions Saints) in those victories. 
The Jets have a young physical defense that is number one in the league in stopping the run and gets up after the quarterback with 27 sacks through nine games.  Unfortunately this has not led to as many turnovers as you might think. 
The team created only two turnovers during the first four games, one an end of the game desperation fumble against the Buccaneers.  They were able to improve upon this by causing five turnovers in their last five games with an impressive two interception performance against Drew Brees and the New Orleans Saints.
As the Jets come off their bye and head into the latter half of the season there is reason to believe they can improve the turnover margin as they make a playoff push.  During their first nine games opponents fumbled the ball 14 times with the Jets only recovering two of them.  It seems the ball has taken some unlucky bounces on fumbles which has led to only having the two recoveries.  The team has also has four interceptions in their last three games with many missed opportunities in the last game against the Saints.
With the Jets physical style of play the fumbles will likely continue to come and hopefully the team can secure more of them.  Also the secondary has been making more plays on the ball recently then earlier in the season and there is no reason to think they cannot have success with interceptions.
Improving the turnover margin is the most important challenge facing this team as it will have the greatest impact upon the games results.  If the Jets can produce a positive turnover ratio down the stretch run of the season, this team will make the playoffs. 
Videos
New York Jets OTA Presser Takeaways, Aaron Rodgers' Impact and Summer Delusion