Featured Editorials Home Slider Jets Report Card
New York Jets Report Card: Week 11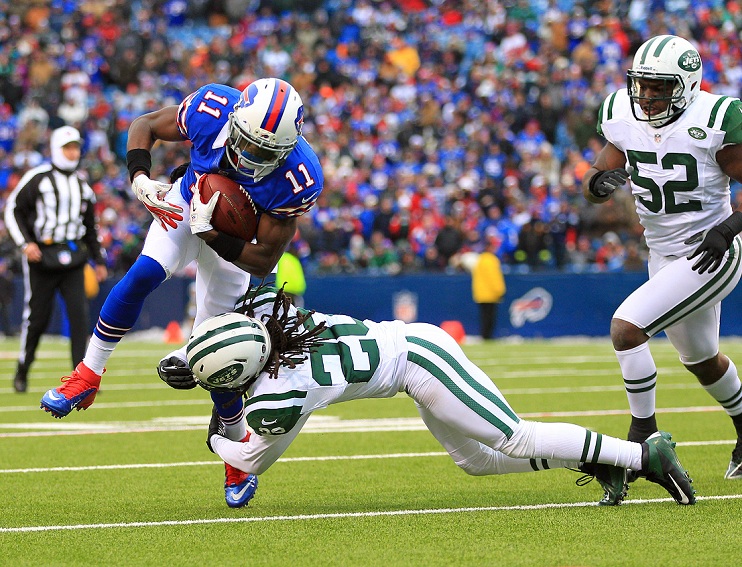 New York Jets Report Card
Week 11: New York Jets @ Buffalo Bills
Quarterback: F
Smith: 8/23, 103 yards, 3 INT, 1 fumble, 1 rush for 0 yards
Simms: 4/6, 60 yards, 1 TD
If you didn't actually see the game, please don't go ahead and watch it now. You're not going to like it one bit. It just might have been Geno Smith's worst performance to date. He was hit early and often by a ferocious Bills pass rush, and the results were devastating: Geno was off target all day, but if he had just protected the football, the Jets might have stood a chance in this game. Matt Simms came in for garbage time and performed well, not that it matters all that much. While the Jets playoff chances are still good, that won't last for long if Geno doesn't get the ship turned around.
Backs: C
Ivory: 15 rushes for 98 yards, 1 TD
Powell: 5 rushes for 27 yards, 1 reception for 1 yard
Bohannon: 2 receptions for 25 yards
The backs never had much of a chance in this game. Though they ran it effectively enough at times, most of their yards on the ground came long after the Jets had been routed.
Wide Receivers/Tight Ends: D
Holmes: 2 receptions for 71 yards
Salas: 2 receptions for 32 yards
Cumberland: 3 receptions for 25 yards, 1 TD
Winslow: 1 reception for 17 yards
Nelson: 1 reception for 12 yards
Returning from injury, Holmes gave the Jets a bit of a deep threat. The Jets wide receivers and tight ends struggled to gain separation today against a rejuvenated Bills secondary.
Offensive Line: D-
The Bills are near the top of the league in sacks, but there's just no excuse for this pitiful performance from the offensive line, a unit that the Jets rely on so heavily. Geno Smith was pressured, hit, knocked down and sacked all day long.
Defensive Line: D
The turning point of this game was Douzable's encroachment penalty on a 4th & 5 that would have been a Bills punt. Instead, the Bills got a new set of downs and torched the Jets downfield for a touchdown. That set into motion an epic domino collapse for the Jets today. The Jets pass rush, which got to EJ Manuel 8 times in the last game vs. Buffalo, only put up 1 sack today. The pressure wasn't there soon enough.
Linebackers: C-
The Jets did a decent job against the run today. Unfortunately, the Bills didn't really need to run to win.
Secondary: D-
Bills QB EJ Manuel looked lost out there against the Steelers last week. Today, he was an efficient 20/28, posting 245 yards and 2 touchdowns without a turnover. Neither Cromartie nor Milliner have lived up to their billing this season.
Special Teams: C-
Nick Folk missed his first field goal of the season from 48 yards out in the swirling winds. Cribbs has been adequate on kick returns, but wasn't very impressive today. The same could be said of this entire unit.
Coaching: F
The Jets had the inside track to secure the 6th seed in the AFC. Now, with a road game against Baltimore on the schedule next week, it's all about who wants it more. Unless something changes fast, I'm sure there will be another team that wants it more. The Jets came out flat and lifeless today, and it only got worse from there. With a bye week to game-plan and rest up, this is the effort we got? Why?
Videos
NY Jets Phase 3 OTAs, Expectations and a Minor Calf Tweak with Greg Renoff