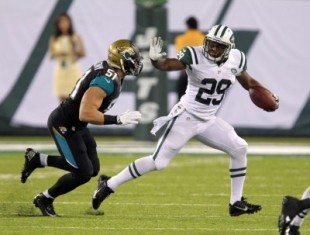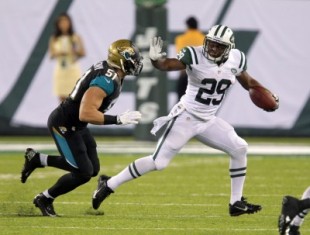 After another disappointing loss the New York Jets (5-6) once promising playoff hopes are fading as they head into an almost must win situation against their division rival Miami Dolphins (5-6).

Even with all the recent struggles the Jets have had, especially on offense, the off-the-field issues between guard Rich Incognito and tackle Jonathan Martin has brought a major outside distraction to the Dolphins hurting their chances at the playoffs.
Another blow is it appears the season is over due to an ankle injury for Dolphins reserve running back Daniel Thomas suffered during the team's 20-16 loss to the Carolina Panthers yesterday. Thomas was the primary spell back for starter Lamar Miller having 77 carries for 279 yards, a 3.6 average, and three touchdowns along with 12 receptions for 54 yards and a touchdown. 
The Dolphins will now rely upon rookie Mike Gillislee out of Florida a 2013 fifth round draft pick to backup Miller.  Gillislee has been inactive for the Dolphins first 11 games but did have 125 yards on 25 carries, 3.0 average, during the preseason.  The Dolphins have struggled rushing the ball this season ranking 26 in the league with an 85.4 yard per-game average.
The sudden loss of Incognito and Martin has certainly not helped the Dolphins running game nor with the pass protection for quarterback Ryan Tannehill, sacked a league high 44 times.   With Center Mike Pouncey still questionable after having food poisoning the Dolphins might have former Jet Nate Gardner starting at center along with recently signed guard off the Cowboys' practice David Arkin filling in on the left side.  Tyson Clabo who was recently benched and thought to be expendable once Martin returned to the right side after the acquisition of Byant McKinnie from the Ravens will remain at right tackle do to the lack of any other viable option.  It appears the Dolphins offensive line will continue to be a weakness this week. 
The Jets have an issue facing their running back situation as it has been reported that running back Chris Ivory is suffering from an ankle injury of his own.  With the Jets passing offense stuck in neutral (1 touchdown, 10 interceptions over the last six weeks) the team will need to get the ground game going if they want to get more production out of the offense.  It is unclear what Ivory's game day status will be but RB Bilal Powell may be asked to have an increased role in the game plan.