Jets vs. Dolphins Preview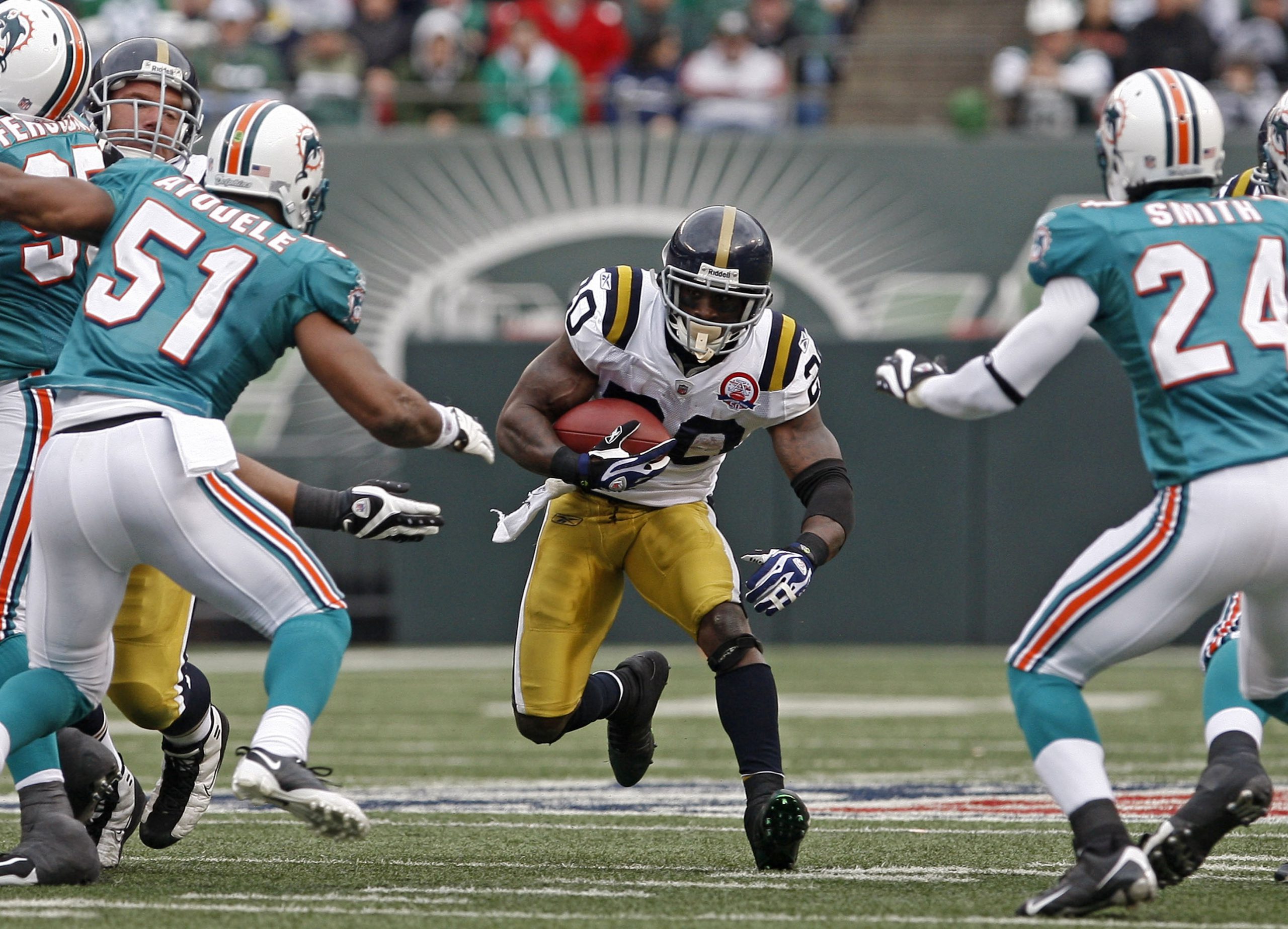 When the New York Jets (5-6) and Miami Dolphins (5-6) take the field Sunday at MetLife stadium it will be December, which means cold weather games and playoff races. In the first of two matchups between divisional foes, Miami at New York may be an elimination game for the last wild card spot. Let's see how the matchups breakdown:
Miami's offense
If there is one aspect the Jets could absolutely dominate in this game it will be their defensive line vs. Miami's offensive line. The absence of Jonathon Martin and suspension of Richie Incognito has transformed an already shaky unit into one held together by tape and rubber bands. The return of center Mike Pouncey will help immensely– he's the only positively graded offensive lineman on the Dolphins on ProFootballFocus.com. Pouncey's return will also push Nate Garner back to left guard, a more natural position for him. Overall, Miami's offensive line isn't awful but is still below average in pass blocking and run blocking. The Jets should be able to take advantage
All things considered, I think Ryan Tannehill has been impressive this year. The second year quarterback has thrown for 224 yards per game with 15 touchdowns and 12 interceptions. Tannehill still has his off days, but his ability to use his legs to extend plays and show off his big arm can really hurt defenses.
Miami has done a pretty good job putting weapons around Tannehill. While the splashy Mike Wallace signing from this past-offseason hasn't gone as planned, the big play potential is still there and Wallace still demands safety help overtop because of his speed. Of all receivers with over 10 catches on Miami, Wallace has the highest yards per reception on the team at 13.5. Two other guys to keep an eye on are Brian Hartline and Charles Clay. Hartline leads the team in receptions and yards and is more of a Jordy Nelson or Santonio Holmes mix where he can line up in the slot or on the outside. Clay will be used like an H-back, where he will sometimes take handoffs, be a lead blocker, or lineup at tight end. Clay has 46 receptions and four touchdowns, the most on the team.
I don't think the Jets have much to worry about with the running game because of the offensive line play. Having Pouncey back helps, but the Jets have just been so stout against the run. Running back Daniel Thomas is likely done for the year, so the versatile Lamar Miller should see more caries. The Jets will have to make sure they keep contain.
Miami's defense
The Dolphins have a pretty solid overall unit. The best player on the entire team might be cornerback Brent Grimes, who has been one of the best corners in the league. Jets receivers will have their hands full separating from Grimes. As for the rest of the secondary, no one is quite sure who will even play. Dimitri Patterson has been good but missed last week with a groin injury and hasn't practiced this week. Free safety Chris Clemons missed some time with knee and hamstring issues against Carolina and has also not practiced this week. It still sounds like it will be a surprise if he does not go.
The strength of the Dolphins is their defensive line, led by all-pro Cameron Wake. Wake had been bothered by injuries earlier in the season but is absolutely dominating now. Opposite of him is Oliver Vernon, whose emergence this year (7.5 sacks) is keeping Dion Jordan off the field. That's not to say Jordan doesn't have his role, because he gets after the quarterback in passing situations and is doing a good job in coverage, but Wake and Vernon are a lot to handle.
How to win
It all starts on offense. Can the Jets move the ball? Having Jeremy Kerley back is going to be huge for Geno Smith, who has really, really struggled his last three games. If there is one guy we know Geno trusts, it's Kerley. Of course, he has to have time to throw the ball, which didn't happen a lot in the Baltimore game, especially in the first half. If the Jets were smart (that's to be determined), they'd almost always have a back in the backfield to help block and have tight ends chipping the defensive ends hard off the snap.
I would say the Jets should be able to run the ball against an average run stopping unit but I'm not sure that'll be the case. Miami is giving up an average of 4.2 yards per rush (20th in the NFL) but I'm willing to bet they'll be stacking the box early and trying to make Geno beat them.
The Jets can't handcuff Smith. He is clearly most effective when moving the ball vertically down the field. I'm not saying throw bombs every play, but try and move the ball in 10-20 yard chunks. This season is all about seeing what you have at the quarterback position, so let him let it fly.
This game will pretty much be on the shoulders of the defensive line (again). If Antonio Cromartie can't go that just puts more pressure on the defensive line to not let Tannehill hit the big play. Look for Darrin Walls to start in place of Cromartie. Also, I think we should see more Antonio Allen in this game. Clearly Ed Reed is not what he used to be. He brings value, but I think Allen brings more to the table at this point.
Finally, the Jets have played well at home this year. Get that place rocking in a must-win situation. For those who venture out, let's lay off the booing of the offense. Bottle up that anger and let it roar while Tannehill is out there.
Videos
New York Jets OTA Presser Takeaways, Aaron Rodgers' Impact and Summer Delusion