Featured Editorials Home Slider Jets Report Card
New York Jets Report Card: Week 13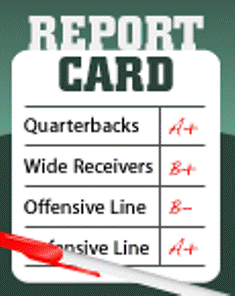 New York Jets Report Card:
Week 13: Miami Dolphins @ New York Jets

Quarterback: F
Smith: 4/10, 29 yards, 0 TD, 1 INT, 1 rush for 2 yards
Simms: 9/18, 79 yards, 0 TD, 1 INT, 2 rushes for 2 yards
At the beginning of the season, would you have believed me if I said that Smith would have a game that was worse than any game by Mark Sanchez? He didn't even break double digits in passes and still managed to throw a pick. On two occasions, he missed a wide open receiver down the field by 5 or more yards. Those are some of the worst passes that you will ever see in your lifetime.
Matt Simms was decent in mop up time, but not nearly good enough to lift this grade above an F.
Backs: B+
Ivory: 12 rushes for 61 yards, 1 reception for 12 yards
Powell: 7 rushes for 34 yards, 3 receptions for 25 yards
To say that Ivory ran with ferocity is putting it lightly. He was the one bright spot on the day for the Jets offensively. Powell fumbled on a handoff due to miscommunication between himself and Simms, but otherwise, he was fine.
Wide Receivers/Tight Ends: F
Nelson: 3 receptions for 37 yards
Winslow: 3 receptions for 26 yards
Cumberland: 1 reception for 6 yards
Hill: 1 reception for 2 yards
Salas: 1 reception for 0 yards
Do the Jets have wide receivers? I'm serious, are there any wide receivers on this team?
Offensive Line: C-
The pressure got to them here and there, but the Jets offensive line certainly wasn't the main problem today.
Defensive Line: A-
Mohammed Wilkerson is by far the greatest thing about this team right now. Damon Harrison and Sheldon Richardson aren't too shabby, either.
Linebackers: C
Hey, Quinton Coples made an appearance. That transition to OLB is finally paying off.
Secondary: F
The Jets secondary is porous as can be. Milliner dropped two picks and missed several tackles. Cromartie is obviously still nursing that hip injury. They are an absolute nightmare right now.
Special Teams: D
Breakdowns in coverage, breakdowns in coverage… constant breakdowns in coverage.
Coaching: F
After the disasters that were the Bills and Ravens game, there's just no excuse for this kind of performance. The Jets were historically inept on offense. The defense did a good job of bending but not breaking for quite some time, but they were undermined by their own inability to get off the field on 3rd down just as much as they were by their offense. Matt Simms is no great shakes, but he probably should have been named the starter a week ago. If the Jets are going to play this way next week, they should forfeit already.
Videos
Aaron Rodgers Injury Fallout & Jets/Bills Recap