Featured Editorials Home Slider
Jets Vs Raiders Preview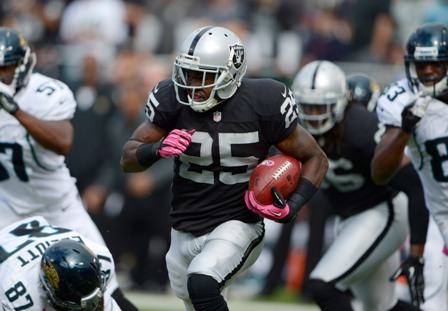 It's win or go home time in East Rutherford as your New York Jets (5-7) take on the Oakland Raiders (4-8). The Jets have shown a truly remarkable inability to show a pulse on offense the past three weeks but should have a favorable matchup against a bad (albeit feisty) Raiders squad. Let's take a look at how the game figures to break down:
Raiders Offense
The Raiders had the dynamic Terrelle Pryor at quarterback to start the year. Pryor was okay but started to show some serious regression as the season went on and then got injured. This is where undrafted free agent Matt McGloin comes in. It's almost remarkable McGloin is in the league when you consider where he was at just two years ago (a struggling quarterback under Joe Paterno). McGloin's career was saved when Bill O'Brien took over as head coach at PennState. Although he went undrafted in April, McGloin impressed enough over the summer to earn a roster spot and has now played well enough to keep the starting job over Pryor.
McGloin's numbers aren't out of this world (57% completion rate, 799 yards, four touchdowns and two interceptions) but there's an obvious chemistry he has with his receivers. McGloin isn't afraid to try and fit the ball into tight spots and does well with timing routes. His main target is wide receiver Rod Streater, who leads the team in receptions and reception yards. Another name to keep an eye on is Andre Holmes, who had a monster game in a Thanksgiving Day loss at Dallas.
Oakland's running game has been pretty steady despite some injuries to the offensive line and running backs. Oakland is averaging 133 yards per game on the ground but I'm sure that number has gone down since Pryor has been out, as he was their second leading rusher with 504 yards. The talent of Darren McFadden is evident but he simply cannot play 16 games and likely will be a no-go this week due to a shoulder injury. The shifty Rashad Jennings has been a nice replacement, averaging 4.7 yards per carry.
Raiders Defense
Oakland's defense isn't much to tote about. They're 19 in total defense, ranking 23 in pass defense and 10 in rush defense. The front seven isn't too bad, as they are led by middle linebacker Nick Roach. Roach is the leader on the defense, leading the team in tackles (65) and sacks (5.5). Defensive end Lamarr Houston and outside linebacker Sio Moore are two of the younger guys Oakland is excited about, as both have shown an ability to get after the quarterback.
The player to worry about in the secondary is Charles Woodson, who may be on the older side but is still a dangerous playmaker that is going to be moving around constantly. Tracy Porter and Mike Jenkins are two pretty solid corners who will likely look like All-Pro's against most of the Jets wideouts. One aspect the Raiders have struggled on defense is getting off the field on third downs, giving up a first down nearly 40 percent of the time.
How To Win
In order to win you have to score points. The Jets have scored 20 points in their last three games which has predictably yielded three non-competitive losses against average teams. Getting wide receiver Jeremy Kerley back (elbow) is going to be huge for Geno Smith. If there is one guy who Geno clearly trusts, it's Kerley, who has also been incredible on third downs. Geno has certainly struggled, but a large part of is due to his receivers getting ZERO separation. Tough to complete passes when guys are being blanketed.
The Jets defense has been pretty bad lately too but to their defense they're on the field nearly 40 minutes a game and would have to play perfect to win. Even still, there isn't really any consistent pass rush outside of Muhammad Wilkerson.
If the secondary can't play well against Oakland then it won't play well against anyone. Streater is an okay receiver but nothing special. The same goes for Holmes. I am concerned with how the corners are going to do against so many timing routes and back shoulder throws. Finding the ball in the air has been a problem all season.
Despite the terrible offense and atrocious play of the secondary, the Jets are still in a playoff race in December. If anything, playing at home against a rookie quarterback with a Rex Ryan defense should prove to be favorable matchups for the Jets.
Videos
Aaron Rodgers Injury Fallout & Jets/Bills Recap