Featured Editorials Home Slider Jets Report Card
New York Jets Report Card: Week 14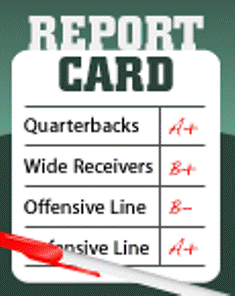 New York Jets Report Card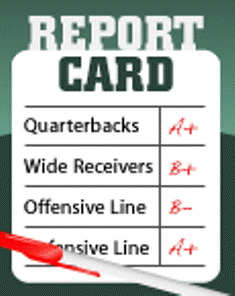 Week 14: Oakland Raiders @ New York Jets
Quarterback: C+
Geno Smith: 16/25, 219 yards, 1 TD, 1 INT, 5 rushes for 50 yards, 1 TD
Geno had his ups and downs, but overall, this was his best performance of the 2nd half of the season—and it's not even close. On the Jets 2nd drive, he stared down a receiver, leading to an interception. But as the game progressed, he would throw for a touchdown and rush for another. Geno really showed off his wheels today, putting up 50 yards on the ground. There are still times, though, when he misses receivers on easy passes. Is it safe to say that his mistakes are more mental than physical at this point?
Backs: B
Ivory: 18 carries for 76 yards, 1 TD
Powell: 8 carries for 14 yards, 1 reception for 24 yards
Bohannon: 1 reception for 6 yards
Some of GM John Idzik's free agent/trade pickups last off-season didn't quite payoff. That's not the case with Chris Ivory, though, a man who runs as if he's on a mission. He's a 1 man wrecking crew.
Wide Receivers/Tight Ends: B+
Winslow: 3 receptions for 61 yards
Holmes: 3 receptions for 55 yards
Kerley: 4 receptions for 41 yards, 1 TD, 1 rush for 3 yards
Nelson: 4 receptions for 32 yards
When Jeremy went down with an injury several weeks ago, we may have underestimated how much Geno Smith would miss him. The Jets are 0-4 without Kerley, but 6-3 with him. He may not be flashy, but he is productive. It was nice to see Kellen Winslow have a bounceback game, too.
Offensive Line: B
Geno Smith was sacked just once, and the running game was effective if not efficient.
Defensive Line: B
The pass rush wasn't its usual self today, but even on a down day, this defensive line is monstrous.
Linebackers: C-
The Jets surrendered 123 yards to Reece on the ground, one of the few disappointment-worthy notes of the day.
Secondary: B-
The secondary is still the Jets weakest link defensively, but they made just enough plays early on to put the game out of reach when it mattered. Ed Reed posted a pick, his first game-changing play since his arrival in Jet Green.
Special Teams: A+
Nick Folk hit 3 field goals, Ryan Quigley buried the Raiders on their own 2 yard line on one punt, and Antonio Allen blocked a punt that led to a Jets touchdown. Stellar performance.
Coaching: B
It was nice to see Ryan & co. get off the skid, even if it was against the Raiders. The Jets were clearly well-prepared today.
Videos
NY Jets Phase 3 OTAs, Expectations and a Minor Calf Tweak with Greg Renoff